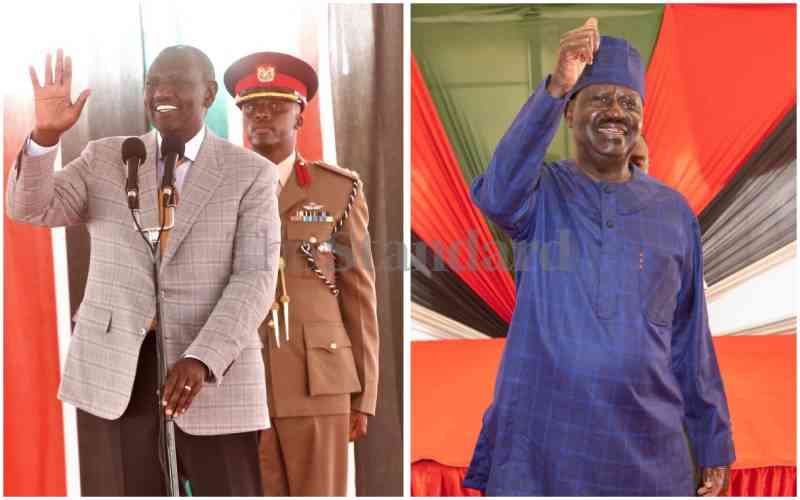 Opposition leader Raila Odinga's 14-day ultimatum to President William Ruto expires on Wednesday.
After this expiry, Raila expected to issue a statement on his planned countrywide mass action on Thursday.
There is no indication that Ruto will bend to his rival's demands, setting up an escalation of their stand-off, months after their grueling presidential contest.
Their conflict could go a notch higher this coming week courtesy of protests that have previously forced Ruto's predecessors to the negotiating table. In an interview with the Standard on Tuesday, Raila said that he was not ready for a sit-down with Ruto, who, on the other hand, has dismissed talks with Raila.
Since the former prime minister issued demands (lowering the cost of living and opening election servers) on February 22, both men have been sizing each other up, both hardly relenting on their positions over the planned protests.
In the intervening days, Raila has led his Azimio la Umoja-One Kenya coalition parties in rallies aimed at mobilising the masses, which have featured resolutions that his supporters have endorsed and an oath to heed the Azimio leader's call of mass action.
Every resolution has centred around the cost of living and opening the Independent Electoral and Boundaries Commission (IEBC) servers, which Raila claims will prove that he was cheated out of the presidency in last August's general election.
The dominant call in all the rallies, which Raila has called "people's barazas", has been that Ruto vacates office and hence the push for a "march to State House".
On several occasions, Raila has urged the Head of State to resign. His allies have been bolder, seeking Ruto's ouster through street protests. Narc Kenya leader Martha Karua has told different rallies that they held the key to removing a government she termed "illegitimate".
"The constitution gives you the sovereign power to steer your destiny. Only you can decide your future and whether you want to remain oppressed or approve the removal of this illegitimate government," Karua, Raila's running mate in last year's elections, said recently in Githurai.
An ouster of Ruto may, however, be off the cards, given reports that Raila's march to State House would be one that is aimed at presenting a petition to the president on the opposition's demands and not one that seeks to topple the regime.
Since his last rally in Kitale last Sunday, Raila has seemed to take some sort of break, meeting interest groups instead. But his message has remained the same: Electoral justice and a lower cost of living.
Within the same period, Ruto has been responding to each of Raila's demands. On lowering the cost of living, Ruto has said that such plans exist. Besides restating that he seeks to increase agricultural production, which he says will result in lower food prices, he has promised that the cost of commodities such as cooking gas would reduce in coming months.
The president has scoffed at calls to have IEBC servers opened, stating that they had been opened throughout the election period. Recently, he said that was not his mandate.
"Let us respect the law. Do not make demands that are unconstitutional, extralegal and extrajudicial... where is it written in law that servers will be opened?" Ruto said in Nakuru on Friday.
And like Raila, Ruto has been mobilising, a trait that has earned both men massive political support. As soon as the opposition began its demonstrations, Ruto wooed opposition lawmakers from the Jubilee and Orange Democratic Movement (ODM) parties. Observers read the move as aimed at keeping the opposition distracted in attempts to prevent further haemorrhage.
Feeling the mounting pressure, the president has also tried to isolate Raila on the international front by seeking travel sanctions, with the government also requesting that the opposition leader be fired from his former African Union job.
Plans by the ruling United Democratic Alliance (UDA) to conduct grassroots mobilisation ahead of countrywide party elections also hint that the president wants to rally the masses, just as Raila is. Ruto has dismissed the planned protests, saying they would not force him into cooperation with Raila.
Recent deserters of Raila, such as the Jubilee MPs who pledged to support Ruto and former West Pokot Governor John Lonyangapuo, have expressed concern that the planned mass action threatens to destabilise the nation. Previous street demonstrations have been marred by deaths, most of which have been blamed on overbearing authorities.
There are signs that the police could meet demonstrators with resistance, given their handling of peaceful demonstrations staged recently by comedian Eric Omondi.
Raila and his allies yesterday dug in during the funeral of Luo Ker Willis Otondi, announcing that they would not relent in the quest to achieve their objectives.
"We have a constitutional right not to recognise Ruto's government... we also have the power to eject the government," National Assembly Minority Leader Opiyo Wandayi said in Kisumu.
"When you (Raila) blow the whistle, I will be there. I will come with sufurias to express the hunger affecting Kenyans," Jubilee Secretary-General Jeremiah Kioni said.
Historian Macharia Munene reads the confrontations between the two politicians as mind games intended to establish who would blink first and that they are merely raising their stakes.
"When you force someone into desperation, they will always seek a way out. Raila has been more effective when he has caused commotion and forced whoever is in charge to bend to his demands.
Ruto is dismissing him but that is also a tactic even though all indications show that they could be reaching out to each other behind the scenes. They both seemed to agree on the office of the leader of the official opposition," Prof Munene says.
The university don argues that the dilemma for Ruto would be explaining a settlement with Raila to his allies, including Deputy President Rigathi Gachagua.
"But the law must be followed in all their actions, otherwise they would be counterproductive," he adds.
University of Nairobi lecturer Herman Manyora observes that Ruto's dismissal of Raila's demands has left him with little choice but to push his mass action agenda.
"Besides the promise on lowering the cost of cooking gas, Ruto has done nothing else to respond to Raila's demands...We have learnt that Ruto has tried to harass Raila by seeking sanctions from western states," Manyora states.
The political analyst argues that the president ought to reach out to Raila and meet him halfway on some of his demands.
"Raila is known to apply brakes, but Ruto's vehicle seems to lack such brakes... if he engaged Raila even on the subject of the IEBC alone, I am sure that Raila would be willing to sit down with him," he adds.
Ruto and Raila have had hostile relations for the longest time. They first worked together when Raila dissolved his National Development Party (NDP) into Kanu in 2002. Raila's exit from the then-ruling party a few months later put them on opposite sides, but they would reunite to oppose a push to change the constitution in 2005.
And Ruto would join hands with Raila and others to form ODM, endorsing the former prime minister's presidential election in 2007. But they would later fall out in the grand coalition government, in which Raila had appointed Ruto minister of agriculture.
As though to borrow a leaf from Raila, he staged a mass walk-out from the party that dented ODM, which would lose the 2013 election to the Jubilee coalition of former President Uhuru Kenyatta and Ruto.
In many ways, Ruto was seen as the kingmaker who had made Uhuru's victory possible, just as Raila was when he made the "Kibaki Tosha" declaration in 2002, which knocked off presidential hopefuls who had hoped to fly the National Rainbow Coalition's flag.
Related Topics