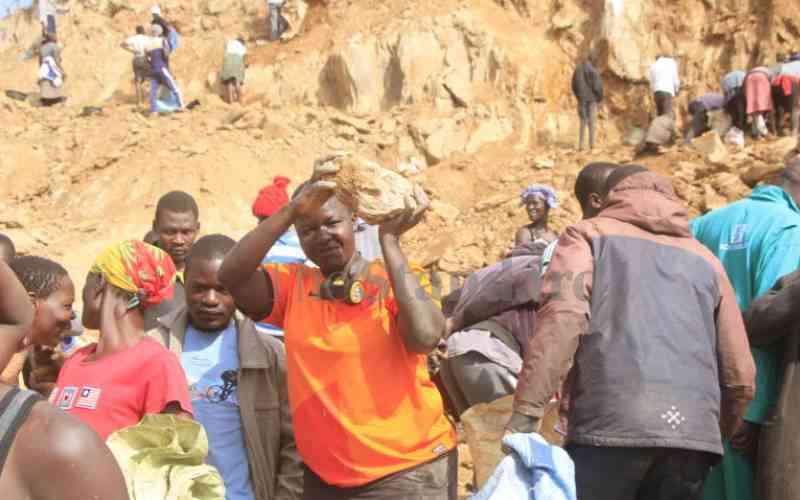 The construction of Rongo-Kisii road has temporarily stalled after residents discovered what they believe are gold deposits.
For the last two days, hundreds of residents of North-Sakwa ward have been scrambling in search of the precious metal.
When The Saturday Standard visited the site, the search for the precious metal was still on as a number of residents claimed they had already fetched tens of thousands from selling the metal.
"I came here very early and have been picking stones just along the road," said Diana Atieno, a resident who has been a small scale artisanal miner said.
She admitted to have collected ores the previous day in a 10-litre bucket that fetched her Sh7, 000.
Elvis Owino, from Rongo town, said he sold his find for Sh20, 000.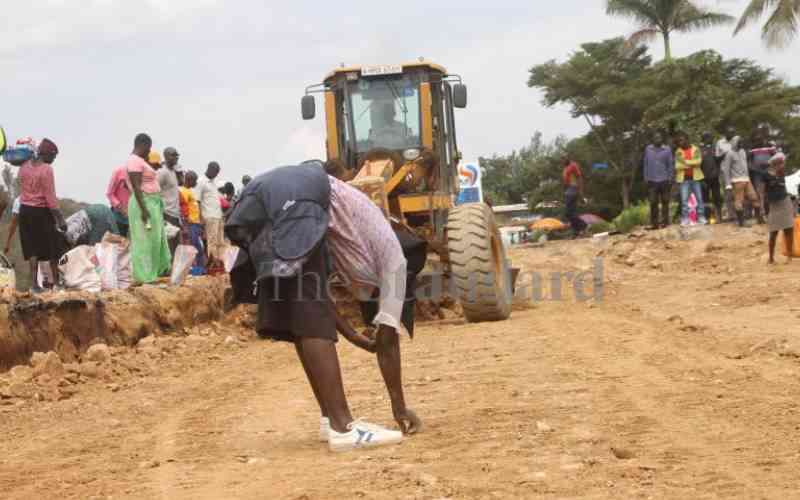 Elvis Owino, another Rongo town resident, said he rushed to the road yesterday evening after receiving information that there was gold in the area.
Owino extracted his share and crushed it at Kitere area after which he sold for Sh20, 000. "I collected some today and took them home," Owino said.
"I collected some today and took them home," Owino said.
Hundreds of people had also rushed to Awendo where the Chinese-based company had been depositing the murram soil. Armed with a sickle and hammers, they dug areas they believed they could get ores rich in gold.
"This is God sent. Everywhere here is gold. The government should let us collect gold," Merisha Anyango a resident of Awendo said.
Margaret Adhiambo, who works at a gold mine at Osiri Matanda in Nyatike Sub-County, said she had to rush to Awendo when she heard that there were gold deposits in the area.
"I realized that it is real gold when someone washed 700 grams and earned cash from it. We discovered that the gold was being got from Komire area," she said.
She arrived at the area on August 2 at 5pm and spent the night at the site.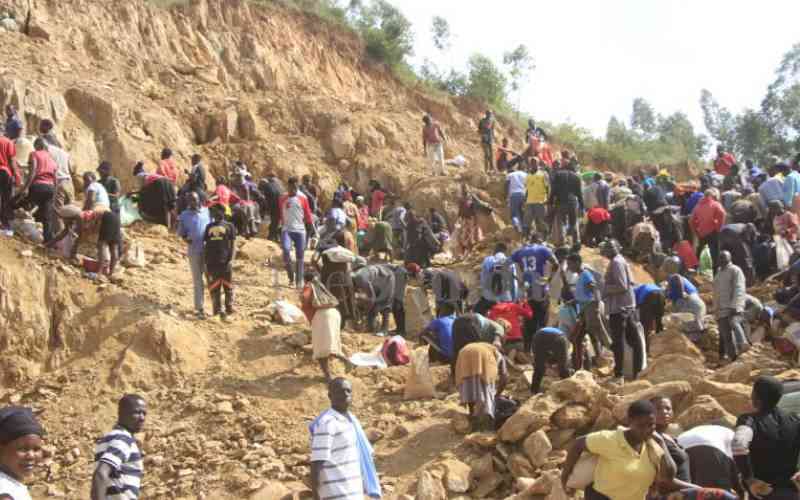 Contractors stood in disbelief as they watched loads of murram being carried away by the residents.
James Mageto, who is the project resident engineer, said work has stalled.
"This is now the third day. They are so many and we brought police there," he said.
"They are taking our marram including the stones," he said.
The engineers sent two lorries of the murram to Kanga to know the quantity of gold in each vehicle. They expected to get results by yesterday.
"If it is a lot then we stop our activities at the site so that the place may become a natural place for the government," he said.
Related Topics