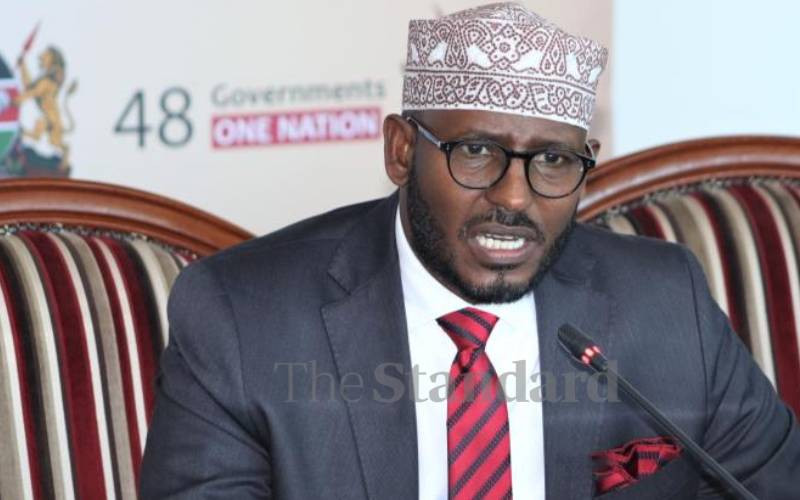 The Senate County Public Investments and Special Funds Committee has asked Wajir Governor Ahmed Abdullahi to carry out a staff audit at the Wajir Water and Sewerage Company.
Governor Abdullahi who appeared before the Committee Chaired by Godfrey Osotsi (Vihiga Senator) in Nairobi on Tuesday was also directed to conduct asset mapping and provide a register of all assets owned by the water company within 14 days.
The committee asked the governor to carry out a forensic analysis for possible areas of financial loss so that action can be taken against those found culpable for embezzling funds of the water company.
"We are asking the Wajir County Assembly to fast-track water legislation in 30 days while the Auditor General should carry out a special audit focusing on between 2018 and 2021 and provide a detailed report to the committee in 60 days," said Mr Osotsi.
The committee directed Abdullahi to submit within 14 days the comprehensive measures taken to deal with the 82 per cent non-revenue water management which has remained unaccounted for leading to loss of revenue running into millions of shillings annually.
Osotsi asked the Ethics and Anti-Corruption Commission to investigate the operations of the Wajir Water and Sewerage Company for the period between 2018 and 2021.
He directed the county government to provide evidence of the closure of 11 bank accounts used by the water company within 14 days to the committee saying there was no reason for it to have so many accounts.
"The committee wants the people of Wajir to enjoy services offered by the Wajir Water and Sewerage Company, that is why we want the governor who is serving his second term to come up with measures that are aimed at ensuring that it gets back on its feet as soon as possible," said Osotsi.
Abdullahi told the committee that he formed the Water Company during his first term in office in 2013 to improve water supply to residents who rely on boreholes.
The governor revealed that he got funding from the World Bank for the water project and the company had 458 workers after the Industrial and Labour Court reinstated more than 100 staff who were sacked.
He said that the county government has appealed the decision of the Labour Court since most of the sacked workers did not have clear job description while others had forged documents to get employment.
"We have 350 boreholes scattered across the county, we are negotiating with the local communities to hand them over to the county government so that we can renovate them and be in charge of them, those who refuse to hand over their boreholes will not enjoy this service," said Abdullahi.
The governor promised to institute necessary measures to ensure efficiency at the water company.
Related Topics