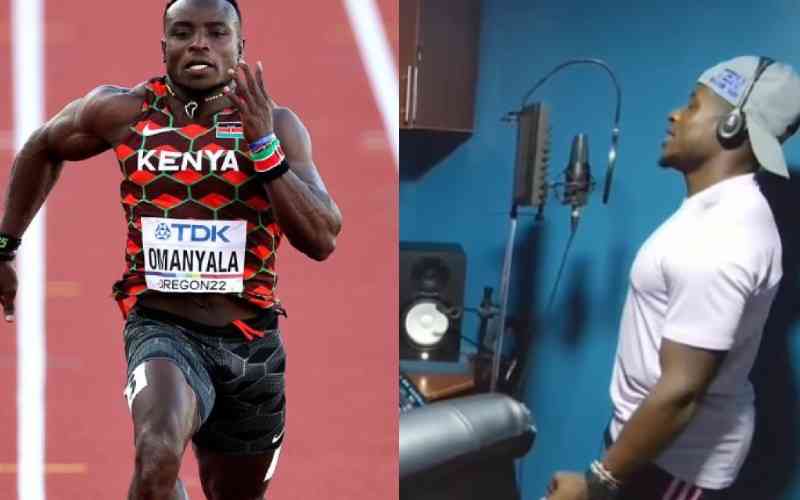 Kenya's fastest man Ferdinand Omanyala this week shared a clip of himself in studio recording a rendition of popular gospel song 'Unastahili Kuabudiwa'.
The sprinter said he was looking back at God's blessings this past season.
"Reflecting back to how God has been great. Having time with God through worship," he captioned the post.
Speaking to Standard Entertainment, his producer, Gituamba, said Omanyala has always wanted to record a song in studio as part of his activities off-season and lauded his zeal to learn and accept correction.
"Omanyala wanted to hit the studio for the longest time and since it is off-season, he expressed his desire to do a couple of gospel renditions before resuming training.
"I like working with him because he is a fast learner and receives corrections very well. It is a good trait to have," said Gituamba.
Despite having a rough patch on the track in recent months, Omanyala is content with his achievements so far and is looking to go a notch higher in 2024 ahead of the Paris Olympics.
Rough patch
His career has not been all rosy as he once spoke about a period when he was broke and his girlfriend Laventa Amutavi stepped in to assist.
"I trained for six months and we had no money. Thanks to my girlfriend, she was paying the rent and taking care of the bills as she had a job," Omanyala said in a previous interview.
"She would bring the money to the table and tell me how to budget it, telling me what was training money, rent, and food. I would come back from training and find that she has boiled water and is ready to take care of me and I feel good. Now I will take care of her and she will get what she wants."
The sprinter has achieved massive success in his athletics career but suffered a setback in 2017 when he served a 14-month ban.
"I felt I was a victim of circumstance," he explained. "It was a painkiller and then it turned out it had a steroid in it, and that (experience) is what shaped me to be the person that I am today," Omanyala told the BBC in a previous interview.
He is currently the fastest man in Africa and hopes to bag a gold medal in the 2024 Olympics.
Related Topics