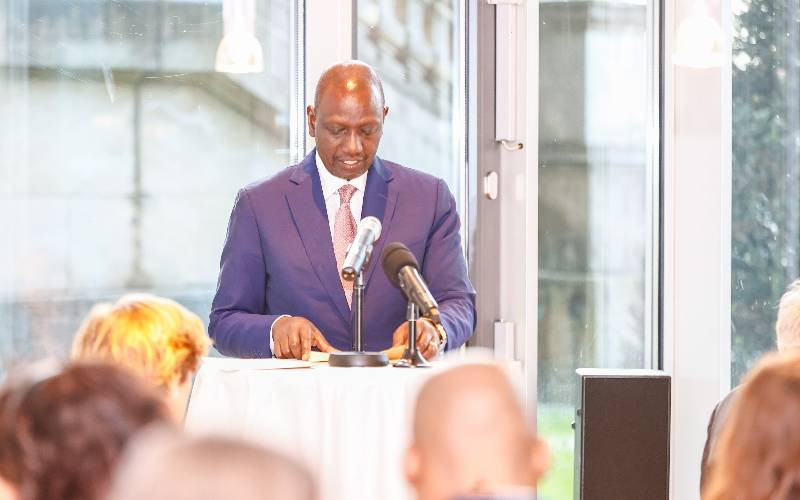 President William Ruto has said no one is above the law and that everyone must submit to the rule of the law.
Speaking in response to the Azimio anti-government protests led by Raila Odinga, President Ruto said that the law makes all Kenyans equal and that the government will protect them and their property from attacks by looters. "Let me promise you, we are going to take care of that situation."
Ruto who was speaking in Berlin, Germany where he met Kenyans living in the country said that it was his duty to protect the property, business and hustle of Kenyans and their lives from any kind of attack.
"It is the duty of the police, my administration will make the resources necessary, the policy decision necessary for the police to conduct their mandate in accordance with the law and the constitution," he said.
Ruto said that his promise is in line with the oath of office he took to ensure that the criminal justice system works for all Kenyans.
He said the move to delineate the police from the executive was to make sure that they are independent to conduct their work freely.
"Today the Inspector General of Police is solely responsible for both the operations and the financial requirements of the police force and they can make independent decisions on what they want to do to secure the country," he said.
Ruto said that the police have a responsibility to ensure that the property, business and lives of Kenyans are secure adding that they ought to ensure that no one tramples on the rights of others as they enjoy their rights.
"We have the right to protect everybody and the police should be able to do that," he said. "I want to assure you that impunity will not and will never be part of our political discourse."
Related Topics