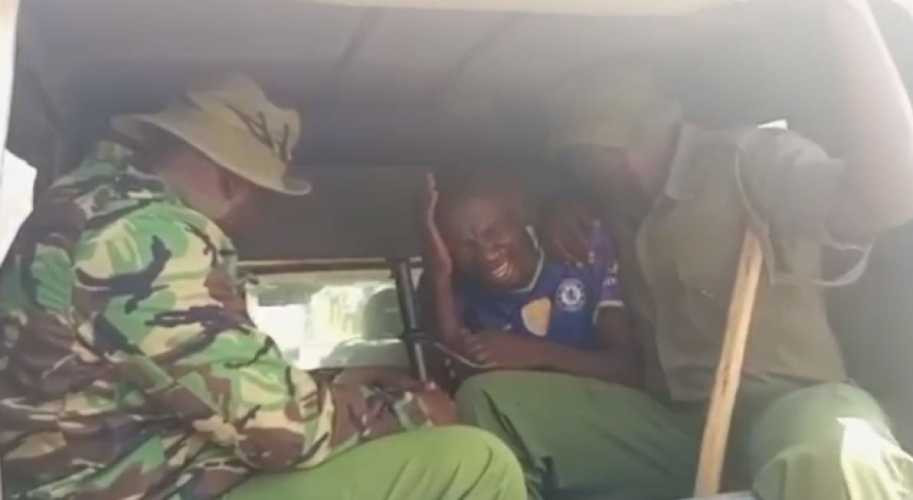 A middle-aged man was caught on camera while being consoled by an anti-riot officer. The man, carrying a sufuria/cooking pot was arrested during the Azimio mass action in Kisumu city on Monday, March 20.
The video of the Kisumu man crying was shot by Standard reporter Olivia Odhiambo has since gone viral.
Protestors in Kisumu heeded the mass action call by the Azimio leader Raila Odinga who weeks back promised Kenyans that the protest would culminate into a march to State House Nairobi to present their demands to president William Ruto.
Police lobbed teargas canisters to disperse protesters and arrested some of them. The man clad in a blue t-shirt was one of those arrested and put at the back of a police vehicle that had two cops.
Protester in Kisumu breaks down in tears after being arrested by the police#MassActionKE pic.twitter.com/8xDhyk1Mdb
— The Standard Digital (@StandardKenya)
March 20, 2023
Conversation with police
"I have not killed anyone. Please release me so that I can go home. I haven't thrown any stone," the man pleaded.
The man told police that he alighted from Kisian to head to his house located in Obunga.
In the video, one of the police officers is seen consoling the wailing man. He puts his hand on his head and asks him to calm down.
"Relax, where is your home? We will take you home," the police said.
During the mass action, protesters pelted police with stones and barricaded roads with logs. Others lit bonfires using tyres along the roads making them impassable.
The police had on Sunday March 19, declared the protest illegal and accused Azimio of failing to meet the three-days notice needed to hold demonstrations. "We received two requests from Azimio and the Nairobi business community to hold protests tomorrow (Monday, March 20). One late in the evening and the other this morning. Both did not meet the legal threshold and were thus declined and the same was communicated to them in writing," said Mr Adamson Bungei, Nairobi Regional Commander.
In the wake of the protests, police were deployed in various parts of the country to counter attack those who are not holding peaceful protests.
Related Topics