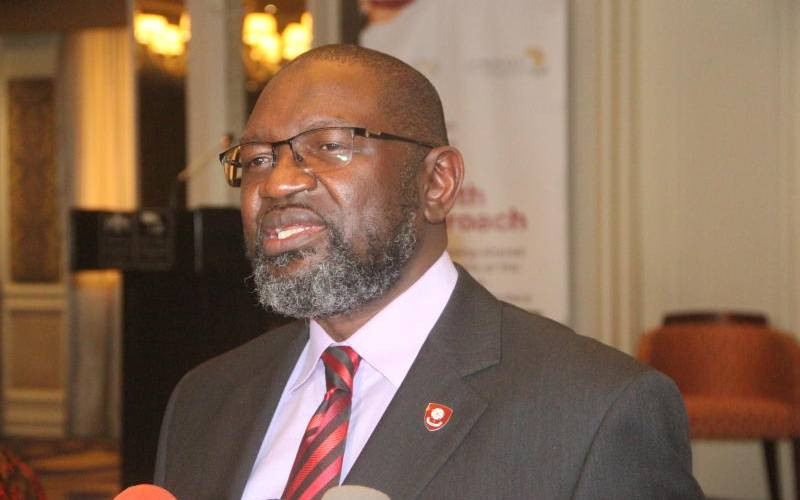 As major announcement and financial pledges were made during the Africa Climate Summit (ACS), health was largely ignored.
According to experts, the Nairobi Declaration was made at a time when African countries are likely to grapple with more disease outbreaks as a result of climate change.
Holding sideline events, health experts from various institutions in Africa and from around the globe, the health agenda continues to be ignored on the climate change table, an issue that could cripple healthcare systems.
Amref Health Africa Group Partnership and External Affairs Director Desta Lekew said health experts and partners recognise that COP28 is focused on the nexus of climate and health.
"We anticipated that African leaders and climate change experts would have at least a little bit more on health on this declaration, and we have not seen that. It's quite disappointing," said Lekew.
Even with the exclusion of health agenda on the climate change table at the just concluded Nairobi summit, health experts said the matter should be included in the Dubai COP28 in December.
The partners, according to the director, have assembled and coordinated cross-sectoral advocates for climate and health ahead of the conference.
Among the areas include adaptation, mitigation, loss of damage and financing. The agenda will be tabled at the United Nations Framework Convention on Climate Change (UNFCCC) for discussion and action.
"We have agreed that this (health agenda) common position needs to be socialised with our ministries of health, our ministers of environmental climate, and also friends of the state," he said.
Africa CDC Acting Director General Dr Ahmed Ogwell echoed the statements, saying climate and health should be an agenda at COP28 to use indigenous knowledge and translate climate and health priorities into measurable action.
"We must bring the issues (health agenda) to discussions of climate. Not just to the continent, but also globally," said Dr Ogwell.
He said Africa CDC is developing a position paper on health agenda in relation to climate change as a top priority for COP28.
During the sideline events, WHO pleaded with African states to allocate more resources to handle the health crisis caused by adverse impact of climate change.
WHO Director of Universal Health Coverage in Africa Dr Adelaide Onyango said it is worrying that Africa is grappling with the negative impact of climate change that might cripple its health system.
Climate solutions not in handouts, lobby group calls for balanced trade
She said the continent heavily depends on donor support which is not sustainable, citing the Covid-19 pandemic where developed countries prioritised their needs, as African states struggled to sustain health systems.
"African states should prioritise and put money into mitigating health crisis caused by climate change. It might be a little money, but we need to put our priority right," she said.
The WHO representative was addressing health delegates and experts from Africa, in Nairobi during a meeting aimed at putting the health agenda at the centre of climate change.
"Health is the face of climate change, which has a voice. Every climate crisis is going to end up in some loss of life or something that affects lives," she said.
She added, "It is important for us to start thinking about what resources we have on our own. It might not only be financial resources but could also be ideas and knowledge in the communities that we could tap into".
Data by WHO and Africa CDC reveal adverse effects of climate change, namely agricultural disruptions and food insecurity, which are likely to cripple the healthcare system if action is not taken.
Some 178,672 cases of cholera have been detected in 17 African countries this year, according to data by Africa CDC, numbers which suppressed the annual totals from 2019 and 2022.
Five countries accounted for more than 50 per cent of the cases in 2023, namely Malawi, Mozambique, DRC, Ethiopia, and Somalia.
Early this year, WHO warned of a surge in mosquito-borne diseases resulting in increased cases of malaria and dengue fever-malaria being a leading killer disease in Kenya and Africa.
Malawi is among countries reporting cyclones and flooding as a result of climate change which has overwhelmed the health system according to its Health minister Dr Khumbize Kandodo Chiponda.
The country has reported at least 1,700 cholera deaths due to flooding caused by the cyclone. "It has been so difficult for us especially because of the cyclones in the Southern region, which we have had back-to-back since the Covid-19 pandemic. Cholera cases had not been witnessed in Malawi in the past 10 years," she said.
According to Chipondo, African states should build their resilience to handle unpredicted health crises, adding that preparedness should include readiness to respond to crisis and emergencies.
Additionally, Africa CDC endorsed a one-health approach to address shared health threats at the human-animal-environment interface for a safer and healthier Africa.
One health approach is a transdisciplinary approach to making Africa safer and healthier for humans, animals, plants, and their shared environment.
In an interview with The Standard, Shadrack Gikonyo a health economist, at Strategic Purchasing Africa Resource Centre, said climate change is currently a major challenge in healthcare, particularly because it affects determinants of health.
Among the determinants affected include clean air, safe drinking water, food and secure shelter.
"It is estimated that between 2 and 4 billion dollars are used on direct health cost associated with climate change, globally, every year," said Gikonyo, also a health economist.
With the developed world allocating over USD4,000 dollars per person annually on healthcare, Africa allocates below USD50, per person, Gikonyo stressed the need for African states to mitigate climate change.
For example, he observed that states can adopt better farming technologies to fight malnutrition in children. Malnutrition predisposes children to diseases like malaria and anaemia.
Wildfires can also be prevented through environment conservation policies, as they contribute to respiratory diseases like tuberculosis.
"Because climate change is here with us, we need to prevent the diseases, rather than spend more money on cures," said Gikonyo.
For instance, the cost of protecting one person from malaria annually ranges from USD1.18 to USD5.7 to USD5.97 with chemical-based methods.
The cost of rapid diagnostic tests is USD6.06, and USD9.31, to USD89.93 per case treated depending on clinical severity.
Further, Gikonyo said Kenya and Africa risk losing gains made in the fight against the three top killer diseases -malaria, HIV and TB.
For instance, due to food insecurity caused by prolonged drought, HIV patients are not able to get nutritional support.
Related Topics