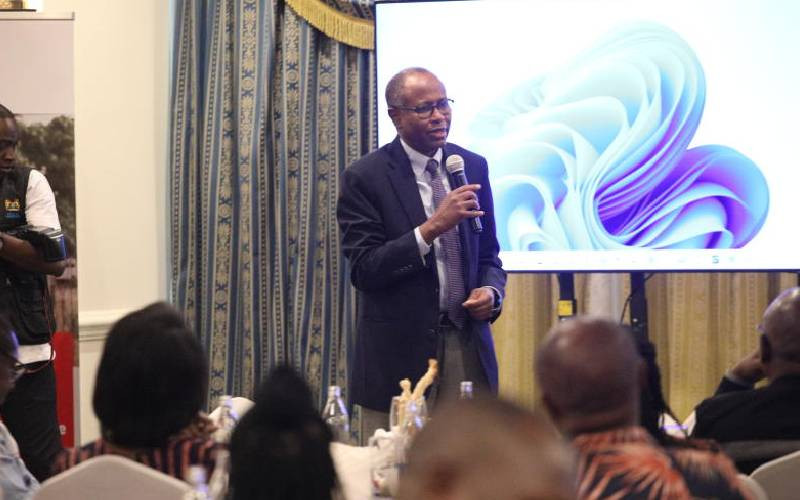 The World Health Organisation (WHO) has pleaded with African states to allocate more resources to handle the health crises caused by the adverse impact of climate change.
WHO Director of Universal Health Coverage in Africa, Dr Adelheid Onyango, said it is worrying that Africa is grappling with the negative impact of climate change that might cripple its health system.Onyango said the continent heavily depends on donor support, which is not sustainable. He cited the Covid-19 pandemic where developed countries prioritized their needs, as African states struggled to sustain health systems.
"African states should prioritise and put money into mitigating the health crises caused by climate change. It might be a little money, but we need to put in areas of our priority," said Dr Onyango.
The WHO representative was addressing health delegates and experts drawn from across Africa, in Nairobi during a meeting aimed at putting the health agenda at the centre of climate change, ahead of Conference of Parties 28 (COP 28)."Health is the face of climate change, which has a voice. Every climate crisis that we see is going to end up in some loss of life or something that affects lives," she said, adding that health concerns should become part of the climate change course.Onyango cited Malawi and Mozambique, where health systems are strained from cholera and malaria following cyclones as a result of climate change.This has made it difficult for people affected to access health care."It is important for us to start thinking about what resources we have on our own. It might not only be financial resources but could also be ideas and knowledge in the communities that we could tap into," Dr Onyango said.Executive Director of the African Institute for Development Policy, Dr Elias Zulu, blamed African states for not prioritizing in investing enough resources to handle climate change.He urged the region to push for support from the North, which highly contributes to global warming, resulting in adverse effects of climate change."African continent should develop great technical capacity to access the funds from developed countries, and be accountable for the expenditure," Dr Zulu said.He added, "As states talk about adaptation, and how to protect African countries from being devastated by climate change, health is not part of the discussions," Dr Zulu added.According to Zulu, health systems should be ready to adapt to changing disease patterns and build resilience to climate change.
AMREF Health Africa Group CEO, Dr Githinji Gitahi urged states to commit to addressing issues of human life under the crisis of global warming.He said that, unfortunately, the health agenda was missing during COP 27 held in Egypt.Gitahi said if action is not taken, global warming might reverse the gains made towards Sustainable Development Goals (SDGs) and Millenium Development Goals (MDGs).
"We are seeing outbreaks of diseases more frequent and not only more frequent, but soon we will hear back from the countries and also seeing risks of emerging diseases going to be related to global warming by population dynamics, that are also increasing how people interact with nature, with animals and also the environment itself." he said.Gitahi added that health stakeholders will have a concurrent meeting with the African Summit happening in Nairobi, to find solutions to the health crisis caused by climate change, ahead of the COP 28 agenda.On her part, Health Cabinet Secretary Susan Nakhumicha called for coordination between ministers for health, environment, Agriculture, Forestry, and Transport in addressing the impact of climate change on health."The national delegation that commerce will include health experts because the delegates also need to be educated on health, and mitigation," said Nakhumicha.
The CS noted that collective responsibility will help mitigate the challenges that are brought by climate change.Malawi Health Minister, Dr Khumbize Kandodo Chiponda said the country's health system is overwhelmed by the adverse effects of climate change."It has been so difficult for us especially because of the cyclones in the Southern region, which we have had back to back from school from the Covid-19 pandemic," said Chiponda.The Minister said Malawi has also had an outbreak of cholera, as a result of flooding caused by the cyclones."Over 1, 700 Malawians have died of cholera, with over 60,000 cases. Cholera cases had not been witnessed in Malawi in the past 10 years," she said, adding that cases of malaria are also on the rise due to flooding.Chipondo said, that African states should build their resilience to handle unpredicted health crises adding that preparedness should include redness in responding to crisis and emergency response.
Chief Executive Officer COP28 President, Dr Adnan Amin said environmental risk factors are increasing in Sub-Sahara Africa which impact climate change. Dr Amin said this continues affecting the lives of children and women.
"Climate change is intensifying both physical and mental health strains globally, significantly affecting the vulnerable population and contributing to the widespread humanitarian crisis," Dr Amin said.
He said coming together will contribute to efforts in addressing climate change and health impacts.
Related Topics