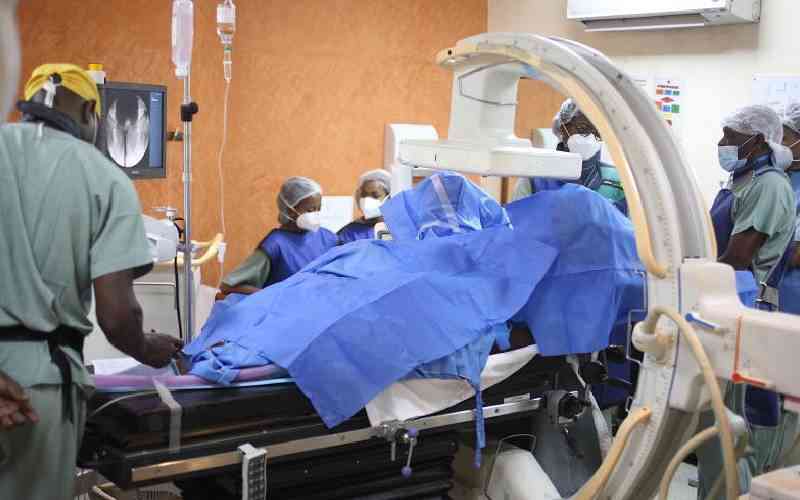 When Chris Muraithi, turned 45, he started going for regular tests to check his prostate. One of the tests performed during his visits to a medical facility is one that measures the level of Prostate-specific antigen (PSA) in the blood.
PSA, is a protein produced by normal, as well as malignant, cells of the prostate gland. The blood level of PSA is often elevated in people with prostate cancer. The PSA level may also be elevated in other conditions that affect the prostate.
"I am keen on checking my body every now and then. I started PSA testing four years ago. Sometimes last year I realised my PSA started rising. I engaged my urologist and the investigations started. I was on antibiotics for a bigger part of last year, I did two MRIs but both were negative. It was early June that I was diagnosed with prostate cancer," says Muraithi.
In most people's minds, starting cancer treatment would mean the beginning of a long, uncomfortable and probably painful journey. However, the 49-year-old father of three children was able to undergo brachytherapy, a procedure that would make the treatment journey more bearable.
"When I woke up everything was normal, I passed urine normally and right now I'm ready to go home," adds Muraithi after the treatment.
Brachytherapy is a form of radiotherapy which literally means in close proximity to. It is a type of internal radiation therapy that involves implanting radiotherapy inside the disease. This treatment is said to have a 90 per cent success rate. It is a treatment that treats only a specific part of your body.
"In this treatment, we implant the radiotherapy inside the disease rather than treating it with external beams channelling into the prostate. So we get seeds, in our case Iodine-125, we inject them into the prostate and this cures the patient of the cancer," says Prof Peter Mungai Ngugi a Urologist at Nairobi Hospital.
Brachytherapy is the alternative to traditional surgery ways of treating prostate cancer.
"The main treatment before was by surgery, radically removing the prostate and it is a long procedure. Patients remain with a catheter for almost 21 days and have major complexions related to the surgery," Prof Mungai says.
Siginificant change
"The new modality to surgery is more precise and has less mobility. You get treated in the morning and you could go home by afternoon. You can be back to work in a week's time. Of course, there will be the need for follow-up but the patient would have been cured as long as they presented early," he adds.
Experts say that the earlier cancer is detected, the better chances of survival one has. Cancer screening detects cancerous cells early before you have symptoms, at a moment when it is easier to treat before it spreads.
"For you to be treated for prostate cancer by this method you need to be diagnosed before you have symptoms. If you come with symptoms of prostate cancer your cancer is unlikely to be cured, so you need to come forward and be tested before you have symptoms. We are talking about prostate cancer, specifically early cancer, this can be cured as opposed to advanced prostate cancer which we can only palliate," says Prof Peter Mungai.
Professor Frank Kahmann: A urologist from Germany who has been practising Brachytherapy treatment for 25 years says, there has been a significant improvement in Kenya for cancer treatment.
"We have been coming to Kenya since 2017, there has been a significant change in diagnosis and cancer screening. Back then patients were diagnosed too late, they had high PSA, they were coming in when they were displaying symptoms, had an advanced tumour and they could not be cured. It is palliative care," says Prof Kahmann.
Two patients
"Since then we have seen a significant improvement in cancer screenings, we are seeing patients with early tumours and since they presented early, with brachytherapy treatment the success rate is 90 per cent," adds Prof Kahmann.
After confirming the aggressiveness and the location of the cancerous cells, through biopsy and histology, it is then the journey of brachytherapy treatment starts.
Brachytherapy treatment enables doctors to treat more than two patients in a day, unlike the radical way of surgery where only one patient is operated in a day.
"Once you have the diagnosis and should you find that the disease is organ confined, that's prostate confined, you can use external beams of radiation or internal radiotherapy," says Peter Mungai Ngugi a Urologist at The Nairobi Hospital.
"It's easier with brachytherapy treatment than the radical way of treatment through surgery and external radio beams. You need several treatments since you have to operate all the way towards the prostate. In brachytherapy, you instill radioactive seeds inside the tumour and this cures the patient of the cancer. You can also predict when the next frontier will be and put the seeds to counteract it.
In other words, the prostate remains intact and there's no major surgery that is going to take place.
Not only can we use it for treating patients who have diseases that have just started but also we can treat patients who have been previously treated with other methods and the disease has come back, we can treat relapses," adds Prof Mungai.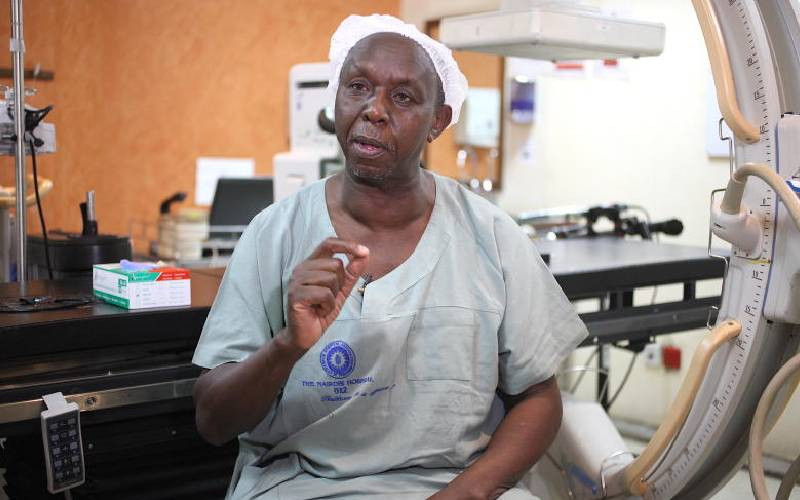 According to the World Health Organization (WHO) worldwide prostate cancer is the second leading cause of cancer deaths. In Kenya it's the third leading cause of cancer deaths among men: affecting mostly men at the age of 68 in Kenya and 62 years in developed countries.
However, there's still a significant number of men below the age of 50 years affected by prostate cancer.
Brachytherapy poses minimal risks to its patients, though the following side effects may be experienced.
"Erectile dysfunction is a major side effect. Sometimes you can get irritation of the bladder, and bleeding from the rectum. Though so far among the 112 patients we have treated we haven't experienced any side effects," says Prof Mungai.
One of the fears raised by many Kenyans is that will the radioactive materials affect their well-being in the long run.
"Fortunately the radioactive substances decay, they lose their radioactivity over time, and the half-life of radioactive of Iodine-125 is about 60 days so in a short while they will no longer be in your body," says the urologist.
Back to life
The whole brachytherapy treatment package cost around Sh800,000. A gun on the foot for many Kenyans who rely on the National Health Insurance (NHIF) to pay for their medical treatment.
"We have been hoping that the NHIF can come into the picture and help a lot of patients who have been unable to access these services," says Prof Peter Mungai.
Brachytherapy treatment can be used to treat many forms of cancer, not only prostate cancer.
"We have brachytherapy treatment for cervix, also used for the cancer of the rectum and tongue," says Prof Kahmann.
With a deep-rooted culture of avoiding seeking medical care till it is too late. This lowers one's survival rate in the face of cancer.
"For all men out there please once you hit 40 years old don't waste any chances. Be checking on your body and not only for men but also for the ladies," says Mr Muraithi.
"Because if I hadn't realised then it would hit me later in my 60s, then you know what follows after that. But now I know I'll be back to life and nothing to worry about," he adds.
While not many cancers can be treated by brachytherapy, tumors such as this where the cancer is confined to the prostate would benefit with the aim being a cure.
Related Topics