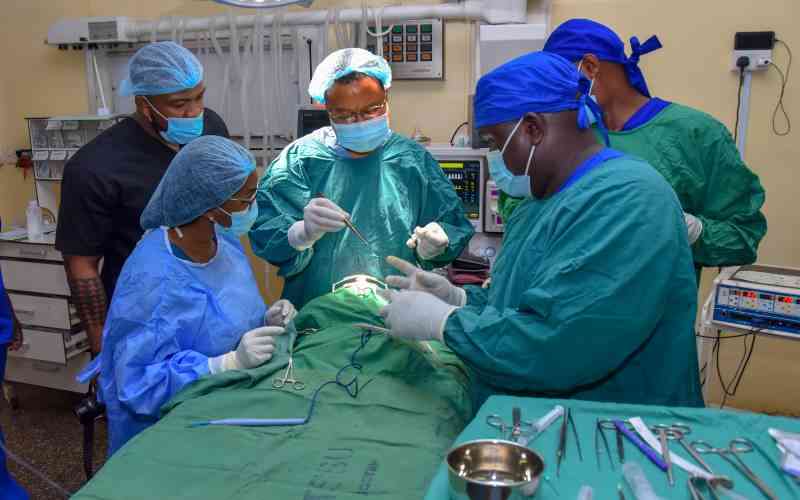 A total of 20 children from less privileged families benefited from cleft lip and cleft palate corrective surgeries, performed at the Jaramogi Oginga Odinga Teaching and Referral Hospital (JOOTRH) in Kisumu County.
A cleft condition is a gap in the mouth that did not close during the early stages of pregnancy.
The surgeries were performed by volunteers who include three plastic surgeons from Kenya, Ethiopia and South Africa, 11 supporting doctors and 13 plastic surgeon trainees from the University of Nairobi (UoN). They were also supported by the JOOTRH medical staff.
The surgical mission was organized on May 22-23, 2023 by Smile Train and the Kenya Society of Plastic, Reconstructive and Aesthetic Surgeons (KSPRAS).
Smile Train is an international medical charity dedicated to helping patients born with cleft palate and other facial abnormalities free of charge.
According to the Society's Chair, Dr Kimani Wanjeri, a child with a cleft lip has trouble feeding and is more likely to be malnourished. He said if left unrepaired, the child will have difficulties in speech.
He said that the cost of undergoing surgery and the stigma attached to the condition deter most parents from accessing medical help for their children.
"Without surgery, these children face enormous health, developmental and psychological challenges," said Dr Kimani.
"In a government level five or level six hospital, the repair of a cleft lip would be Sh50,000, while repair for a cleft pallet the cost averages Sh80,000."
One of the visiting plastic surgeons, Dr Mekonen Eshete, a professor at the University of Addis Ababa, Ethiopia, echoed his sentiments.
"This intervention is critical in the life of a child. After surgery, the child will not be bullied and will speak intelligibly," said Prof Eshete.
"Because of the negative beliefs associated with cleft lip especially in Africa, when you treat cleft lip, you are not only treating the patient, you are also treating the family."
Smile Train Manager for Education Patrick Mwai said the organization is not only keen on facilitating provision of the life-changing surgery for the children, but they are also keen on building local capacity hence the inclusion of UoN medical students.
"By involving them, surgeons in training from the University of Nairobi are able to get first-hand experience, which builds our local capacity as a country," he said.
The surgical mission preceded the 7th annual Kenya Society of Plastic, Reconstructive and Aesthetic Surgeons conference which began on May 23 and will run until May 26, 2023, at the Sarova Imperial Hotel in Kisumu.
The conference, whose theme is Advancing Plastic Surgery in Africa, will allow for the exchange of ideas, knowledge and expertise and address the opportunities and challenges facing the fraternity.
Related Topics