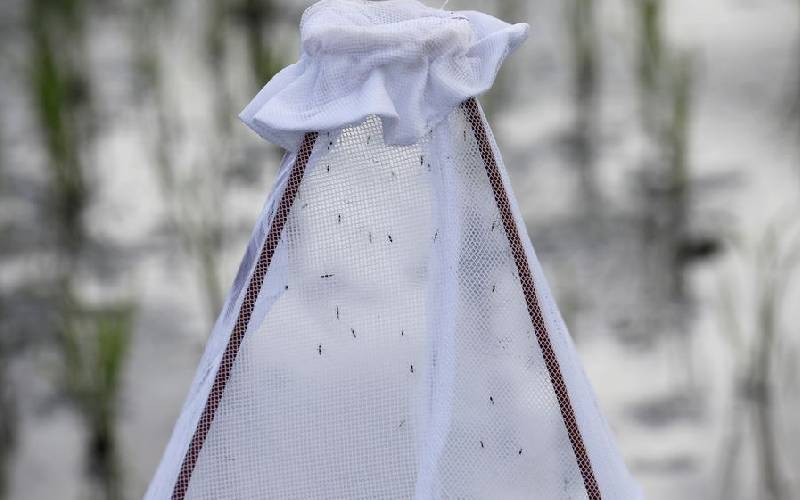 Each single minute, a child dies of malaria globally, with Kenya reporting at least 10,700 such deaths every year.
While marking World Malaria Day last week, it was evident scientists are working round the clock to find lasting solutions in the fight against the killer disease through emerging transformative technologies.
Use of solar microgrid is a technology that has successfully been tried on Rusinga Island in Lake Victoria.
Collins Mweresa, a researcher and a senior lecturer at Jaramogi Oginga Odinga University of Science and Technology in Kisumu, explains that the technology traps mosquitoes that transmit malaria.
The solar microgrids are fixed with traps which have a smell similar to that of a human being to attract mosquitoes and kill them.
"With solar microgrid, there is continuous trapping of mosquitoes from the environment. The more mosquitoes are trapped, the more their population density is reduced and the number of people likely to be bitten by infected female mosquitoes is low," said Dr Mweresa.
The technology has been a success as it has reduced malaria prevalence from 40.8 percent to 29.6 percent.
The donor-funded project was a community-based initiative which covered the entire island, whose area is about 44 square kilometres. At least 27,000 people have been protected from malaria.
"Solar grid technology emerged successful. It can be adopted by any country in the fight against malaria," says Dr Mweresa.
In yet another technology, Dr Richard Mukabana, a researcher at African Institute for Development Policy, says mosquitoes are now being engineered in laboratory and released into the environment to mate with their female counterparts.
The female counterparts therefore do not produce viable offsprings, a technology which will helps reduce population of malaria-transmitting mosquitoes. Released mosquitoes further modify the wild population, making them unable to transmit malaria.
The technology is being developed between Africa and partners, research institutes in the North and a group of researchers.
Trials of the technology have been done in Bukina Faso, Uganda, Ghana and São Tomé in Central Africa.
Mukabana, however, regrets that it might take more years before the technology is adapted due to laxity in its approval by policymakers.
Other technologies in place include monoclonal antibodies and drones.
Related Topics