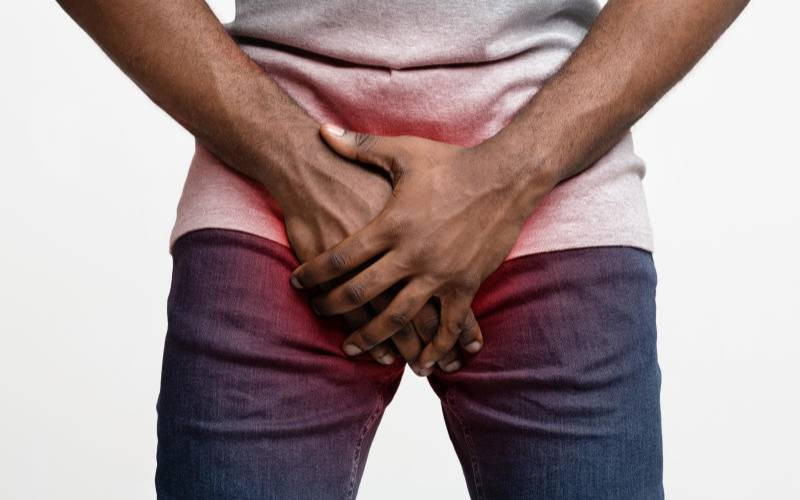 Julius, a local from Kapseret had painful urination. The 40-year-old had relations with a sex worker whom he met on the streets of Eldoret town, in December last year.
His wife had travelled to the countryside. For fear of being stigmatised, he bought antibiotics from a private chemist to relieve his pain.
The pain was, however, too much and he was forced to seek treatment at the Moi Teaching and Referral Hospital (MTRH).
At the facility, he was diagnosed with gonorrhoea and was put on treatment. Julius healed after two weeks of treatment.
"I hate the experience of gonorrhoea. It was so shameful to contract it from illicit sex. But I was more worried after my testicles swelled, with the discharge of pus from my penis," recalls Julius.
It was the first time he had contracted a sexually transmitted disease.
His experience is not in isolation, as experts raise concern over a worrying trend of Sexually Transmitted Infections (STIs) and diseases among the Kenyan population.
More worrying is that the STIs are resisting the current regimen of treatment (drug resistance), as more patients prefer self-medication, by purchasing medicines on the counter without a doctor's prescription.
Julius only opted for hospital treatment after failing to treat the disease with counter medicine- a trend observed among Kenyans.
Dr Stephen Kaliki, the Head of Reproductive and Maternal Health in the Ministry of Health, admitted that Kenya has recorded new mutations of STIs.
Kaliki said the majority of Kenyans buy antibiotics, and never seek treatment, a move which is increasing the mutation of STIs. A quick survey of chemists around Nairobi showed that medication to treat 'STI-like symptoms' is among their top ten frequently purchased products.
A patient with STI may seek treatment and it is not effective, as the bacteria has become 'smart' and 'stronger'.
"It is true that we are seeing more stubborn, new versions and variants of STIs, which conventionally we used to treat without a problem, but it is running out to be opposite," said Dr Kaliki.
"The STIs we are reporting might not be new, but have resisted treatment," he said, "With mutation, conventional medicines are not treating the STIs."
Kaliki said currently that medicines which used to be the first line for treatment of STIs are no longer effective, including the ones which had been preserved, as the last line of approach.
"If only 5 people in a population cannot be treated, they are worse than 1,000 people who can be treated because they sustain the flow of the same. Resistance spreads diseases more," said Kaliki.
New Strains of Sexually Transmitted Infections
In an interview with The Standard, Prof Samson Muuo, the assistant principal research scientist at the Center for Microbiology Research at Kemri linked mutation to misuse of medicines, social culture and environmental approaches.
Muuo is a lead researcher who conducted an STI survey in Busia County, using the molecular approach, to discover the prevalence of STIs in the country.
In the survey finding which is still under review, there is a mutation of gonorrhoea and chlamydia, from the gene which is different from what has initially been reported in the past.
"We are reporting new mutations which cause resistance to the medicine used to treat STIs," Prof Muuo told The Standard in a phone interview.
Preliminary investigations reveal that the genes are from different hereditary. More analysis on the causes of mutation is ongoing.
He added, "We are seeing a mutation which is new. It is from the same strain, but the gene is mutating"
Prof Muuo explained that the mutation of STIs is however not new because pathogens mutate for survival.
"Mutation evades a drug which is toxic to it, as it kills it. Drug usage is a major area of concern. Pathogens have created resistance, which is causing mutation," he said.
Further, scientists are conducting hereditary and evolutionary analysis, on the preliminary findings of the survey.
The study was carried out by a master's degree student, in collaboration with Busia county, and Nairobi University and Kemri.
Another conducted in Kenya, alongside other East African countries three years ago, reported resistant gonorrhoea strain, to the conventional treatment partly because of abuse of antibiotics within the region.
The report was adopted by WHO.
Kaliki said though Kenyans have liberal access to antibiotics over the counter, the government has put in a lot of measures to regulate access to antibiotics.
Public awareness of self-treatment is also important -- it largely does not cure diseases.
Common Sexually Transmitted Infections in Kenya
Common STIS within the Kenyan population according to the ministry include gonorrhoea, syphilis, chlamydia, herpes and mycoplasma genitalium.
Chlamydia and Gonorrhoea often come to mind as they present with physical symptoms such as Painful urination, Vaginal discharge in women, Discharge from the penis in men, Painful sexual intercourse in women, Bleeding between periods and after sex in women
and Testicular pain in men.
Chlamydia is caused by a specific strain of bacteria known as Chlamydia trachomatis, whereas gonorrhoea is caused by the bacterium Neisseria gonorrhoea.
There are also, other sexually transmitted infections, including bacteria Trichomonas vaginalis trichomoniasis and Vulvovaginal candidiasis, that have no noticeable consequences.
The absence of symptoms often leads to questions, particularly amongst female patients, " Can I get a sexually transmitted infection from a toilet seat?"
The answer is that no you cannot get a bacterial STI from sitting on a toilet seat.
These are transmitted through sex without a condom or other barrier methods, including oral, anal, and vaginal sex.
There have been cases where mothers transmit a bacterial STI to a baby during childbirth.
Of course, there is a larger debate about being able to differentiate between a sexually transmitted infection and a urinary transmitted infection - particularly in ladies where the reproductive or genito-urinary system is in close proximity.
In cases of parasitic infections for example pubic lice or crabs, these can be transmitted through contact.
And for patients with open wounds, there's a high risk of transmission of viral infections such as HIV.
Among the leading cause of infertility
Outside the physical symptoms, which are based on discomfort or pain, leads to a patient seeking treatment, infections sometimes go unnoticed. This is particularly worrying for female patients as repeated exposure to sexually transmitted infections can lead to tubal blockage and hence infertility
Prof Koigi Kamau, a fertility specialist at the University of Nairobi the department of Obstetric and Gynaecology said that when you trace back for some patients who come in for fertility treatment and for those who are open enough, you can see a history of exposure to sexually transmitted infections.
Of course, a patient doesn't say it as such and they would probably report not having protected sexual intercourse or misclassify it as 'Urinary Tract Infection' which they took some over-the-counter medication.
"If you keep on giving anti-biotic, or any medicines, they learn how to survive because they continue growing and become resistant. The infection then rises and goes through your cervix and into your reproductive organs leading to blockage. When it then comes to conception and fertilization which occurs in the fallopian tubes, there's no room for this to occur," Prof Koigi said.
Like gonorrhoea, he said it has been mutating for several years, and medicine which could be used to treat the disease is no longer effective.
Kamau explained that, unlike gonorrhoea, sensitivity tests reveal that syphilis is sensitive to penicillins.
Gonorrhoea he added mutates more than syphilis and in some countries, gonorrhoea has become one of the hardest STIs to treat
Although syphilis and gonorrhoea have basic genetic makeup, they also have different adaptation mechanisms, when medicines aimed at treating them are misused.
Prof Kamau, further noted that the majority of Kenyans do not seek treatment for sexually transmitted diseases and infections because of poverty, and secrecy regarding sex.
Most STIS causes infertility in both men and women.
According to the fertility expert, infertility due to tubal damage is the most common, with nearly 80 per cent, chlamydia being the leading cause of gonorrhoea, and infections as a result of unsafe abortions, endometriosis, and adenomyosis.
If untreated, STIs also cause deaths as is the case with Hepatitis, HIV and syphilis in late stages.
Related Topics