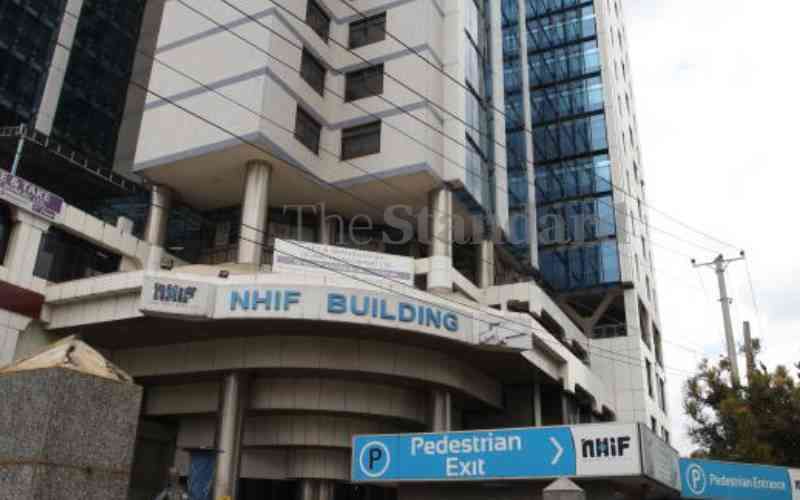 Change of contribution model at Kenya's public health insurer from individual to household-based, will not scale up the Universal Health Coverage (UHC), according to experts.
In its 2023 Budget Policy Statement (BPS), the National Treasury stated that the restructuring of the National Health Insurance Fund (NHIF), will ease the burden facing most Kenyans, by focusing on households, rather than individuals.
Prof XN Iraki, an economist at the University of Nairobi said shifting contributions to households could penalise small households, which will not raise more revenue to boost healthcare.
Iraki added that although household contributions might save contributions at the family level, it will not raise sufficient money, to provide quality Healthcare and implement the much-hyped UHC.
"When you get sick, it is not the household that gets treated, but an individual. The contribution should be at the individual so that at the end of the day we do not have large households benefiting from small ones," said Iraki.
"Think of a household with 10 children and one with three, how will this be viable? We need to be realistic."
According to the budget draft report, ''the government will thus change the contribution structure from an individual contribution model."
On her part, Dr Winnie Bore, a health economist, said contribution to the household will lessen the economic burden on individuals.
But she said more taxes should be channeled to cushion households.
"Household contribution will ease the burden, but we need to expand tax collection, for recharge to healthcare," said Dr Bore.
The Treasury's draft added that more Kenyans had been locked out of the public insurer, forcing them to pay out of pocket when sick.
The National Treasury noted in the draft that despite NHIF enrolling more members, the majority of the active members are those who earn a salary, against the intended social insurance scheme, as per the government's plan, of including everyone.
Currently, NHIF contribution ranges from Sh500, to Sh1,700, depending on the type of cover, and income generated by a holder.
NHIF reports reveal there is a total of 15.4 million members, out of which, only 6.7 million are active.
In the 2021 financial year, NHIF collected a total of Sh61.53 billion from its members.
But, Iraki said the government should develop policies of having for example children, youth and the elderly contribute less to the insurer.
Also, he said, sensitisation should be done, for Kenyans to understand the importance of enrolling for public insurance coverage.
In Kenya Kwanza's health manifesto, NHIF contribution - payment that was to be made at household - was to be mandatory.
Each household was expected to pay a minimum of Sh300 and a maximum of Sh3,000 monthly, raising Sh200 billion annually.
"Sh12, 000 for each of the 12 million households. To raise Sh200 billion required to cover both secondary and tertiary pillars works out to an average of Sh4, 000 per person, Sh16, 000 per household," reads a section of the manifesto.
The manifesto noted that its preliminary analysis showed that a progressive contribution system can achieve the Sh200 billion requirement with contributions ranging from Sh300 to Sh3, 000 per household per month (Sh3,600 and Sh36,000 per year).
On UHC, Iraki said, everyone should pay towards its implementation, depending on individual income.
To jump-kick the initiative, he said the government should allocate a budget, and woo Kenyans for support.
"There is no reason why UHC should not work. After all, we are a very young nation. But the government should come in, to probably put in some investment, then the rest of Kenyans can be cropped in," said the expert. "UHC is a brilliant idea; if people are healthy, the economy will grow."
UHC was launched by former President Uhuru Kenyatta, an initiative that was to benefit the country from the economies of scale.
The initiative was launched after piloting in the counties of Isiolo, Kisumu, Nyeri and Machakos.
According to the ministry's plan, NHIF was UHC's financier, and everyone was to contribute to the scheme.
Related Topics