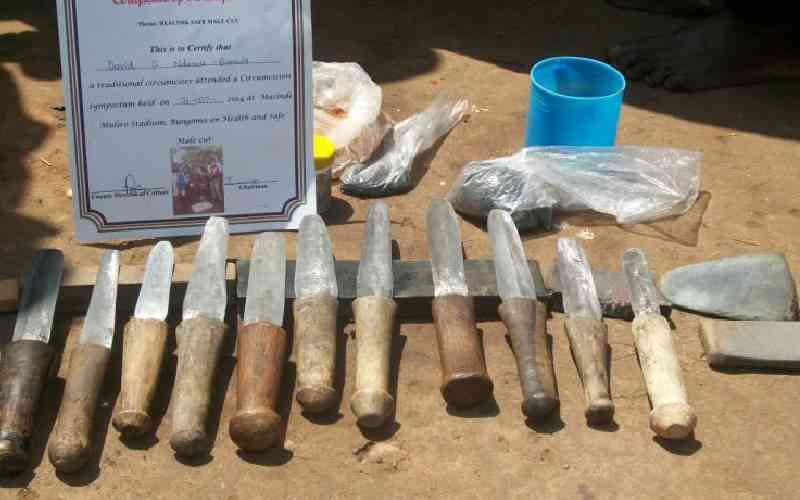 A rise in cases of botched circumcision among boys has raised concern among parents, with elders and medics now pointing an accusing finger at quacks.
Several boys who were circumcised during the holidays are currently receiving medical treatment, while one boy has died after undergoing the rite of passage.
Late last month, a teenager who had just completed his Kenya Certificate of Primary Education examination died after falling sick in what doctors attributed to lack of proper medical care after undergoing the traditional cut in Lelmokwo, Nandi County.
About 16 teenagers, who had undergone the initiation rite in Uasin Gishu, Baringo, Elgeyo Marakwet and Nandi counties, were rushed to the Moi Teaching and Referral Hospital (MTRH) following complications after circumcision.
In mid-December, two boys who were circumcised in Eastleigh, Nairobi, were rushed to hospital for corrective surgery after another botched procedure.
Yesterday, elders who spoke to The Standard from the North Rift wondered why cases of botched circumcision were rising, yet fewer incidents were reported in past years.
Kalenjin Myoot Council of Elders chairman Major (Rtd) John Seii said the environment where the traditional rite takes place are contaminated, hence the need for specialised care.
"Decades ago, we had very few cases of initiates falling ill because circumcision was conducted in seclusion, mostly in forests. But today, it is happening in dusty and dirty environments which subject boys to infections," Mr Seii said.
The elder said there were areas in his community where locals still preferred the services of traditional circumcisers, even after many parents largely shifted to medical professionals.
He said the rite of passage should not be moved to hospital theatres, proposing instead that the initiation process be conducted in the forest and expansive farms to allow elders to continue passing down knowledge of their culture to the younger generation.
"It will not work if the circumcision procedure is done in a hospital theatre. It can be done in hygienic environments and by health professionals but outside the hospital. I was the patron of a traditional circumcision exercise in December. We graduated 107 initiates and none of them fell ill because we prioritised hygiene. The surgical procedure was done by a doctor who has experience in circumcision.
"We are recommending that initiates' parents and elders should link every mass initiation ceremony to a health facility so that closer monitoring of initiates is done. The circumcisers and caretakers should be professionals who are cautious about the health of initiates," he said.
Stephen Sugut, a Nandi elder, said "commercialisation of circumcision has led to a surge of quack circumcisers."
"Some quacks want to circumcise as many children as possible because that will mean more money. How can you explain a situation where one person, posing as a medical doctor, circumcises tens or even hundreds of boys in a day? Traditional circumcisers were more careful than the modern ones," Mr Sugut said.
According to the elder, poor post-cut supervision resulted in many initiates being allowed to leave their homes before they could fully heal.
MTRH chief executive Wilson Aruasa confirmed that the facility was treating 16 teenagers, who were out of danger.
"The patients mainly got a secondary infection (sepsis) after undergoing circumcision," said Dr Aruasa.
The CEO emphasised the need to have properly trained doctors perform the circumcisions to mitigate against complications. "The main thing is to emphasise infection prevention and control, and primary healthcare which includes health education, clean water and sanitation, proper diet and nutrition in the community." Dr Kakai Kulabusia, an immunologist, and a lecturer at Egerton University, Department of Medicine, said that most botched cases were as a result of sepsis, which is an infection that occurs when germs get into the bloodstream and spread.
The infection, he explained, was not linked to how the procedure is done, but to post-circumcision complications.
"The majority of cases being observed are linked to poor post-circumcision management. Just like C-section, where if the wound is not managed well, you end up having a septicemic wound that will never heal because there are probably no antibiotics," said Dr Kulabusia.
He warned against using plain water to clean the wound. Instead, antiseptic solutions like Dettol or iodine can be used. The doctor said circumisers should take the health history of boys to avoid health complications like excessive bleeding.
"Screening before the cut is important to help mitigate problems that may arise during and after the cut. It is worrying that in most set-ups, screening is not done, only for boys to get more complications that risk deaths."
Dr Kulabusia said circumcision can be done anywhere, even in a traditional set-up, but it is important that the procedure be done by a trained nurse, doctor or clinical officer.
"Circumcision is not just removal of foreskin. It entails the real cut and post-care," he said.
Related Topics