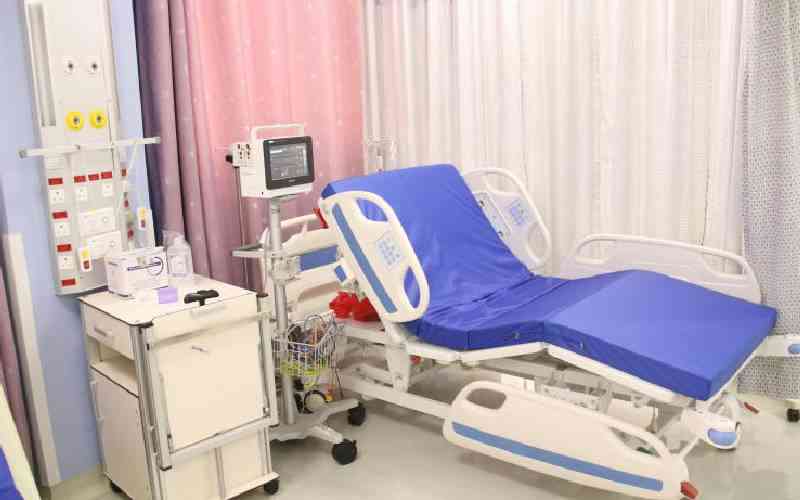 The rate of unemployment and job security have been listed as reasons some City residents contract diseases, with some cases leading to death.
This is according to a report by the Health Taskforce Committee appointed by Governor Johnson Sakaja to look into ways of improving health service delivery in Nairobi.
The team led by Dr Githinji Gitahi was also looked into the state of human resources based on the needs of the residents and how to finance them.
The taskforce appointed on September 14, 2022 went around to observe the conditions of public health facilities, engaging health practitioners and city residents.
According to the report, working conditions, the literacy level of women, nutrition, food security and access to safe water, sanitation, proper housing and amenities are other determinants.
Things get worse for those who fall sick since there are less and poorly equipped health facilities in the city which has a population 4.4 million, according to the 2019 Kenya National and Housing and Census.
According to the report, the available facilities are understaffed and under-stocked with drugs and crucial medical equipment like Intensive Care Units.
Over time, the report finds, some medical issues have been reported to be common among Nairobi residents, who then flock to public hospitals for treatment, with a few able to visit private facilities.
The common issues include respiratory diseases, diarrhoea, skin diseases, pneumonia, ear infection and accidents.
Of concern is that the county has a total of 803 health facilities most of which are privately owned and whose doctors directly provide services through clinics to a relatively small population.
In total, Nairobi County has 537 level 2 hospitals, 200 level 3 hospitals, 57 level 4 hospitals and 9 level 5 hospitals.
Dr Githinji handed over the report to Governor Sakaja last week for implementation.
"Our mandate was to ensure city residents have access to quality health services in a timely manner and to look into the state of public health facilities and supply of health products," said Dr Githinji.
He said the team got the views of people from all sectors, including doctors, patients and other stakeholders in the health sector.
"There is a need to improve the working environment to improve their motivation," he said.
According to the report, about 60 per cent of deaths occur due to poor quality care and non-utilisation of the available health services.
Quality of healthcare
"The public and stakeholders were critical of the quality of healthcare provided in public health facilities, leading to either delay in seeking care or alternative care," says the report.
It says some patients end up in health facilities when it is too late.
The respondents attributed poor quality healthcare services to inadequate and poorly maintained health infrastructure and facilities.
Among the findings are weak referral and communication systems and processes, leading to unnecessary referrals. Also noted are inadequate training on effective emergency healthcare and referrals, especially at community and primary healthcare levels.
Another issue was the of high cost of ambulances since patients are forced to pay for fuel in order to access the services.
The report says city residents need sufficient information, education and awareness on the available public health services.
Sakaja said he will urgently appoint an advisory technical committee that will help him implement the report.
"I want to commit that the report will not be put in the shelves of our offices, but I will see to it that all the recommendations made by the taskforce are implemented for the benefit of Nairobians," he said.
The governor said his administration will stock the facilities with medicine and ensure there is a health facility in every ward by the end of the first term.
Sakaja said the county will also increase the workforce in the county hospitals for efficient service delivery to city residents.
In the short term, the taskforce recommends that all level 2 to 5 facilities should be fully equipped and be made fully functional.
"Ensure all facilities are transformed into 24/7 fully operational and to fully operationalise the upgraded 11 facilities from level 3 to level 4," the taskforce recommends.
To improve emergency services, the report says eight ICU/HDU beds be set up at Mama Lucy Kibaki Hospital, eight at Pumwani, eight at Mbagathi and 12 at Mama Margaret Kenyatta Hospital in Korogocho.
The taskforce recommends that the county should set up four blood banks and review blood donation policy, while establishing a fully-fledged blood satellite at Mama Lucy Kibaki Hospital.
The report says the Sakaja administration should set up a sustainable and effective referral and linkage system for emergency and non-emergency services.
The team also recommends the strengthening of mental health services and establishing a centre of excellence in mental health.
And to save the city residents from slipping into poverty due to costly medical services the team proposed establishment of a county healthcare social scheme.
Related Topics