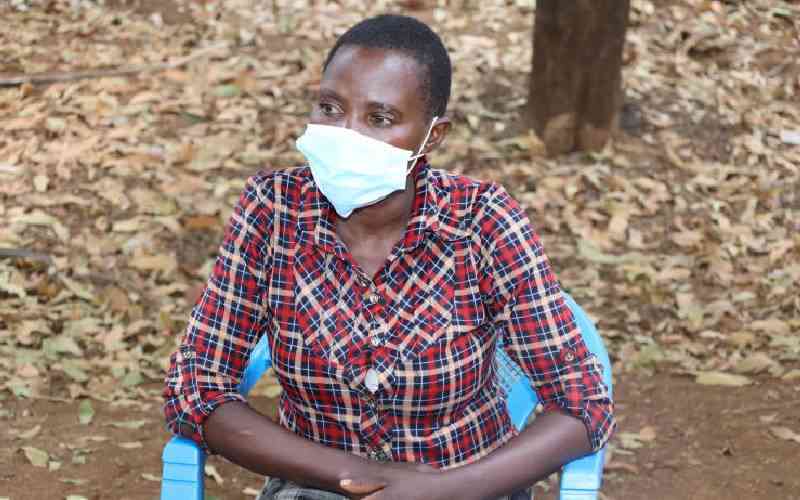 Home is a place of refuge, or so it is believed. But what happens when home becomes the source of your misery?
Home has not been home for 32-year-old Mary Gacheri, a mother of 2, who, after ailing for 6 months while away was advised by her elder sisters to go back home.
She had been going from hospital to hospital before finding out that she had tuberculosis. Gacheri left Timau where she was doing casual jobs and went back home near Mikinduri.
We meet her at Mikinduri Sub County Hospital, where she came for her regular checkup before she leads us to her home, a 10-minute walk from the health center.
The home is surrounded by high trees that provide good shade. The trees have a welcoming home aura to them, an aura that Gacheri says is lacking in the family.
"When I came back home, my family said that I was bewitched. After going to the hospital and tests were done, they found out that it was TB," she says.
Being diagnosed could have been a ray of hope for her but the stigma got worse. "My father said that TB came from my mother's side of the family. My mother also had TB a while back but was put on treatment and healed. I lost one of my brothers to the disease, I currently have a brother who is also sick, he has TB, that's his house," she points to a house on the right side of the homestead.
The interview is interrupted by Gacheri's mother who says she's not comfortable having people around her homestead.
She is nervous that her husband may find out that pressmen have been invited by a section of the family to discuss TB in his homestead, a disease that has caused more damage than good to this family.
Gacheri's mother is clearly disturbed as the interview goes on. Gacheri has avoided eye contact with her mother. She is not even looking her way - it is clear to any visitor to this homestead that Gacheri, a victim of TB is unwanted.
Friends and some family members advised her to seek treatment from a witchdoctor, to break what was claimed to be a curse within the family. Apart from the brother who died of TB, she also lost two other siblings in a road accident.
She says she cannot do house chores as she used to, her body aches and her body temperature keeps fluctuating from high fever to low. However, even with her condition, she wants to leave that home with her children because there is no peace. "I just want to go back to Timau, but I have been told that I can only get good treatment and regular checkups from here, but I just want to go back with my children, "she says.
By the time she was going to Mikinduri Sub-County Hospital, she would cough blood-stained phlegm. She would later find out that she had Multidrug-resistant TB (MDR TB). "I was devasted because I was taking drugs and no change. I was told to stop taking the old drugs," she adds.
Drug-resistant TB occurs when bacteria become resistant to the drugs used to treat TB. By the time we were doing the interview, Gacheri was about to start her MDR TB treatment. The treatment would be monitored closely by the team from Mikinduri Sub-County Hospital.
TB linkage assistant, Beatrice Kabuya from Mikinduri Sub-County Hospital says that they sensitize the community on TB to teach that it is not a curse. "It is hard to detect people who have symptoms because most of them hide fearing stigma, because they associate TB with HIV and others believe it is a family curse," she says
However, she adds that once the linkage assistants identify someone, they get their phone number, in case they do not have a phone they go through the chief. "We go to the communities two times per week, we sensitize them. We are trained to carry out the tests, so we carry the samples and come back with them," she adds.
Benedict Mutuku, Sub County Medical Lab Coordinator says that the TB prevalence is partly caused by the socio-economic activities in the area. "We have come up with ways to mitigate TB, like health talks. Lifestyle is a huge contributor to the prevalence. But research is ongoing to find the root cause," he says
The regional officer of Center for Health Solution Kenya, Duncan Barkebo, says that the County has come up with ways to help reduce the TB numbers in the area. "We ensure there are the latest diagnostic tools, training health care workers to ensure they detect TB at the right time and patients get the best quality of care," he says. Absalom Wambua, Clinician in charge at Mikinduri Sub County Hospital says that this year the health center has had 7 Multi Drug Resistant TB cases (MDR-TB). "Stigma is our main challenge. Most of our clients also come to the health center very late when they are very sick,"
Absalom says that in a week they would have 2-3 cases of TB. Men are highly affected, between the ages of 30-50 years. Patients who have Multi-Drug Resistant TB are usually monitored. Monthly sputum tests are done for follow-ups.
"There are patients who refuse to start their medication so we offer counselling, to make sure they accept and understand the importance of taking drugs, and then give them the possible reasons why the drugs might have resisted," he says.
Absalom says that patients with MDR- TB are given a monthly stipend to cater for food.
"Previously, the patient had to bring two samples. It was hard for patients to come back because of distance, sometimes they wonder why they should come back, but with the Truenat machine it is just one sputum and in 2-4 hours the results are out," he says.
Since the machine was brought, the tests have increased to 80 a month compared to 40-50 while they were using the microscope.
Since July 2022 they have had 50 positive cases.
Related Topics