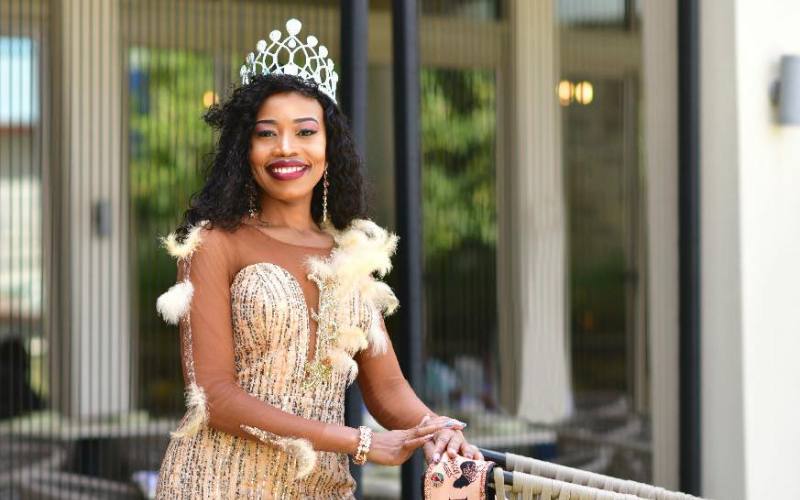 A pageant queen has opened up on her struggles raising three kids as a single parent, two of whom have special needs.
Sylvia Moraa Mochabo is a mother of three boys, Daniel, Andrew and Bradley.
In her narration at Spice FM last week, Moraa revealed that her firstborn is a normal child but the last two are both autistic.
Andrew turns 12 this year and has autism with epilepsy. This is simply a developmental disorder where victims struggle with repetitive behaviour like hand-flapping, twirling or jumping, hyperactivity, and sensitivity to sound, light, and touch.
On the other hand, nine-year-old Bradley (the youngest of the three) has Attention Deficit Hyperactivity Disorder (ADHD), and his condition can only be managed by specific medication.
"Autism is not the same for everyone. The symptoms also differ from one person to another and these are some of the things that really took me time to understand when I first learnt my third child was also autistic," Ms Moraa said.
Being a single mother whose only close confidant was her first son, she says Daniel (her first son) had to mature earlier than his age.
"I had to teach him these things early enough just so he could understand what was happening around us," the mother of three opened up.
As she was going through her marriage split at the time, her first child had to deal with maturing early, bullying at school as well as growing up without a father.
"Daniel has no relationship with the father. Sometimes I used to feel like I am alone. This is because people will always ask you to reach out when in need but they don't mean what they say. The truth is that people will not always be there for you," she said.
Then added, "I always asked God why me, this is especially when I found out my other son was autistic," she said fighting back tears.
Throughout her motherhood journey, Moraa says her first son was the only person she could rely on for little help in the house. According to her, Daniel always stood up for his family and would sometimes miss out on other kids' functions because his two little brothers were not allowed.
"I once overheard a conversation of kids as I was resting in my bedroom one afternoon. Then I heard some children asking my son (Daniel) to attend their birthday but Daniel was so quick to ask whether he could come with his brothers. What hurt me was when the other children asked him to leave his brothers behind because they were weird but Daniel stood up for them and said they are not weird but just different and special," Moraa added.
Sylvia Moraa Mochabo is Ms Africa Elite 2020-2022. She's also the founder of the Kenyan organisation 'Andy speaks 4 Special Needs Persons Africa', which advocates for children with special needs as she is a mother of two boys with special needs.
Related Topics