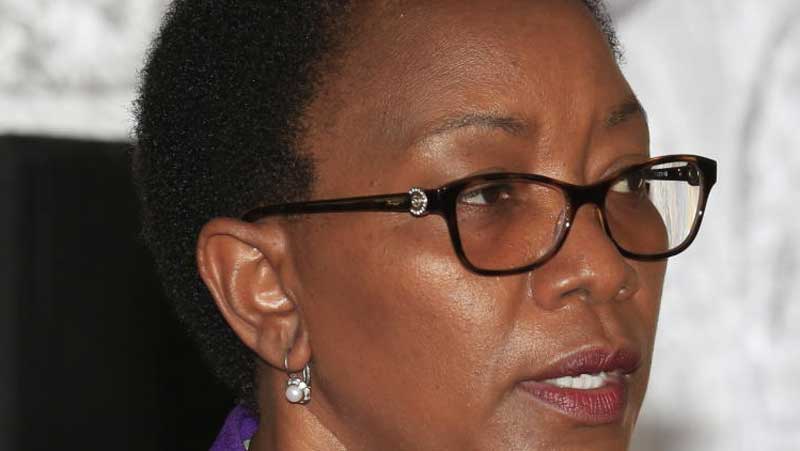 Low quality or fake medicines are causing poor treatment outcomes, some of which lead to deaths of many Kenyan patients.
Two recently released reports paint a picture of just how bad the situation is, with exceptionally high rates adverse drug reactions and side effects among patients on hypertension and cervical cancer drugs.
Medical experts say medicines for chronic diseases such as cancer, diabetes and hypertension have, due to their high value, become a prime target for unscrupulous traders.
On Tuesday, during the World Anti-Counterfeiting Day, Chairman of the Kenya Association of Pharmaceutical Industry (KAPI) Anastasia Nyalita raised a red flag over increasing imports of illicit medicines into the country.
"We have already petitioned the Pharmacy and Poisons Board on the entry of suspect medicines into the country and want them to take action," said Dr Nyalita.
At a meeting with pharmaceutical manufacturers and distributors at the Pharmacy and Poisons Board in Nairobi, Kariuki said no one will be spared.
"There is no short cut in ensuring proper medicines reach the public. I have ordered the Pharmacy and Poisons Board to move in quickly and remove all poor quality medicines from the market," said Health Cabinet Secretary Sicily Kariuki.
The government, the CS, said is in the process of revising laws and fines that will make it punitive for importers of illicit medicines.
React dangerously
"We are conscious that we have to change our regulatory approach to deal with criminal elements if we have to achieve universal health coverage," said Kariuki.
"We have instructions from the President to destroy any counterfeit product on site and that is what we are doing," said Chris Kiptoo, the Trade Principal Secretary.
Two weeks ago, a survey by the Kenya Medical Research Institute (Kemri) found that a third of anti-epilepsy drugs in private pharmacies, kiosks and even public facilities are of poor quality.
"A poor quality anti-epilepsy drug is almost worse than the non-availability of good medicines," lead author Dr Jeremy Jost, told Sunday Standard.
The survey showed that most sub-standard products in the market come from China and India, with no indication they have been inspected as required.
In August, the World Health Organisation (WHO) warned of fake Avastin and Sutent cancer medicines in the region, cautioning that they could compromise patient care.
WHO said such drugs may be of poor quality, are toxic to patients and may react dangerously with other medicines used in chemotherapy. They may also contain less or no active ingredient hence of no value to the patient.
Around the same period, a study at Kenyatta National Hospital (KNH) led by Amsalu Degu of the University of Nairobi reported high death rates among cervical cancer patients receiving chemotherapy.
More than 93 per cent of the patients had reported drug related problems. While the study did not exclusively link the problems to the quality of drugs, experts say the presence of poor medicines could further complicate the treatment of cancer in the country.
"Such deviations will very quickly lead to disastrous outcomes," said Nicholas Abinya, a cancer specialist and lecturer at the University of Nairobi.
Prof Abinya, who is also an advisor to the government and WHO on the list of essential cancer medicines, set up the first training programme in medical oncology at the University of Nairobi in 2016.
He says there are too many types of cancer medicines in Kenya coming from all sorts of unverified sources, making it difficult for doctors to establish what works.
Dr Ayan Ajuoi Magot of the University of Nairobi has also reported similar problems with hypertension patients attending KNH.
A recent study by the World Bank also found high presence of poor quality medicines in private clinics and pharmacies in Nairobi County.
The research found that patients in the city are routinely given drugs, including antibiotics and painkillers, which do not meet the required standards.
Such medicines include the popular painkiller ibuprofen, the antibiotic amoxicillin, the asthma drug prednisone and the allergy treatment cetirizine. Others are clavulanic acid combinations, salbutamol and zinc tablets.
Seventeen per cent of these samples failed quality tests at Kenya National Quality Control Laboratory.
Low quality medicines were found in both poor and rich neighbourhoods, with samples collected from Dagoretti, Kamkunji, Kasarani, Lang'ata, Starehe and Westlands.
The survey is part of Kenya Patient Safety Impact Evaluation Project, a joint initiative of Ministry of Health and the World Bank Group.
Much of the low quality medicines and counterfeits, have been blamed on poor regulatory mechanism that have opened the window to unfettered access to the Kenyan market, mainly by Chinese and Indian pharmaceutical companies.
"India and China have taken over the space of local manufactures, offering over 70 per cent of medical imports most of them of unverified quality," says James Kamau, the CEO of Kenya Treatment Access Movement-KETAM.
"There are more than 1,000 manufactures from India and China registered in Kenya, far outstripping local capacity to inspect their competence as required by law," said Kamau in a letter to the Health CS.
PS Kiptoo and the head of the Anti Counterfeit Agency Elema Halake have however said they do not have the capacity to effectively monitor goods entering the country.
www.rocketscience.co.ke
Related Topics