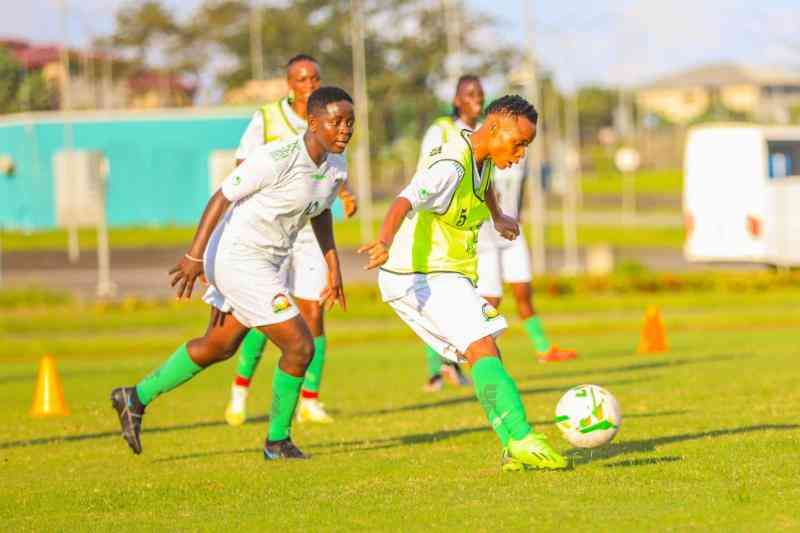 Harambee Starlets will be seeking to kick off their 2024 Women Africa Cup of Nations (WAFCON) qualifiers on the front foot as they face hosts Cameroon in their first leg match at Reunification Stadium in Douala tonight (9pm).
Starlets head coach Beldine Odemba expressed her team's readiness and optimism of facing Cameroon, one of the most formidable sides in women's football in the continent.
"We had very good training sessions building up to the finals. The team is made up of a blend of experienced and young players which makes the team powerful in terms of unpredictability when our opponents try to read us," said Odemba.
"We appreciate the support from Kenyans who are definitely our 12th man every time we are on the pitch and we promise to deliver. With the experience of the likes of Akida and Dogo blended with the explosiveness of Shikangwa and the rest of the new stars I trust we will do better."
Odemba named a strong 23-member squad for the qualifiers with the notable inclusion of PAOK Thessaloniki forward Esse Akida among the stars.
Akida makes a return to the national team for the first time since 2018. She was part of the squad that took Kenya to the 2016 WAFCON finals in Cameroon alongside Dorcas Shikobe, Mwanahalima 'Dogo' Adam and Vivian Corazone.
"Having been part of the team that last qualified for WAFCON alongside other players I believe it is a good motivation for us to push the team again. Furthermore, it feels good to be back playing again for the national team," said Hakkarigucu Spor attacker Dogo.
"I was longing for this because when other players were going for national team duties we were just being left with our clubs. I am very happy to be back and I promise Kenyans that we will do well."
Starlets will return to the country on Sunday ahead of the second leg on September 26 in Nairobi.
The stakes are high in this two-legged qualifier, as the aggregate winners will face either Gabon or Botswana in the second round, scheduled between November 27 and December 5.
The eventual second round winners will earn a spot in the 2024 WAFCON, set to be hosted by Morocco.
Related Topics