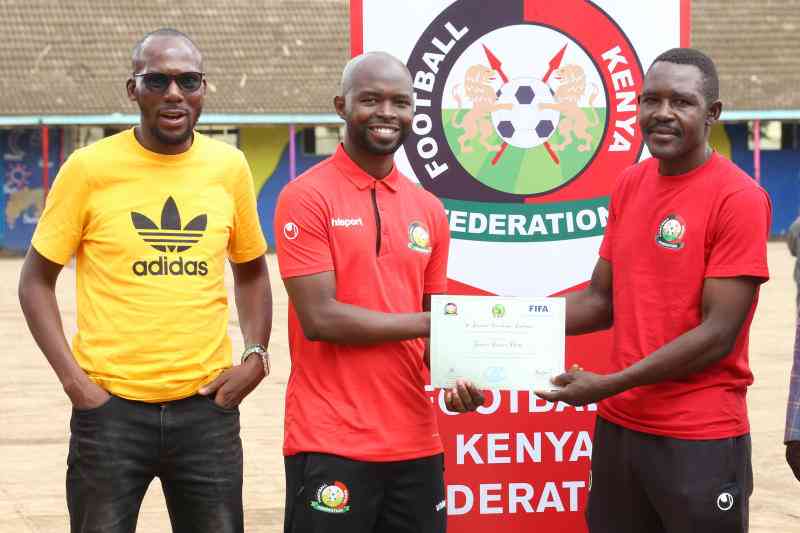 Football Kenya Federation (FKF) CEO Barry Otieno has challenged former football players to create their own brand and image if they want to achieve their goals through coaching.
Speaking during the completion of a 10-Day CAF D License FKF Coaching Course at Kariobangi North Primary School in Nairobi yesterday, Otieno urged the former players to help the federation in curbing match fixing.
"This is just a platform to provide knowledge, from here you need to go create your own brand if you want to build your name and image," said Otieno.
He further reminded them the future of Kenyan football depends on them as they are responsible for grooming young players.
FKF Nairobi East chairman Amos Otieno thanked the federation for facilitating the course that brought saw former internationals led by Francis Onyiso and Ezekial Odera gain coaching skills.
Onyiso, a former Ulinzi Stars goalkeeper, emerged the best in the training after with 82%.
"I thank the federation for making this possible. With this knowledge and experience these new coaches can share it with the society through academies and clubs," said Amos Otieno.
Jerim Owuor, who was instructor, congratulated the coaches for volunteering their time to take up the course. A total number of 29 participants attended the course (24 men and five women).
Owuor said the participants were proactive since day one sharing their experiences from their past while playing active football.
He said some of the courses they undertook was Basic periodization which involves dividing an entire training year (or longer) into smaller phases and cycles, ranging from cycles lasting a number of days like preseason.
Other courses were preparation of training sessions and technical skills.
Related Topics