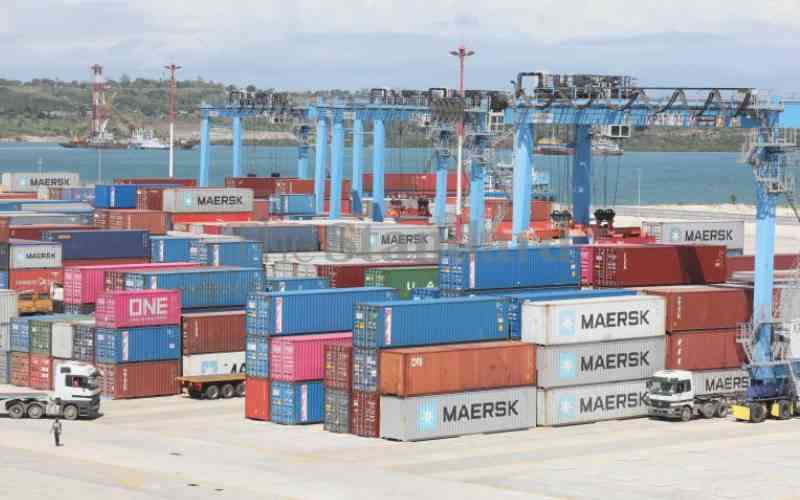 Kenyans have always looked at Tanzanians as slow and courteous.
A somewhat condescending view compared to their perceived abrasive nature and go-getter attitude.
Kenya's tag as the region's biggest economy by foreign corporations and aid organisations has fed into the ego of Kenyans so much so that they do not regard Tanzania as a formidable rival in the race for regional dominance.
But in recent years, Tanzania has made remarkable progress, threatening to topple Kenya as the regional economic giant.
The signs are all over, from Tanzania tripling its exports to Kenya in the four years to 2022 and its ports toppling the Port of Mombasa as the preferred route for regional importers to mega infrastructure projects that dwarf Kenya's and a well-thought-out Standard Gauge Railway (SGR) that will seamlessly connect to its neighbours.
The recent World Bank's Container Port Performance Index (CPPI) is perhaps the most recent pointer that Tanzania could be a giant awakening.
The survey ranked the Port of Mombasa at position 326 globally ahead of the Dar es Salaam port at position 312 in 2022.
Mombasa's ranking dropped by 30 slots having been ranked at 292 in the 2021 survey. This is even as Dar es Salaam moved up slightly from number 312 in 2021.
Kenya also ranked lower than other ports in the region, with Djibouti being ranked at position 26 and Berbera in Somaliland at position 144.
And last week, manufacturers warned of how unfriendly Kenya has become to businesses. They noted that unlike in the past when local manufacturers would opt to close down as they did not have the muscle to move to Asia or Egypt like their multinational counterparts, today they can easily move their operations across the border.
Giving their input on the taxes proposed by the Finance Bill 2023, they noted how some of the industries are contemplating closing down their operations in Kenya, with Tanzania the most likely destination. They noted that Tanzania has in the recent past been getting its act together in attracting investors.
The result has been an increase in the manufactured goods that Dar es Salaam now exports to Kenya.
"If Kenya indeed wants to be a producing nation, we must come up with policies that encourage production… if we as a country are not careful, we are going to be a big supermarket for our regional countries, which are doing a lot of manufacturing," Kenya Association of Manufacturers Chief Executive Anthony Mwangi told the National Assembly's Committee on Finance and Planning last week.
"The problem with these kinds of policies is you will immediately see a shift to countries that are pro-manufacturing. Tanzania is way ahead. You have heard companies say that they are looking for real estate in Tanzania, others have big manufacturing bases in Kenya and smaller ones in Uganda or Tanzania but are now saying if you do this (pass the Finance Bill as proposed), we will shift the load to Tanzania. The decisions that we have been making are chipping our market share in favour of these other countries."
According to government data, the value of goods that Kenya imports from Tanzania tripled to Sh54 billion in 2022 from Sh18 billion in 2018.
The value of goods that Kenya exports to Tanzania has also been on the rise, which analysts noted also points to a growth in the purchasing power of Tanzanians.
Increased exports
Kenyan exports to the country grew by 25.9 per cent to Sh57.4 billion last year, up from Sh45.56 billion in 2021, which the government noted was on account of increased exports of iron and non-alloy steel. Exports grew from Sh29 billion in 2018.
For years, Kenya's northern transport corridor was ahead of Tanzania's central corridor. Importers to the region, including to countries such as Uganda, Rwanda and the Democratic Republic of Congo, preferred to import through the Port of Mombasa and then move the cargo into the hinterland and into their respective countries through road, rail and in the case of petroleum products a combination of pipeline and road.
Other than the Port of Mombasa losing its attractiveness to the Dar es Salaam port, Kenya's northern corridor could also face a major competitor in Tanzania's SGR.
The country's planned SGR might not just rival but dwarf Kenya's SGR. Tanzania has its sights on connecting its neighbours - Rwanda, Burundi, DR Congo and even Uganda - to the Indian Ocean.
It has an ambition of constructing 2,000 kilometres of SGR stretching from Dar es Salaam to Tabora in central Tanzania. It will then branch north to Mwanza on the shores of Lake Victoria and then further to the west where it will connect to Burundi and Rwanda. At Tabora, the line will also branch to the shores of Lake Tanganyika.
The 300km section between Dar and Morogoro was completed last year in April. A 442km section between Morogoro and Makutupora and another 294 sections between Makutupora and Tabora are nearing completion. The three sections had been contracted to the Turkish firm Yapi Merkezi.
Tanzania in January this year contracted two Chinese firms - China Civil Engineering Construction Corporation and China Railway Construction Corporation - to work on the final sections, which go to Mwanza and the other to Kigoma. The grand project is expected to be completed in 2026.
"The SGR will link Tanzania, from the port of Dar es Salaam on the Indian Ocean to the port of Mwanza on the shores of Lake Victoria in northern Tanzania, and from there to neighbouring countries of Rwanda, Burundi, and the Democratic Republic of the Congo (DRC)," said a government arm on investing in Tanzania about the railway.
Tanzania will be spending $10 billion (Sh1.3 trillion) on the entire project.
Kenya started building the Mombasa-Nairobi SGR in 2013, and its operations started in 2017. It was later extended to Mai Mahiu in Naivasha.
The project, which had earlier been expected to go all the way to Malaba, was built at a cost of Sh628 billion.
The Kenyan government recently unveiled plans to extend SGR to different parts of the country, including Malaba and Isiolo and further to Moyale (on the border with Ethiopia) and Nakodok (on the border with South Sudan).
The grand projects are expected to start this year and be completed by June 2027. This will be at an estimated cost of Sh2.1 trillion. Other than the infrastructure that appears poised to give Tanzania a boost, the country has huge deposits of minerals such as gold and has already started mining. It also has huge reserves of liquefied natural gas (LNG). The country early this month reached a deal with Equinor, Shell and Exxon Mobil that will enable the country to get value from the vast LNG resources.
Ken Gichinga, the chief economist at Mentoria Economics, said while Tanzania has vast resources, the country's major letdown was its human resource, adding that if the country got its education system right, it would be the regional superpower.
He noted that this is an area where Kenya will continue to have an edge and possibly what will keep it ahead of the pack in East Africa for years to come.
"Tanzania is certainly emerging as a strong player, thanks to its vast endowment in natural resources. However, its labour force is not as competitive as Kenya's and is, therefore, unlikely to overtake Kenya anytime soon," said Mr Gichinga.
"If they can overhaul their education curriculum and make it more world-class, Tanzania can emerge as a superpower."
Agriculture is an area that Tanzania has always beaten Kenya on. Different agricultural produce imports from Tanzania have always enabled Kenya to bridge the difference between what it produces and what consumes.
Experts noted that Tanzania's agriculture sector has surged ahead on account of the country focusing on value chain organisations as well as continued support to smallholder farmers from government extension officers.
"You can point out a number of value chains where Tanzania is doing better than Kenya. This is informed by farm-level productivity and value chain organisations. The regular is that there are certain products that Tanzania does better than Kenya such as sunflower and cashew nuts," said Dr Timothy Njagi, a research fellow and development economist at Egerton University's Tegemeo Institute of Agricultural Policy and Development.
"Knowledge systems in Tanzania are far much better than Kenya's. Farmers there are able to interact with extension agents and learn about which technologies they need to use, what is new, and how you apply it. This is in comparison to our farmers who mostly have to figure this on their own."
He added that other than the intentional actions by the government, the country also has large tracts of fertile land. This is such that Tanzania's maize yield is higher than Kenya's. Certain producing regions are also close to cross-border markets as is the case with the country's northern highlands, which find it easier to supply to parts of Kenya.
"In other instances such as horticulture, It is just the opportunity. They are not necessarily better than us. If you look at tomatoes, onions and potatoes, they are grown in the northern highlands, closer to Taveta. Because of the distance, Kenya is a better market than Dar es Salaam, which point to the beauty of integration," said Dr Njagi.
Related Topics