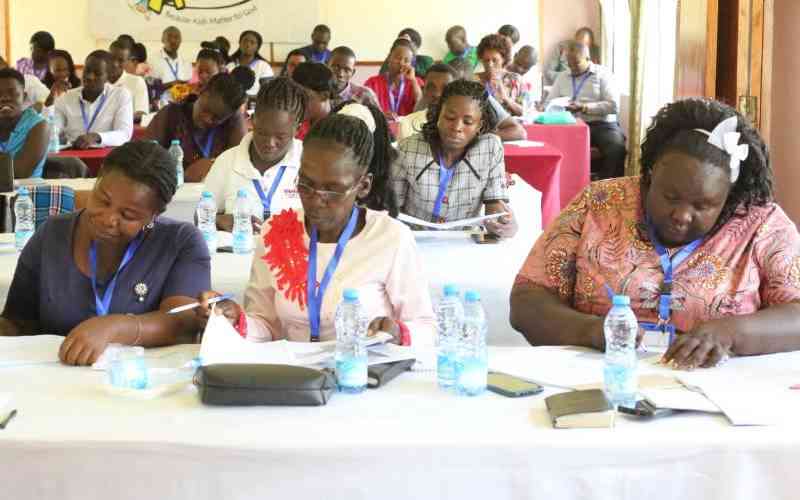 Teachers in Kakamega have called for the introduction of integrity classes in schools to check on the rising moral decadence in the community.
Speaking at the sidelines of a training session to impart them with moral lessons, the tutors regretted that most learners lacked morals, the reason why there was increased crime rates, rising divorces, higher rates of substance abuse, widespread corruption, and the decline of ethical behaviors in business and politics in the country.
"I am sure the current corruption levels would be lower or even non-existence if our education system could have trained the learners of good virus. It is common saying that train a child in the way he should go and when he grows up he will not depart from it," said the school head of Vihiga education city, Alexie Muzame.
The training which saw champion teachers benefit from lessons on virtues centred on prudence, justice, temperance, and courage that they would in turn pass their learners.
"It is not a must that these are included in the curriculum but individual schools can choose to have clubs to teach their children virtues for they count to building a solid society."
Kizito Wafula a Guiding and Counseling teacher at Shivehe Secondary School regretted that the moral standards among teens in schools was wanting as he called on timely intervention.
"Most of our learners are reluctant, reckless and temperamental. I recommend that we get more of such training on virtues so that we pass to our pupils and students even outside regular class time," he said of the lessons taught by the African Child and School Initiative Organization that champions the teaching of virtues from elementary schools.
Teachers from Kakamega, Vihiga, Busia, Bungoma and neighbouring counties attended the session at Bishop Stam pastoral centre in Kakamega.
Bernard Litwachi, one of the trainers in the session drew parallels with nations that value virtues saying a generation was best shaped at its formative stages.
"The basic thing we teach is character development. We want to allow each child to explore the field of morality and learn to discriminate between good and evil. To make the learners respond positively to their capacities be it in leadership or sports or any other calling," he said.
He argued that in schools where the virtues classes were adopted the rates of Violence, bullying, and even adolescent pregnancy had decreased.
"Education should not end in itself. It should rather be the process of forming excellent character in a student. We want to have students who will act well after completing the education system," he said.
Related Topics