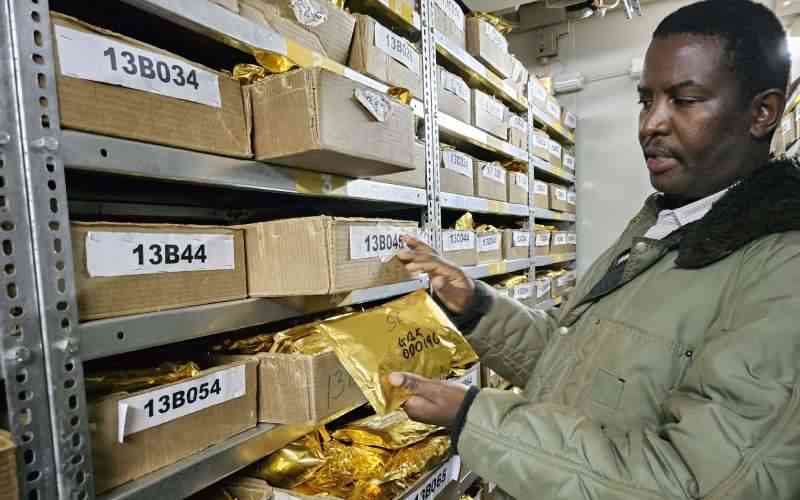 A drive along the Limuru-Nairobi highway leaves an impression of a growing real estate sector, perhaps at the expense of agricultural land.
At Muguga, you are ushered by a forest, so dense that one would be forgiven for thinking that there is no human activity.
Hidden in this forest though is one of the country's gems, wealth in the seed and subsequently food security and environment conservation circles.
Welcome to the Generic Resources Research Institute (GeRRI) where thousands of accessions have been securely conserved, to not only avail them for current direct use and utilization in research but also ensure biodiversity preservation for posterity. GeRRI is one of the semi-autonomous institutes under the Kenya Agricultural and Livestock Research Organization (KALRO).
At a time when the world is gradually losing biodiversity, especially in the wake of climate change, GeRRI hosts about 52, 000 accessions, some of which were collected back in the 1950s. On this day, Dr. Peterson Wambugu, the Principal Research Scientist sits at his office, analyzing some seeds that he has received for preservation. He says he needs to find out what they are, from whom and other details.
Often, GeRRI, commonly known as the National Gene Bank, receives seeds mostly by own collections from the wild, markets, farmers and breeders.
"After receiving the seeds, they are registered and allocated a unique identification number," explains Dr. Wambugu, adding, "Details such as the place where the seeds were sourced, name of species, who collected them and properties such as if they are forage, medicinal…and other details are also recorded,"
Over the last four years, the genebank has received major technical and financial support from the Crop Trust through funding from the German government via the German Development Bank (KfW) to upgrade its conservation capacity. This support includes improving its information management systems. Initially, records would be stored manually. However, in the wake of digitalization, GeRRI has received IT equipment from the Crop Trust which is revolutionizing its operations. The Crop Trust is an international non-profit organization that promotes the conservation and availability of the world's crop genetic diversity to enhance food security.
The seeds are dried to a moisture content of between 3-7 percent. The seeds' viability which is simply the germination rate is then tested and should be at 85 percent or above. If it falls below the 85% threshold, the materials are taken for regeneration by planting them and harvesting seeds afresh. They are then packaged in special aluminum packages that do not allow moisture imbibition.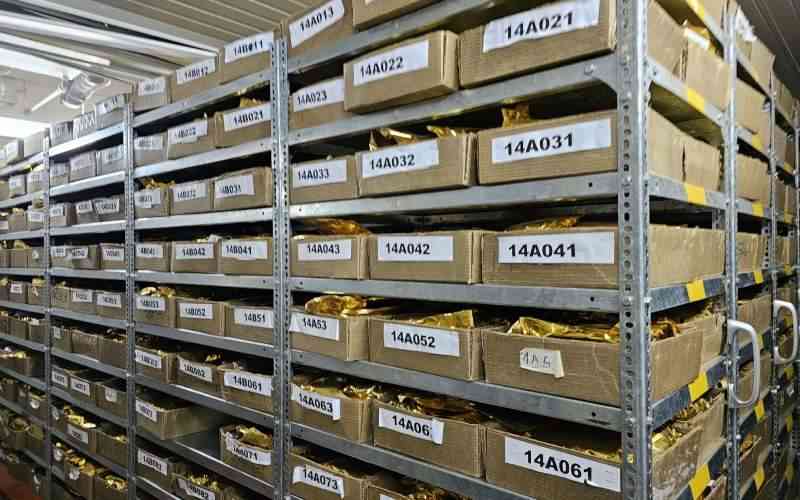 The accessions are then stored in cold rooms. One of the cold room is maintained at 5 degrees centigrade for the ones meant for day-to-day collection for redistribution. The other one is kept at a temperature of minus 20 degrees centigrade and is meant for seeds that are stored for long term. With these cold room storage facilities where seeds can last for hundreds of years, the genebank provides the much needed insurance against unforeseen calamity Viability tests are periodically done during storage to ensure they still remain alive and viable.
Among GeRRI's collections is a duplicate collection of over 6,000 of sorghum accessions and 2,000 of finger millet, collected from all over Africa.
Currently, sorghum and finger millet accessions are the most sought for seeds, as many farmers and breeders have identified them as resilient to climate change, require low capital and endowed with high nutritional value.
"We are actively involved in taking mitigation measures against climate change and its effects by availing relevant planting materials to those who seek it here," says Dr. Desterio Nyamongo - Institute Director, GeRRI
In partnership with the Food and Agriculture Organization (FAO) for example, GeRRI has been working towards reclaiming degraded land in Eastern Kenya by planting legumes and grass.
Dr. Nyamongo called for active involvement among breeders, farmers and other stakeholders in conservation saying this does not only benefit the current, but also future generations. "GeRRI's main challenge is to sift the huge diversity of priority crops in partnership with farmers from different regions so as to expose them to potential ecotypes that they could directly use to mitigate impacts of climate change," asserts Dr. Nyamongo. GeRRI lacks resources to effect the sifting and would appreciate support in this area.
He further termed it as 'unfortunate' the thoughts of losing biodiversity while there is so much that can be done to conserve the same.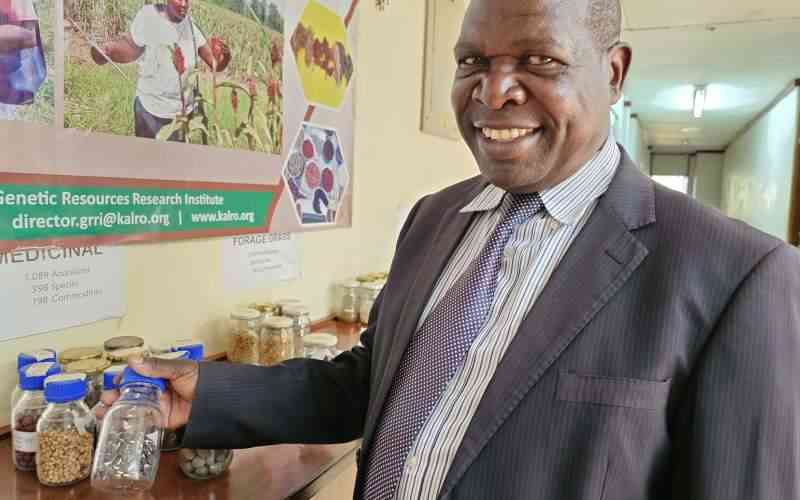 Nakuru county- Seed Savers Network (SSN) is among frequent visitors and users of GeRRI. A grassroots organisation working with over 66,000 farmers, SSN often takes farmers for learning visits at GeRRI.
"We also request and get seeds for regeneration and work with farmers to multiply the same," says Daniel Wanjama, Director, SSN.
Additionally, GeRRI and SSN conduct joint trainings on issues such as policies, seeds regeneration and creating awareness on indigenous seeds such as sorghum and millet.
In Busia, GeRRI has partnered with SSN in conducting joint research on indigenous methods of seeds preservation.
Related Topics