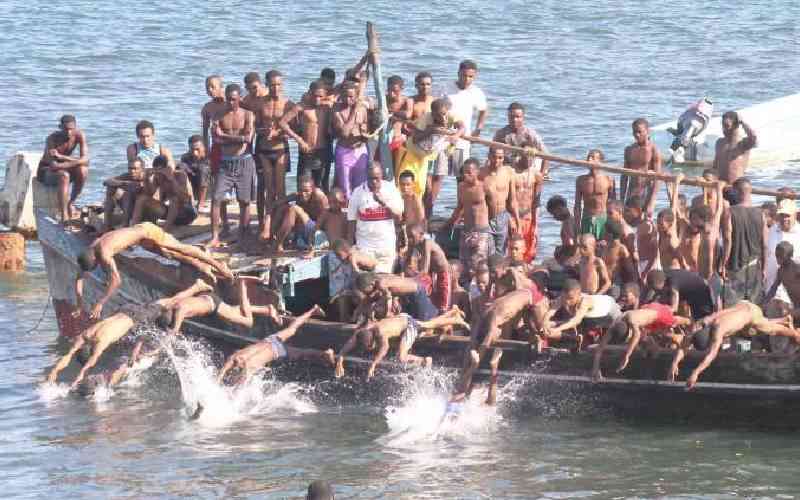 It was a display of raw and mighty talent in the last three days as the Lamu Cultural Festival made a comeback after a three-year break occasioned by the outbreak of Covid-19.
The festival that kicked off on Thursday brought in troupes of dancers, artistes, and cooks from diverse cultures across the East African region who lit up the island that has in recent years been paralysed by incidences of insecurity.
Other than the common events and activities like henna painting, cooking, poetry, triathlon, cultural displays, and dhow and donkey races, the event was illuminated by the performance of Mzee Yusuph from Tanzania.
Mzee Yusuph took the stage at Mkunguni Grounds on Friday night, barely a year after he announced his retirement from stage performance, to deliver his hits like Daktar wa Mapenzi (love doctor) to his fans.
The bug caught on guests including Lamu Governor Issa Timamy, his guest Prime Cabinet Secretary Musalia Mudavadi and other fans who took to the dance floor to "shower Yusuph" with cash.
Money spray culture is common among the Swahili people and it symbolises appreciation for the artiste's performance. Later, Mzee Yusuph sang the much loved hit "Mpenzi Chocolate" as guests danced into the night.
Other musicians who graced the event include Ohangla sensation Achieng Nyarongo who was last night expected to entertain her fans at Club Montesino Bar and restaurant.
Agikuyu traditional dancers from the Mpeketoni area also showcased their talents at Mkunguni Grounds, where leaders called on residents to remain peaceful.
Meanwhile, the four-daylong extravaganza breathed life into the tourism sector on the island which has been hard hit by insecurity cases and covid-19 pandemic.
Traders who thronged the Lamu Archipelago recorded booming business during this year's four-day annual event which ends today.
Yesterday hundreds of food vendors, souvenir sellers, boat operators, restaurateurs, and hoteliers reported good business since the extravaganza started on Thursday.
Mudavadi, who arrived in Lamu on Friday, was Chief Guest at the event. Other guests who joined revellers on the island included ambassadors from different countries and other government officers.
Governor Issa Timamy said this year's festival was held on the Island which is recognised as a World Heritage Site under UNESCO and is the oldest surviving Swahili Town.
He said the festival running under the theme "A melting pot of diversity and multiculturalism" was a key driver in celebrating and showcasing various communities' rich and diverse cultures.
Timamy also announced that there will be six festivals lined up from January next year, among them the food festival, yoga festival, arts festival, fishing festival, and the Maulidi Festival.
"This event aims to bring together local and foreign tourists to celebrate the rich diversity of Lamu cultural heritage and creativity, and also to brand Lamu as a tourism destination," said Timamy.
A spot-check around the Island revealed that prices of most goods and services had doubled, with visitors paying between Sh7,000 and Sh2,000 per night in hotels, which is twice the cost before the festivals.
General Manager of Romantic Hotels, Kezia Mumbi, said they are happy as the festival boosted their business which has been at an all-time low.
"The return of festivals will help the sector, which is recovering from major disruptions brought by Covid-19 and cases of insecurity. Lamu Island is very secure now," she said.
The festival featured diverse events including Swahili poetry by schools, donkey races, dhow races, henna painting, bao games, swimming and deep-sea fishing.
Other activities were a Swahili bridal display, a soccer tourney, several dances, songs and drums, Swahili poetry, and the climax which was the governor's dinner, among others.
Related Topics