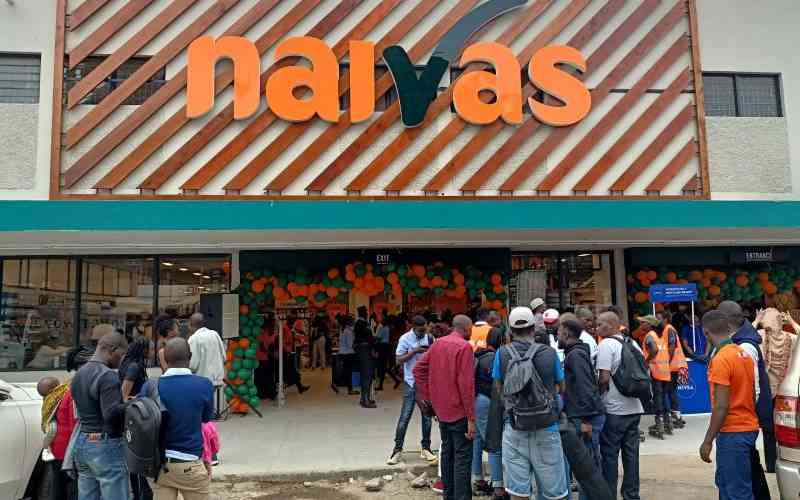 The family of Peter Mukuha - the founder of supermarket chain Naivas - is embroiled in a property row, with one of his daughters seeking to be named administrator.
Grace Wamboi wants the court to rectify a grant issued to her late brother Simon Gashwe .
Wamboi filed summons for the grant to be rectified on May 29, at the High Court in Nakuru.
She wants the court to rectify the grant issued to Gashwe on May 6, 2010, by removing his name and substituting it with hers.
Gashwe was appointed sole administration of the estate on October 6, 2016.
According to Wamboi, Gashwe was appointed by consent of the family members to administer the estate and distribute it among family members and pay debts.
Wamboi says Gashwe passed on before completing the work of administration, adding that the estate of his late father has been sued, and several cases are still pending in court.
"There are also some other properties of the estate of the late Peter Kago Mukuha which were improperly distributed and they need an administrator and or administrators to solve the disputes," states Wamboi in court papers.
Wamboi further says she does not object to the application by her elder brother Newton Kagira Mukuha to be one of the directors.
"I and my brother Newton Kagira Mukuha can be appointed as administrators of the estate of our late father Peter Kago Mukuha to continue administering it until cases pending in court are complete," she states.
She says her brother David Kimani Mukuha should not be allowed to bar Kagira and her from being appointed administrators.
She says she is aware of other properties of the estate which are yet to be distributed.
Kagira, in October last year, moved to court under a certificate of urgency seeking to be named administrator.
Kagira is apprehensive that the estate is going to go to waste for lack of representation and is likely to be plundered by strangers. He is also seeking revocation of letters of administration issued to Gashwe.
He says Gashwe died before completion of the distribution of shares at Standard Chartered Bank, cash at Barclays Bank (now ABSA Bank), cash at Kenya Commercial Bank, and 20 per cent shareholding at Naivas Limited all constituting assets in the estate of their late father.
Kagira argues that Gashwe's death is a sufficient reason to revoke the grant of letters of administration.
The issuance of a fresh grant, he says, will facilitate the completion of the process of distribution of shares in the estate to the respective beneficiaries.
In early April, Kagira sued Naivas Limited, seeking orders to stop the sale of shares and distribution of Naivas Limited.
Kagira, in the suit filed at Milimani High Court, says the shareholding of Naivas Limited has been in dispute and resulted in a court order issued on November 25, 2021, by the Court of Appeal in Nakuru.
The Court of Appeal in Civil Application No. E050 of 2021 Newton Kagira Mukuha vs Charles Mukuha Simon Gashwe directed that the status quo in so far as the shares in dispute are concerned be maintained pending hearing and determination of the said appeal.
Kagira, in his application, notes that Naivas Limited through its directors and shareholders was in the process of selling off its shares, inclusive of the disputed shares.
Kagira claims he is the beneficial owner of Naivas Limited, having contributed 20 per cent of its startup capital at its inception in 1990, trading as Rongai Self-Service Store, which changed to Naivas Limited.
Charles Mukuha, a director at Naivas Limited, has opposed the application by Kagira and wants the same dismissed.
Charles, in his reply, said the court on October 31, 2014, dismissed Kagira's 20 per cent shareholding claim. He said Kagira appealed the ruling and the same is still pending in court.
"To this extent, there is no basis for the commencement of a new claim," replied Charles on May 3.
The case by Kagira on the share dispute will be mentioned on June 8
Related Topics