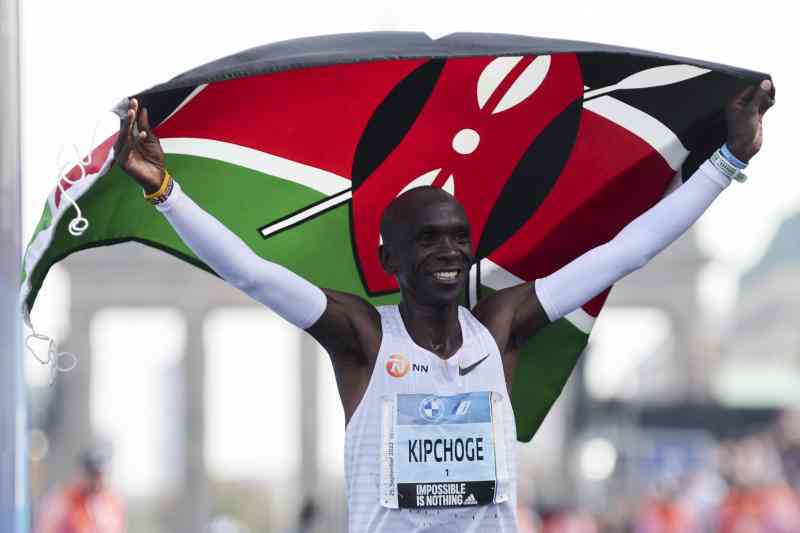 World marathon record holder Eliud Kipchoge has won the 2023 Princess of Asturias Award for sports.
Kipchoge, 38, is considered a legend in world athletics and the best marathon runner of all time according to the foundation's panel of judges.
The Princess of Asturias Awards are intended to reward scientific, technical, cultural, social and humanitarian work carried out at an international level by individuals, institutions or groups of individuals or institutions.
The two-time Olympic gold medalist (in 2016, 2020) and the world 5,000 meters champion (in 2003) has been described by the foundation as "the philosopher" for his strategy and concentration in running.
Kipchoge has won in 10 editions of four of the major marathons, including London and Berlin four times each.
He is the current Olympic marathon champion and holds the world record for the discipline, with a time of 2 hours, 1 minute, 9 seconds set in Berlin last year. That timing lowered by 30 seconds his very own record set in 2018.
Kipchoge took to his social media pages to celebrate his win and thank the foundation.
"It is an absolute honour to receive the Princess of Asturias Award. To be amongst a list of extraordinary laureates, all people in different walks of life. It motivates me in my goal to leave a legacy in this world through running, since a running world is a more peaceful world, a happier world and a more healthy world. I would like to thank Her Royal Highness the Princess of Asturias, and her parents, Their Majesties the King and Queen of Spain, to grant me this honour," he said on twitter.
Kipchoge is the only athlete in history who has run a marathon in less than two hours, although the timing of 1:59:40 set in Vienna in 2019 isn't recognized officially as the race was organized so outside aid could be used to help him.
The Kenyan marathon great took home the prize money of Sh7.4 million alongside a Joan Miró sculpture representing and symbolising the Award, a diploma, and an insignia conferred by Princess Leonor of Asturias.
Last year, the Olympic Refugee Foundation and the refugee Olympics team won the sports award.
Other winners in other categories include American actress Meryl Streep and Philosopher Nuccio Ordine.
Streep was conferred the 2023 Princess of Asturias Award for the Arts while Ordine took home the Princess of Asturias Award for Communication and Humanities. Hélène Carrère d'Encausse was awarded for Social Sciences.
Related Topics