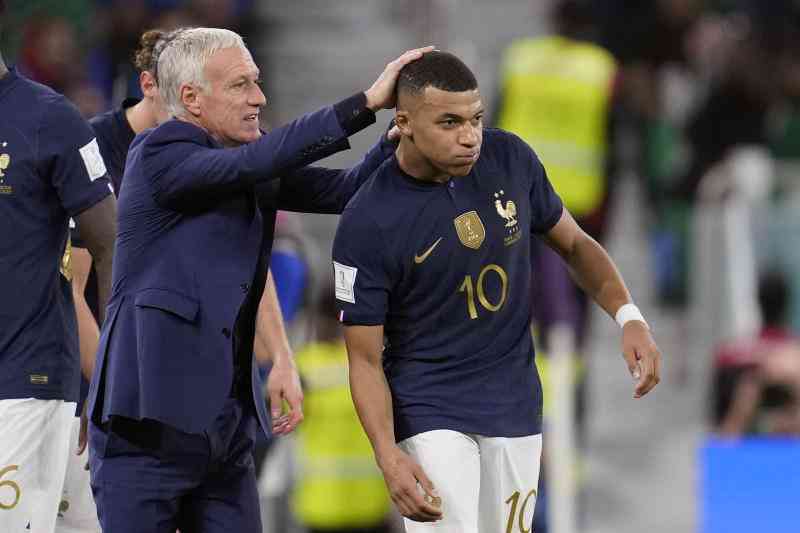 Kylian Mbappé is captaining France to a comfortable start in qualifying for the European Championship though Serbia's Dušan Vlahović was the standout striker on Monday.
France's 1-0 win at Ireland was earned by defender Benjamin Pavard's rasping 50th-minute shot that was a rare show of attacking force in Dublin.
Like France, Serbia has begun its qualifying program with two wins thanks to Vlahović striking twice late in a 2-0 win at Montenegro. The first in the 78th was a slick first-time shot to meet a cross from the left flank.
Poland got its first points after beating Albania 1-0 though it was a Major League Soccer striker rather than superstar Robert Lewandowski who scored.
Karol Świderski, who plays for Charlotte and was little used at the World Cup, got the decisive goal just before halftime.
A look at the eight qualifying games across Europe on Monday:
GROUP B
For the second time in four days, France players were hugging goalkeeper Mike Maignan at the final whistle for their new No. 1's standout saves.
Maignan's leaping, stretching save to push away a goal-bound header by Ireland defender Nathan Collins ensured a 1-0 win in Dublin. On Friday, in a 4-0 rout of the Netherlands, Maignan kept his shutout by saving a stoppage-time penalty from Memphis Depay.
Depay opened the scoring on Monday for the Dutch with a 24th-minute header in a routine 3-0 win over minnow Gibraltar.
It seemed like an attack vs. defense practise even before Gibraltar's Liam Walker was sent off in the 51st for a high tackle on midfielder Mats Wieffer.
One minute earlier, Nathan Ake scored with a header and the defender added his second in the 82nd when his deflected shot from the edge of the penalty area rolled softly into the net.
GROUP G
Dušan Vlahović was not fully fit at the World Cup and Serbia went home early without a win and last in a group in which Brazil and Switzerland advanced.
The Juventus forward was sharp on Monday, scoring with a pair of left foot shots late in a 2-0 win at Montenegro.
Serbia and Montenegro, which both began the five-team group with wins on Friday, are neighbors who formed a united team for three years from 2003, including at the 2006 World Cup.
Hungary captain Dominik Szoboszlai scored perhaps the goal of the night in a 3-0 win over Bulgaria.
Szoboszlai fired in a fast, dipping free kick from 25 yards (meters) into the top right corner of the Bulgaria goal. That lifted Hungary to a two-goal lead after just 26 minutes of its first game in qualifying and it was 3-0 by halftime.
Bulgaria's second straight loss already looks likely to extend its wait to play at a finals tournament beyond 20 years.
GROUP F
Belgium had a night off in the five-team group and plays Euro 2024 host Germany in a friendly on Tuesday.
That let Austria go clear in the standings, adding a 2-1 win over Estonia to another home win on Friday against Azerbaijan.
Austria trailed for much of the game to Estonia's 25th-minute opener, and led only in the 88th on Michael Gregoritsch's deflected shot from near the penalty spot.
Coach Ralf Rangnick was punching the air in jubilation in his technical area, and next takes his team to play favored Belgium on June 17.
Sweden got back on track after its 3-0 beating at home to the Belgians on Friday, easing past Azerbaijan 5-0.
Sweden managed without Zlatan Ibrahimović, because of an unspecified injury for the 41-year-old forward, and eased some of the pressure that was building on coach Janne Andersson.
GROUP E
Poland coach Fernando Santos got his first points in his new job since leaving Euro 2016 champion Portugal after the World Cup in December.
A modest 1-0 win over Albania was earned by Świderski's strike in the 41st, when he reacted fastest at the edge of the six-yard box to collect a rebound from a shot that struck a post.
Czechia leads the five-team group with four points, though a 0-0 draw at Moldova was a drop in class from its 3-1 home win over Poland on Friday.
Related Topics