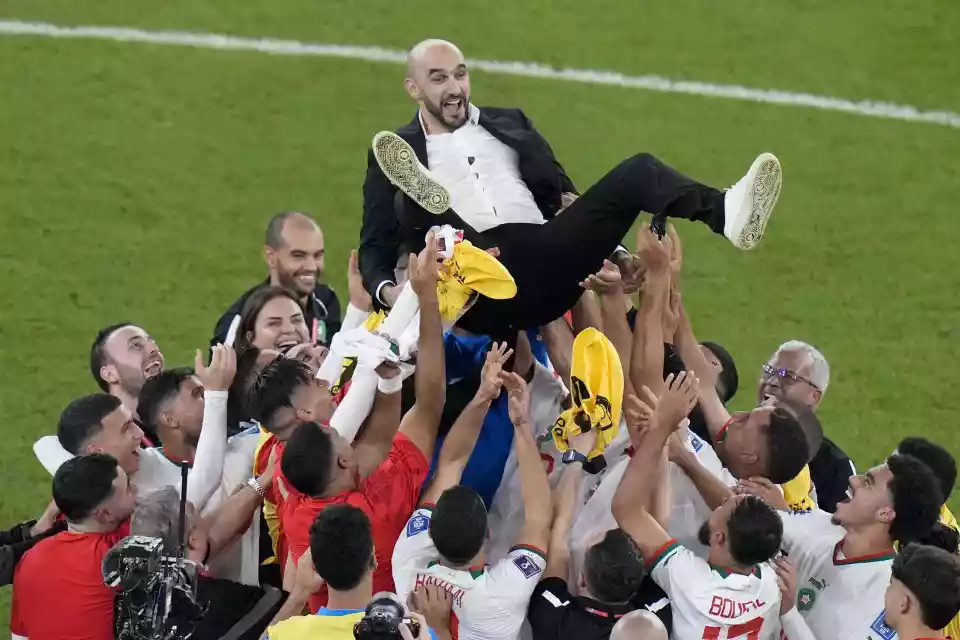 Morocco are the last African side standing.
On December 6th, the Morocco national football team made history, after defeating Spain and claiming a spot in the quarter-finals in Qatar.
The victory made Morocco the fourth African team to get into the World Cup quarter-finals after Cameroon (1990), Senegal (2002), and Ghana 2010.
One more win against Portugal on Saturday would make Morocco the first African team to reach the semi-finals — surpassing the 1990 Cameroon side, Senegal in 2002 and Ghana's 2010 vintage.
With this achievement, across social media, people have hailed Morocco as an African victory.
After the exit of Tunisia, Cameroon and Ghana, people in Africa decided to cheer on the Morocco football team.
And now Morocco head coach Walid Regragui believes African teams have already shown their potential and stand a chance of winning the competition in the future.
Morocco's Coach Regragui when asked if they are playing for the Arab world.
"Just to say I'm not here to be a politician, we represent Morocco and obviously Morocco and Moroccans are my priority. But obviously, we're also African like Senegal, Ghana, Cameroon and Tunisia, so we hope to fly the flag of African football high,"he responded.
"Often African football has been described as sub-par, not as good as elsewhere, but in this World Cup, I think we've shown we can give anyone a run for their money. We're talking about European teams, South American teams, and I hope in the future we'll be seeing more African teams. Why not an African World Cup champion in the future?"
Morocco's Coach comments came after Morocco national team player Sofiane Boufal told international media that their win was for the Arab world.
"Thanks to all Moroccans all over the world for their support, to all Arab people, and to all Muslim people," Boufal said.
Sofiane Boufal later tendered apology to Africans for not mentioning the continet during his interview.
"I apologize for not mentioning the whole continent of Africa during the interview after the match yesterday." speaking further, Sofiane Boufal said, "I thank the entire continent of Africa for being there for us and I dedicate this win for each African country."
During their penalty-shootout win over Spain, Regragui was delighted and proud after his side made history by reaching the World Cup quarters for the first time.
Goalkeeper Bono made two saves to deny Sergio Busquets and Carlos Soler, before Achraf Hakimi scored the decisive penalty to send Morocco through.
"The players were tremendous, with their energy and determination, They were very determined to defend against one of the best teams in the world in keeping the ball," Regragui said.
"We wanted to win in normal time, but we knew we had one of the best keepers in the world (Bono) and we were confident.
"We are a family and a team and we had great support," said the coach, who highlighted the depth of his dugout."I always say, 11 players start a game, but different players will finish it. A game like this takes a lot of energy and I chose my squad of 26 with that in mind," he insisted.
Regragui was also asked about the diversity of a squad that had a lot of players born outside of Morocco and playing in European leagues.
"Before the World Cup, we had problems with some people questioning players born in Europe or born in Morocco. Today they showed that every Moroccan, if they have a passport, is Moroccan. I am born in France, but nobody can doubt my love for my country."
Meanwhile, Bono was delighted with the support in the Education Stadium.
"We felt the support of our fans, be it in Morocco, or any other country in the world and that really helped us make such a performance. It helped through this mountainous task I applaud them all.
"When you are in the thick of it, it's hard to realize what you have done and it's hard to focus, but we are really happy and maybe in time maybe we will realize what we have done," commented the keeper. ■
Related Topics