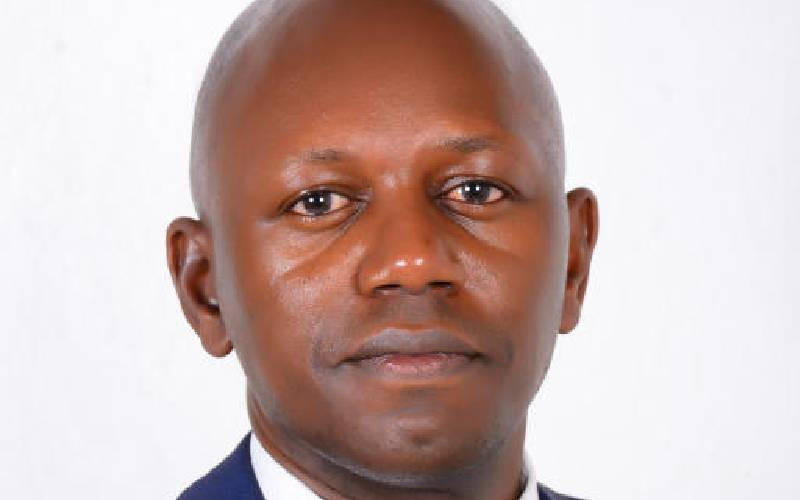 Kenya Reinsurance Corporation's (Kenya Re) new Managing Director Dr Hillary Wachinga apologises profusely for turning up late for our 9:30am appointment.
He explains that he had to get the correct numbers on the reinsurer's subsidiaries. "As you know, numbers tell a very good story," he says as he settles down for the interview.
He is soft-spoken and maintains eye contact throughout our conversation.
Emotional intelligence was one of Dr Wachinga's key attributes according to a press release announcing his appointment by the Kenya Re board on March 29 this year as the company's new managing director.
The board also listed budget development and implementation, relationship management with stakeholders, executive leadership, coaching and mentorship as his other skills.
"This is very key because you are able to adjust to events, people and surroundings as you do your work," he says of the emotional intelligence attribute as described by the board.
"In my job, I am expected to reason at a high strategic level and operate above petulance. That can only come with emotional stability beyond intelligence." He is an avid golfer and a poet, according to his bio by the board. It explains why he quoted William Shakespeare to describe his busy schedule since taking the helm from his predecessor Jadiah Mwarania, who left the corporation in December 2022 on terminal leave, after being at the helm since April 11, 2011.
Before he took over the corner office, he was in charge of risk and compliance at the reinsurer.
"Comfortable, happy and blessed" are the words he uses to describe his state of mind as he settles into his new role.
"Many years ago while in campus as a student leader, I came here. I found the then-managing director Peter Kenneth walking barefoot [in his office]. I said I would want to work here one day and forgot about it. Many years later, I found myself here walking barefoot in the same office," says Dr Wachinga.
He says he is settling in well.
"I am an insider, so I know our pain points," he says. "I have very supportive colleagues and a board that I have reported to for over a decade," says Dr Wachinga.
Part of his work involves steering the company in implementing and achieving its 2022-2026 strategic plan. The company has set an ambitious target of Sh27.5 billion gross turnovers by 2026.
"The focus is on Africa, the Middle East and Asia," he says. Dr Wachinga says the numbers show Kenya and the rest of Africa as profitable markets, hence the focus on expanding the regional business.
The target is 100 countries by 2026 from the current 82.
Besides Kenya, Kenya Re has operations in Ivory Coast, Zambia and Uganda. "Our experience beyond Africa might not be very good. The loss ratio in Africa averages around 40 per cent; beyond Africa, that is the Middle East and Asia, we are talking about 77 per cent," he says.
"That has totally made us shift our mindset to Kenya and Africa." And he has numbers to back this up.
For example, the audited results for Kenya Reinsurance Corporation Zambia closed 2022 at a profit of Sh71 million after opening at a Sh32 million loss in 2017 when the business started. The subsidiary now has an asset base of Sh1.16 billion.
Kenya Reinsurance Corporation Uganda, on the other hand, recorded a profit of Sh90 million last year with an asset base of Sh1.47 billion from Sh231 million at inception in 2019, according to the firm's audited results.
Unaudited results for the Ivory Coast business show the asset base grew to Sh5 billion by the end of 2022 from Sh702 million when it started in 2015.
Profit stood at Sh274 million compared to a loss of Sh21 million in 2015. Shareholders' value for the business also grew to sh2.5 billion from Sh125 million over the review period.
"If you look at that, it makes a lot of economic sense to expand. Banks are making a lot of money from Rwanda and the Democratic Republic of Congo, Rwanda being the best performing. They followed the money," says Dr Wachinga.
But he plays his cards close to his chest when asked about the next market the firm plans to expand into.
The MD, however, singles out Egypt, Ethiopia and the Democratic Republic of Congo as some of the countries that hold great potential because of their high population and government incentives to businesses such as the one he heads.
"If we focus in Africa, we have a sizeable population, and people there are coming from the poverty line to the middle income," he says, adding that the continent's young population is an added advantage for businesses looking to expand regionally.
Dr Wchinga notes that Kenya Re has been tactfully withdrawing from markets that dent its balance sheet. This is done by reducing the line of businesses it engages in in those markets and compensating with other businesses or markets.
"The business we are in, you do not want to be in an environment that has a lot of volatility. Africa as a continent is not exposed to a lot of calamities like hurricanes that can wipe away someone's wealth," he says.
The expansion plan will go along with employing technology and revamping the products offering.
This will include adding more products to the firm's portfolio, targeting emerging areas such as climate change and cyber security.
Dr Wachinga's chief concern, however, is growing shareholders' value, with the Kenyan government the major shareholder with a 60 per cent stake. This explains the diversified portfolio of Kenya Re businesses.
He says core to the survival of any reinsurance business is how you handle accumulation and aggregation of losses.
"We do not want to be hit by one event that will wipe out shareholders' value. We create multiple points to neutralise any risk," says the MD.
He lists properties, among them Reinsurance Plaza, Kenya Re Towers, and Anniversary Towers, which the firm owns and collects rent as some of its key investments.
"There are other classes of business like equities where we have some moderate exposure. We do not do pedestrian trading. We buy for long term. We have invested in blue-chip companies where we earn dividends," says Dr Wachinga. He says Kenya Re, with an asset base of more than Sh54 billion, has the capacity to safeguard businesses in the continent.
He says there is no need for businesses, including multinationals, to seek reinsurance services from foreign companies. "We have the capacity," says Dr Wachinga.
Related Topics