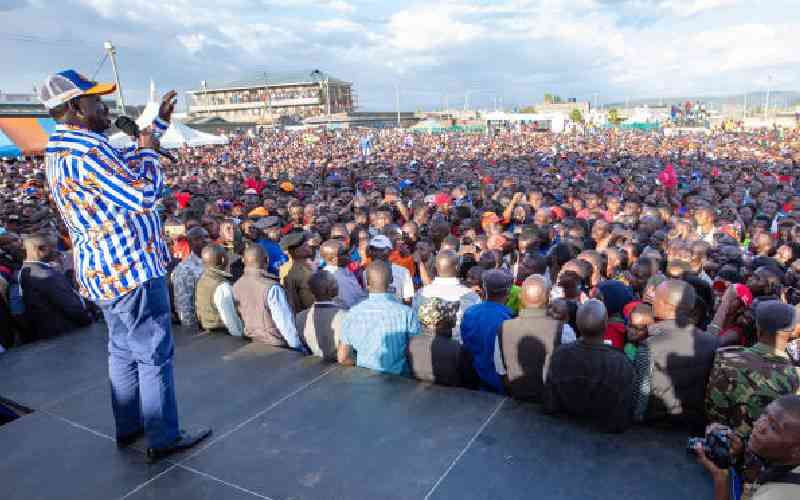 Kenya's battered economy faces another stability test beginning tomorrow as the opposition vows to conduct mass rallies around the country to protest the high cost of living and last August's disputed presidential polls.
Businesses fear any further disruptions following the Covid-19 pandemic, political jitters caused by last year's divisive General Election and the current drought could wreck any hopes of recovery for East Africa's largest economy.
The planned protests, according to opposition chief Raila Odinga, are meant to pile pressure on the Kenya Kwanza administration to address the rising cost of living crisis and the disputed last August presidential polls.
Kenya's inflation rose to 9.2 per cent year-on-year in February from 9.0 per cent a month earlier, according to the Kenya National Bureau of Standards (KNBS) largely driven by food and transport prices further squeezing consumers hard.
President William Ruto was sworn in as Kenya's fifth president on September 13, taking the helm from his predecessor Uhuru Kenyatta, a week after the Supreme Court threw out Mr Odinga's petition challenging Ruto's victory.
Mr Odinga made the declaration for mass action at the Jeevanjee Gardens in Nairobi on February 22.
Over the weekend, his allies Martha Karua and Kalonzo Musyoka vowed at a public event to continue with the planned mass rallies.
The prospect of mass action has sent jitters through the business community, which worries about the impact on their operations.
Traders fear any unrest that could disrupt business activities would cast a dark cloud over their operations and the local economy, which is already facing several local and external shocks.
Businesses and traders in some cities and towns, including Nairobi, were on Monday protectively moving away valuable goods from their shops, according to a spot check by Financial Standard.
While there has not been major election-related violence in the last campaigns, the ghosts of the 2007/8 violence continue to haunt traders in Kenya and the region.
Kenya alongside Uganda and Tanzania suffered inflationary pressures in the wake of the disputed presidential vote that saw the late former President Mwai Kibaki trounce Mr Odinga, damaging regional growth.
Kenya's economy has a history of slowing down during election years when firms put investment decisions on hold.
Manufacturers on Monday said they remain apolitical and are not affiliated with any political movement even as they voiced fears of the possible negative impact of unrest on businesses.
Under the aegis of the Kenya Association of Manufacturers (KAM), however, they urged the government to heed calls to address the persistent cost of living concerns being aired by the opposition.
They, however, maintained that while picketing is guaranteed in the Constitution, any ensuing chaos that could disrupt businesses should the mass action turn violent, must be avoided at all costs.
KAM Chairman Rajan Shah said the constitutionally guaranteed clamour for the State to address the biting cost of living affecting Kenyans should not derail business operations which are already facing many headwinds.
"The constitution guarantees freedom of association but this should be done in a civilised manner and in a way that does affect businesses," said Mr Shah.
The country defied projections of political unrest to enjoy relative peace following the disputed August elections and was tipped to be boosted by the tailwinds from the peace dividend this year.
But any political unrest shock and the rising polarisation and political uncertainty to the economy is likely to deal a fatal blow to the struggling economy, analysts said.
"Economic confidence dropping, or uncertainty rising, are a severe negative in the current environment of forex shortages, rising food prices and drought conditions," said Deepak Dave of Riverside Advisory.
"The poorest will be hit the hardest, and give government even more licence to print money or borrow more to try and placate factions with monetary benefits."
Escalated unrest could also undercut one of Kenya's key foreign revenue generators - tourism, players said.
Kenya is banking on the recovery of the tourism sector this year after the sector posted good results last year.
The sector's earnings jumped 83 per cent in 2022 to Sh268 billion on end of Covid curbs officials said recently.
Analysts yesterday also forecast political uncertainty could jolt investors at the Nairobi Stock Exchange (NSE).
Any political jitters linked sell-off of shares would pull down the NSE to new lows.
"NSE is frankly already in poor perfomrance territory. It is not much of a gauge for economic confidence, but we can expect some selloffs by jittery foreign investors," said Mr Dave of Riverside Advisory.
The resilience of the Nairobi bourse has however in the past been tied to the increased participation of local investors following the exit of foreign investors in times of local political turmoil.
Local investors have been buying at a time when their foreign counterparts are selling and shifting capital to western markets where rates have been raised in a bid to counter higher inflation.
Kenya's, stability in a region gripped by conflict have made it a favoured East African headquarters for international firms.
They could however adopt a wait and see attitude if the country is engulfed by chaos, said stock brokers and fund managers.
Kenya's FDI attraction had been helped by its perceived stability and status as the region's financial centre, and a hub for many multinationals doing business in the region.
Ahead of Kenya's recent General Election global analysts had feared Kenya's stability would be tested.
Kenya however bucked the prediction by remaining calm.
"Kenya's August elections will be among the most consequential political events in Africa in 2022. In a turbulent region, Kenya's stability, economic muscle and diplomatic leadership are more essential than ever before," argued Michelle D. Gavin, a former US ambassador to Botswana.
"An electoral process that takes a wrong turn could threaten the country's capacity to continue playing a pivotal regional role going forward."
Nairobi is also home to the United Nations Environment Programme (Unep), multinational companies and diplomatic missions.
Diplomatic sources who spoke to Financial Standard said the outposts are keenly monitoring the unfolding political situation to advise their operational plans.
"You should exercise caution, monitor local media and avoid all demonstrations and political gatherings and, where possible, avoid travelling around areas where demonstrations may take place. This may include large gatherings, universities, political party headquarters, and offices of the electoral commission," says a foreign travel advice for British travellers on Kenya by the UK government. It was not immediately whether the alert is an old one or new.
Economic growth slowed down to 4.81 percent in 2017 as a result of the bitterly contested presidential poll from 5.88 percent a year earlier. The deadly 2007 presidential poll sank the economy to a growth of 0.23 percent from 6.8 percent the year before.
In the past political uncertainty had seen banks and importers take defensive positions by buying dollars in Kenya and Uganda, traders said earlier.
The struggling economy has in the last two years been already been hit hard by the lingering effects of the coronavirus pandemic and the war in Ukraine, events that have wreaked havoc on global markets as seen in skyrocketing oil and food prices.
Soaring inflation is also already eroding wages and pensions, causing consumer pain.
The local economy is also faced by other shocks.
The Covid-19 pandemic remains a threat with rising infections in China where it all started, while the Russia-Ukraine war continues and surging inflation elicits aggressive central bank rate hikes even locally, raising the prospect of economic slowdown.
Treasury earlier warned multiple factors are likely to come into play and affect the growth prospects across the local economy this year.
For instance, if the Russia-Ukraine conflict continues to escalate, the global supply chains will continue to be affected, thereby causing supply disruptions and a surge in inflation, it had said.
As a result of the Russia-Ukraine war, the supply of oil, gas and food grain is severely affected and is tipped to continue for the foreseeable future.
"Indeed, some parts of the world are already in an economic crisis. Low-income countries have been hit hard by these supply disruptions, debt, surges in food and commodity prices, the devastating effects of climate change, and limited access to foreign finance," Treasury Cabinet Secretary Prof Njuguna Ndung'u said earlier as he warned of the lingering effects of the global shocks.
"Even in middle- and high-income economies, a combination of factors is hitting hard on the cost of living. We have witnessed here in Kenya that food security and climate change have produced severe crises compounded by these supply disruptions, inequality, poverty and social conflicts."
Related Topics