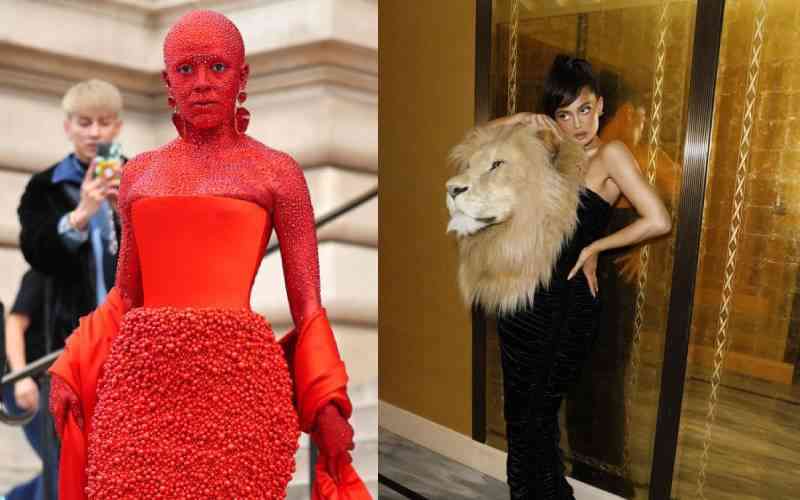 So intriguing and expressive fashion is, that the popular American reality TV star Kylie Jenner recently wore a life-sized lion head to a high-profile red-carpet event.
Jenner, 25, made headlines when she attended the Schiaparelli spring 2023 couture show in Paris on Monday donning the statement piece attached to a strapless black gown.
The lion head has been described as hyper-realistic, and is said to have been similar to multiple looks showcased on the fashion show that day.
"The same black velvet bustier dress was worn by model Irina Shayk down the runway, and the show also featured the life-like heads of a snow leopard and wolf attached to garments worn by Shalom Harlow and Naomi Campbell respectively," Vanity Fair reports.
The magazine notes that the pieces sparked concern online, with many worried that they were made from real animals.
"However, they were actually all hand-sculpted out of foam, hand-embroidered with wool and silk faux fur, and then hand painted to look as realistic as possible," the report adds.
Kylie shared her look with her fans via an Instagram post, where she praised the designers involved with creating her look.
"Beauty and the beast, thank you Daniel Roseberry and Schiaparelli for such a special morning. Wow I loved wearing this faux art creation constructed by hand using manmade materials. Beautiful," she wrote on a post that has since garnered over 8.5 million likes on the app.
And it was on the same eventful day that the Grammy Award winning rapper and singer Doja Cat showed up in an equally, if not more eccentric outfit.
The singer was an interesting sight, covered in red paint and crystals, along with the rest of her ensemble, from head to toe.
"Doja's grand entrance on the first day of Couture Week saw the star encrusted with 30,000 hand-placed Swarovski crystals, draped in a red silk faille bustier and wearing a hand-knit skirt of lacquered wooden beads, completing her over-the-top look with trompe l'oeil toe boots," People Magazine reports.
Her look is said to have been put together by a team of professionals who spent well over 4 hours to execute it.
Doja's extreme look has attracted attention, criticism and varying opinions from across the fashion scene, with Huffpost describing it as a mind-bending look and The Daily Mail reporting that it triggers trypophobia; an irrational fear of clusters or small holes or bumps.
Just like Kylie's, Doja's outfit was custom-designed by creative director Daniel Roseberry.
"The red-hot look stood out amongst the crowd but also made sense. The Schiaparelli collection on display played heavily with references to Dante's The Divine Comedy and blurred the lines between one's real body, art and inanimate objects," People Magazine notes.
The report adds that the collection consisted of much more walking gold, "as the supermodels strutting down the runway had gold-painted faces and shimmering golden bodies."
In 2021, reality TV star Kim Kardashian walked the Met Gala red carpet in a black Balenciaga outfit that covered her entire body- and including her face.
Her fully masked look was a trending subject for days after the event, and the style was compared to her ex-husband's, rapper Kanye West- who has been spotted wearing a mask on multiple occasions.
"The Keeping Up with the Kardashians alum wore a custom ensemble, featuring a long-sleeve turtleneck bodysuit worn under an oversize T-shirt dress with long pleated train. The edgy outfit was complete with jersey boots, jersey gloves and a mask that covered her face and head," People Magazine reported.
A point to note is that the luxury brand [Balenciaga] has since been under fire for a controversial holiday ad campaign that involved inappropriate costumes on children.
Even before Kim's masked look, celebs had already been pushing the limits with what they wore and the statements they made through fashion.
In 2010, American pop sensation Lady Gaga wore a dress made of raw meat to the MTV Video Music Awards.
Needless to say, it was an unexpected twist and an eye-catcher for the artiste, who was the most nominated at the award show that year, following her release of chart-topping hits that season.
Gaga's choice of attire was criticized by animal rights groups, while other reports praised it as a top fashion statement.
The Bad Romance singer explained that she meant no disrespect by it, rather, she was making an important stance.
"[She] said that the meat dress was tied to her protest against the military's "don't ask, don't tell" policy and was a statement against the governmental restrictions placed on the rights of gay soldiers," Billboard notes.
"It's certainly no disrespect to anyone that's vegan or vegetarian," Gaga said in an interview at the time.
It's not just the ladies who make statements with extreme outfits on the red carpet, the guys often do it too.
In July Last year, the renowned actor Brad Pitt wore a skirt to the Berlin premiere of "Bullet Train".
Page Six reports that the outfit "divided social media", while Brad himself said in an interview that it was a YOLO (you only live once) moment for him.
"I don't know! We're all going to die, so let's mess it up," the actor told Variety Magazine.
"At the earlier premiere in Germany, the Oscar-winning movie star made headlines after pairing a brown skirt with a matching brown blazer and a rumpled mauve button-down shirt. He accessorized that outfit with brown sunglasses, black combat boots, and rows of chains anchored by chunky medallions," Insider Magazine reported.
Related Topics