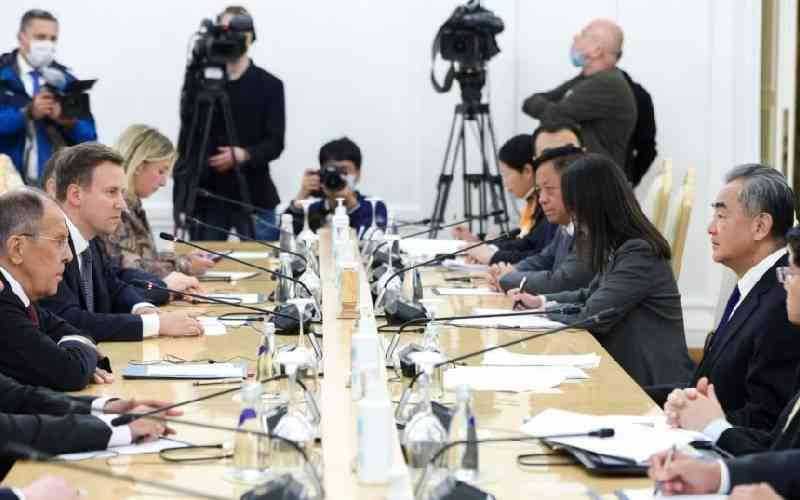 China's top diplomat, Foreign Minister Wang Yi, hailed his country's "strategic cooperation" with Russia as he opened talks Monday in Moscow with his Russian counterpart, Sergey Lavrov, and other officials.
Wang's visit to the Russian capital came after two days of talks over the weekend in Malta with U.S. President Joe Biden's national security adviser, Jake Sullivan. Wang's talks with Russian officials are expected to last through Thursday.
In his initial remarks, Wang noted Chinese and Russian commitment to a "multipolar world" and a "more just world order," terms Beijing and Moscow use to counter the perceived domination of world affairs by the United States.
"China and Russia, as leading global powers and permanent members of the U.N. Security Council, bear special responsibility for maintaining global strategic stability and global development," Wang said. "The more violent the unilateral actions of hegemony and bloc confrontation become, the more important for us to keep up with the times, show a sense of duty as great powers, and further fulfill our international obligations."
He stressed that Russia-China cooperation "isn't directed against anyone and isn't influenced by any other countries."
China has attempted to straddle a fine line in commenting on Russia's war on Ukraine, saying that while Ukraine's territory must be respected, the West needs to consider Russia's security concerns about NATO expansion. Beijing has accused the U.S. of prolonging the fighting by providing arms to Ukraine, weaponry that the U.S. says Kyiv needs to fight Moscow's forces.
Lavrov emphasized "the importance of Russian-Chinese cooperation for ensuring justice in world affairs, for ensuring a balance of interests in the processes that are developing in a variety of directions." He said Russia and China will coordinate their efforts during this week's U.N. General Assembly and other international forums.
Wang discussed Ukraine in his weekend meetings with Sullivan, although specifics of their talks were not released. Both sides described the talks as candid, substantive and constructive as they try to stabilize their rocky relationship and manage differences over security, trade, technology and human rights.
Related Topics