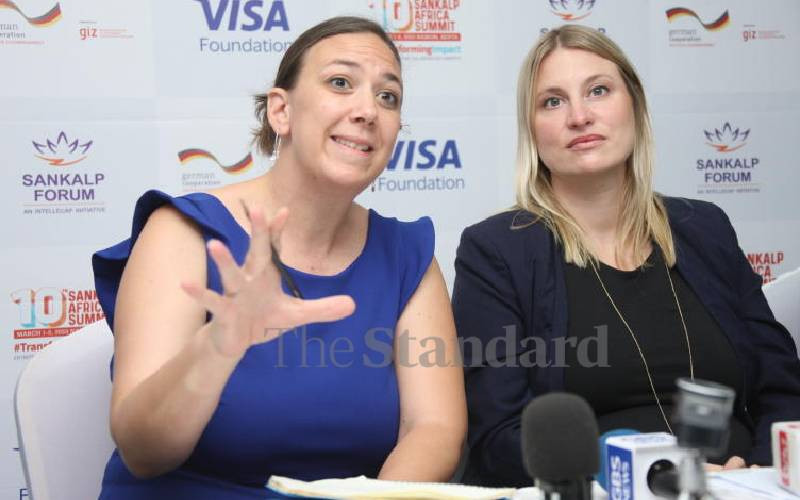 From face value, it appears more and more startups in Kenya, and the rest of the continent, are attracting massive amounts of funding. This is undoubtedly good for business.
But the funding, as detailed by some experts and studies, could not be making sense, owing to the fact that local solutions, that startups are building, are not prioritised.
A study by Shell Foundation published in August 2022, shares this fact in what they describe as an imbalance in funding by venture capitalists.
The study notes that the total amount of venture capital investment in the continent grew to Sh630 billion ($5 billion) in 2021, up from Sh541.8 billion ($4.3 billion) in 2017 – a 16-fold increase.
"However, the distribution of the funding seems uneven. The landscape of startups successfully accessing funding is dominated by non-African chief executive officers," reads the study named African Venture Capital: Barriers and Solutions to address Imbalances.
For many startups in the continent, it appears the closest way to accessing funds is to relinquish the senior most position to a non-African. If this is not the case, then a non-African comes in, puts up a startup, and then funding will come.
As such, local solutions, that have a context of the environment, end up being ignored.
At the recent Sanklap Africa Summit held in Nairobi, Kenya, how to navigate this imbalance was one of the issues experts chipped in.
How to pitch to investors
Some of the reasons ranged from as simple as not knowing how to pitch to complex like lack of infrastructure.
Lucie Pluschke, East Africa Hub at GIZ (German's main development agency) acknowledges that some challenges are as simple as: How do I pitch to investors? How do I organise my distribution, sales or strategic marketing?
"These are core business challenges that we work with in order to be attractive to investors both national and international," she said.
Ms Pluschke added that donor investors also have to think for themselves and relook how they position their businesses.
"I see a trend in a lot of investors moving to Africa rather than being far away and really understanding local risks and context better," she said.
Poor infrastructure
Some of the reasons money does not reach local startups could be beyond them. In a scenario where a country's infrastructure is not as developed as those overseas, they automatically end up being left out.
"There are certain markets where there is a baseline or a sort of regulatory framework but also economic activity. For example, in some markets there isn't enough connection or networks underground or even the infrastructure to begin talking about things like digital solutions for example which is core to part of our strategy," noted Chukwudi Onike, Programme Officer, Visa Foundation.
He added that some countries do not have the basic connectivity or the basic strategic infrastructure for entrepreneurs to be successful.
"It is something we are aware of at Visa Foundation and it is something that we are intentionally trying to change," he said.
The same extends to language as a barrier as he noted that Francophone countries in the continent also tend to be underrepresented.
Rigged system
According to Arielle Molino, Lead sub-Saharan Africa Sanklap Forum, which focuses on development and entrepreneurship, the system of raising funds being used is Western which is already disadvantageous to African entrepreneurs.
"If you look at the companies that bring that money they probably have a foreign co-founder. The system we are following is a Western sort of established system; you raise your first round from family friends and folks," she said.
"What if you do not have a rich uncle? What if you did not go to Stanford or MIT, and you do not have the access to seed capital?"
She said at Sanklap they do see a huge mismatch between what entrepreneurs need in terms of financing and what is available in the market.
"We need to build the capacity of entrepreneurs, 100 per cent. But we also need to put the burden on investors to look at more creative blended financing models and innovative ways to deploy capital to the vast majority of entrepreneurs who are not getting anything or enough," she added.
Business ideas
Santosh Singh, Managing Director Climate and Agri Solutions, Intellecap (Sanklap's parent firm), said investors look at ideas in only two ways: investment worthy or not investment worthy.
If an idea or business is not investment worthy, they are likely not to risk their money.
Something has to be done, he said, to rewire this perception.
"It is about changing that perception. Or if the risk is real, try and minimise it. The only way to do that is to put instruments that reduce the risk for investors," he said.
The other way as an investor, he added, is to find a dedicated group and work with them.
According to the study by Shell Foundation, after interviews with investors and startups working in selected sectors of energy, mobility and agriculture, common barriers to funding include not having early access to family funds or angel investors.
Not seeking investors that matched their stage of business growth, a fact Ms Molino alluded to earlier, and not being familiar with the jargon used in investment, which speaks to the language barrier as also noted by Mr Onike.
Related Topics