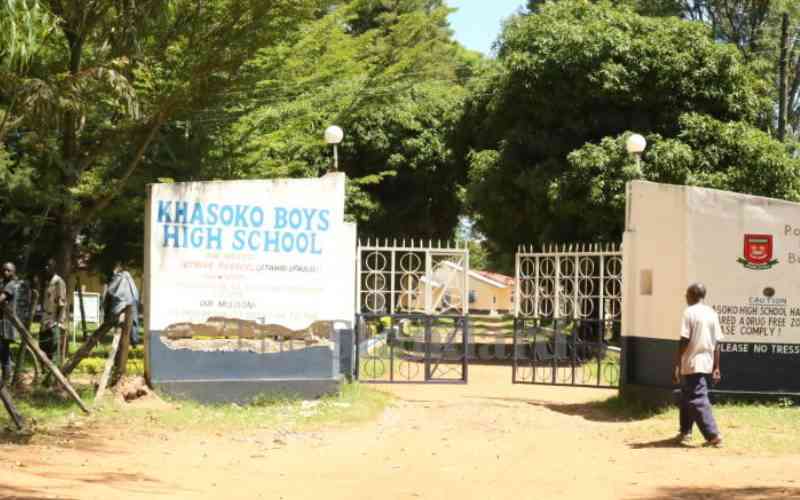 Khasoko Boys High School in Bumala Constituency has been closed indefinitely after a second student died.
This is the second time in weeks the school has been closed.
Mid-last month, students were sent home after a student died of an intestinal infection. Tens of other students are recuperating at home.
On May 17, some students started complaining of headache and general body weakness. They were treated in various health facilities across the county.
Bungoma Health Executive Andrew Wamalwa said they attended to at least 117 out of the school's 1,028 students that were affected.
Dr Wamalwa stated that out of the 24 students tested, ten were found to have malaria.
Two had severe malaria and were treated and allowed to go back to school.
He said the student who succumbed last week was referred to Bungoma County Referral Hospital on May 18 and succumbed to the illness on May 19.
"His death caused panic in the school forcing the school management to close the school in order to contain the situation," said Wamalwa.
He said on May 19 and May 31 students developed similar signs and were treated at Khasoko Health centre and released.
He added that county health officials' report shows 128 students were affected since the school opened, with seven students having acute malaria and 40 uncomplicated malaria.
The county health officials visited the school and discovered that the school was running without preventive measures for malaria.
"The school had no bed nets and had not been fumigated at the beginning of the term considering that the region is experiencing serious cases of malaria," said Wamalwa.
The Health executive dismissed claims of water and food contamination.
"When samples of water and food ware collected and taken to the government public health laboratory in Nairobi, it turned out there was nothing to do with contamination of food and water," said Wamalwa.
The Khasoko incidents come two months after The Sacred Heart Mukumu Girls School in Kakamega closed following the death of three students and a teacher for allegedly consuming contaminated water and food.
Over 500 students at Mukumu Girls fell ill, however, the school was reopened two weeks ago after a raft of measures ordered by the Ministry of Health and Education were implemented.
During the same period, Butere Boys School in Kakamega County was also closed after 100 students developed cholera-like symptoms. The County Government of Kakamega however ruled out cholera after samples were taken to Butere Sub-county Hospital and Kenya Medical Research Institute.
Related Topics