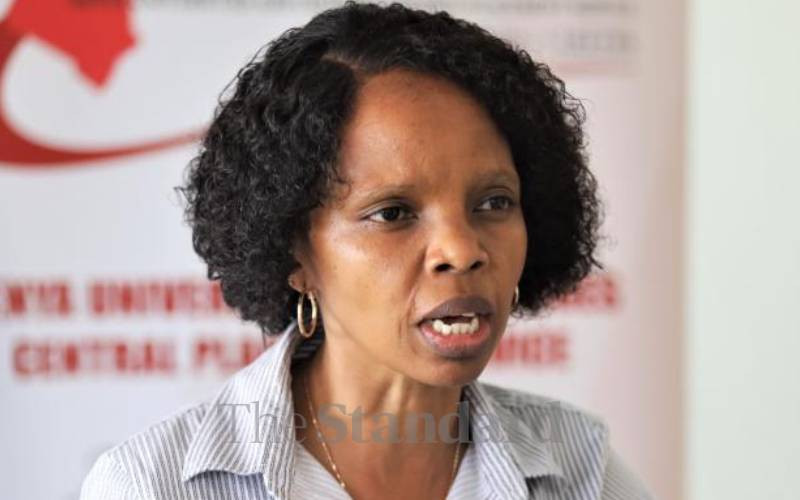 The Kenya Universities and Colleges Central Placement Service (KUCCPS) is in the process of developing a Higher Education Management Information System (HEMIS) to capture students' biometric data.
KUCCPS Chief Executive Mercy Wahome said the current system is one of the best in the world and would benefit from more accurate data on the students.
"Our KUCCPS portal system is one of the best in the world. We have had other countries such as South Africa and Nigeria come to benchmark how to manage the placement of students across our higher learning institutions, but we can do more," she said.
Dr Wahome was speaking during a media sensitisation meeting on the new funding formula, also attended by representatives from the Universities Fund (UF) and Higher Education Loans Board (Helb).
Capture details
Currently, the system does not capture details of over 6,000 students because of issues such as citizenship, and education systems outside of the Competence-based Curriculum (CBC) or 8-4-4 system.
"Students whose parents are in the country for work or who find themselves in Kenya as refugees and did not sit for the Kenya Certificate of Secondary Education (KCSE) exams have been left out of the KUCCPS system and we want to ensure no student is left behind," she said.
The system will be akin to the National Education Management Information System (Nemis), which tracks an individual student's education records across classes.
Under the new funding model, KUCCPS will only focus on placement which will be delinked from funding.
The model aims to shift State support from automatic grants to student loans sustained by a revolving fund, scholarships and family contributions.
UF Chief Executive Geoffrey Monari said the previous system of funding was based on a differentiated unit cost which wasn't working well for students and universities.
He observed that the quality of education has been affected because of the huge debts. "Universities are in debt of up to Sh61.1 billion and can't pay salaries or remit statutory deductions," he said.
Related Topics