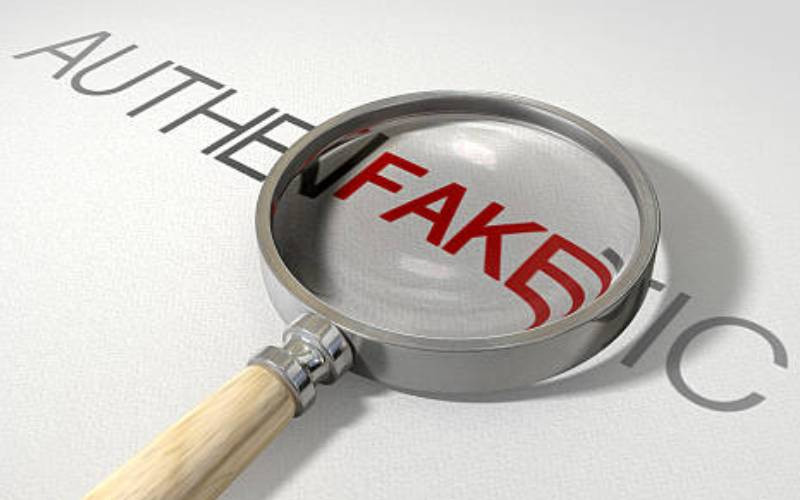 For 20 years, Abdi Mohamed Daib worked at the Kenya Ports Authority (KPA) using forged academic certificates.
Mr Daib, who joined KPA in June 1995, had risen through the ranks from a junior detective to an assistant training officer. He drew not only salaries but also allowances and benefits since the position was permanent and pensionable.
He enjoyed all the niceties until lady luck deserted him in September 2015 when it was discovered that he had forged academic certificates for primary, secondary and university education to gain employment.
The final blow to his fraudulent scheme was delivered last week when Court of Appeal judges Gatembu Kairu, Pauline Nyamweya and Jessie Lesiit dismissed his petition challenging KPA's decision to terminate his contract for forging his academic certificates.
"He has no right to seek redress and compensation for the termination of his employment. The Employment and Labour Relations Court had rightly found that the State agency was justified to terminate his contract for forging academic papers to gain employment," ruled the judges.
KPA, through investigations aided by the Ethics and Anti-Corruption Commission, discovered that Daib had forged a Certificate of Primary Education (CPE) and Kenya Certificate of Education (KCE).
He had also forged a Kenya Advanced Certificate of Education (KACE), Higher Diploma in Forensic Psychology and Criminology from the Kenya Institute of Studies in Criminal Justice (KISCJ) and a degree certificate from Kenya Methodist University.
The sacked KPA employee is among the many people enjoying fruits of plum jobs secured through forged academic certificates while thousands of graduates are jobless.
EACC in October issued a circular to all public and private universities over rampant forgery of academic certificates.
In the circular copied to the Commission for University Education, Kenya National Qualifications Authority and Kenya National Examinations Council, EACC Deputy Chief Executive Abdi Mohamud asked the institutions to urgently establish mechanisms to detect fake certificates.
"The trend is appalling and presents a direct threat to the integrity of our education system as well as compromising the value of public service if left unchecked. It is important for all stakeholders to seek a lasting-solution to curb the vice," said Mohamud.
According to the commission, the most rampant ways employed by fraudsters to falsify academic certificates are alteration of grades, alteration of names of genuine certificate holders and missing admission records from student files.
The commission stated that the reasons for forgery of academic papers include to gain employment or elective seats, laxity by institutions to verify certificates, dishonest society and the feeling that it is fashionable to have degree certificates.
As the commission battles to curtail the menace and expose the fake certificate cartels, several individuals have been charged, jailed, fined while others have been sacked.
"As at now, we have received about 100 reports regarding falsified academic certificates which are being investigated. We have seven active cases, six cases have been concluded and the culprits convicted and recovered Sh9.5 million illegally paid to the individuals," said EACC.
At the Rural Electrification and Renewable Energy Corporation, two cleaners were in June found guilty and jailed for a combined five and a half years or Sh500,000 fine for forging academic certificates.
According to EACC, Pauline Anyango and Lilian Akoth had worked at the State corporation as casual labourers for eight years before they forged academic certificates to gain permanent employment. They enjoyed full salaries for two months.
Anyango faked a Certificate in Procurement Supplies Management from Mt Kenya University to secure employment as a Supplies Assistant at.
Anyango was charged with five counts of forgery, providing false information to a public entity, deceiving a public entity, uttering a false document and fraudulent acquisition of public property totalling Sh78,698 as salary.
She admitted the charges and agreed a plea bargain and on June 28, anti-corruption court magistrate Teresa Odera fined herSh228,698 or in default serve two and half years in jail.
Like her colleague, Akoth opted for a plea bargain with EACC. She was fined Sh271,901 or three years in jail.
Several high profile leaders have been accused of forging their academic papers.
According to the Kenya National Qualifications Authority (KNQA), one in every three academic certificates is fake.
A report released by KNAQ last year revealed that almost 30 per cent of civil servants forged academic certificates to gain employment and promotion. It is the reason EACC issued an advisory to government institutions and those responsible for recruitment in the public sector to verify certificates.
"The commission has intensified investigations on public officers who may have used forged certificates to get employment and to recover monies they have earned on account of falsified certificates," said EACC.
Ministry of Education officials say that the vice has flourished due to lack of coherence and fragmentation of the country's qualifications system.
The vice is also blamed on lack of a central inventory of various qualifications, high levels of student drop out from different levels of education system and lack of nationally accepted admission requirements for different levels of our education system.
Commission for University Education Chairman Chacha Nyaigoti stated that although universities are trying hard to curb the forgery of their academic certificates, there are people who are still crafty and will use any short cut to fake the certificates.
"If we lose this battle then no one will trust any degree certificate by genuine graduates. We are alive to the fact that the situation is so dire but we are vigilant to ensure that all universities have proper records of all their students," said Prof Nyaigoti.
According to Nyaigoti, some employers have started doubting even genuine academic certificates because of the menace which he said is partly caused by stiff completion in the job market.
Kenya National Examination Council (Knec) Chief Executive David Njengere advised all employers to always confirm results with them.
"After examinations, we issue the certificates, but we retain results which we keep safely. So even if someone alters their results out there, we can always help employers and institutions to confirm them," said Dr Njengere.
He said the council has all learners results safely kept since 1920.
"They (employers) should know that there is the confirmation of results services at Knec and we send it directly to the person or institution that needs it. We do not give this to the candidates or students," said Njengere.
Njengere said that candidates who have lost their academic papers for whatever reason can also be issued with certificate of confirmation of results which they can use.
Nyaigoti said the problem is not unique to Kenya, which calls for a worldwide intervention.
"The main reason is competition for employment and since we have many graduates every year, some will fake higher academic qualification to gain advantage over the others. Our institutions need to have more securities features in their certificates to beat the fraudsters," said Nyaigoti.
In Marsabit, the chief for Dakabaricha Location David Donche was sacked just 14 months after employment after it was discovered that he forged his secondary and university academic certificates.
Mr Donche had contested his sacking but Justice Ocharo Kebira ruled that the Ministry of Interior and Co-Ordination of National Government was justified to terminate his contract after establishing that he conned his way to employment using falsified certificates.
Government agencies have now joined hands to stamp out fake academic papers in an elaborate effort to provide a level playground for job seekers and those vying for elective positions.
KNQA), which is mandated to harmonise education and to undertake quality assurance of all qualifications, has teamed up with investigative agencies to eliminate fake papers.
The Directorate of Criminal Investigations, EACC and the Immigration Department have been roped in to boost the fight against fake papers.
KNQA has also entered into a deal with the Independent Electoral and Boundaries Commission to bar candidates with unverified academic papers.
Related Topics