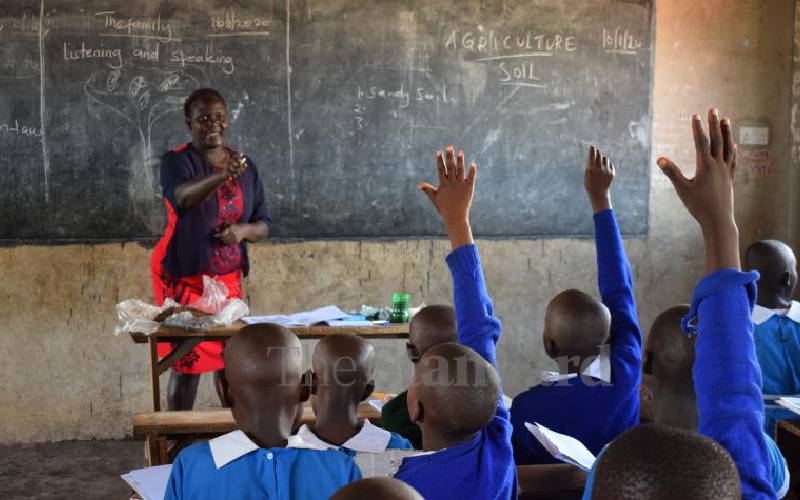 The Covid-19 pandemic has been something of a seismic wave to the status quo, upsetting long-held traditions and way of doing things and disrupting the norm and recreating new norms, since the outbreak in 2020.
Remote and hybrid learning is one such thing.
Remote learning is when you have all learners joining the lesson online, whilst hybrid learning is when you have some learners join the lesson online, and others join in person.
And it is perhaps in this light that the government, through the Ministry of Education and the Teacher Service Commission, has decided to roll out a remote/hybrid learning programs to benefit learners in areas with shortage of teachers. Although plausible, the idea is fraught with challenges. Daunting challenges, but not necessarily insurmountable.
The success of remote/hybrid learning lies in a supportive infrastructure. In this case setup and maintained by the government, school administrators, and teachers. Remote learning works best when all cogs on the wheel are turning in sync.
Like anything else, remote/hybrid learning comes with its good and bad, its highs and lows. And it is imperative for everyone involved to understand and be prepared for this. To be equipped even, and forestall any foreseeable pitfalls.
Benefits of remote learning:
Also referred to as distance learning, this concept works to make learning accessible to students who for whatever reason, are not able to attend lessons in person.
Whether it's a sixth-grade student who uses Google Classroom to keep up to date on their math coursework or a college student tuning into an online lecture during off-time at their day job, remote learning opens doors for learning opportunities.
Distance learning makes education flexible. When learning is moved to a remote classroom, teachers are given more flexibility in the way they structure their class and the way they develop and evaluate assignments.
Students, too, can engage with their schoolwork when it is most beneficial to them unless there are set times for class, meetings, or lectures in which they must attend.
Teachers and students do not have to commute, which saves time, money, and energy that can then be harnessed into developing strong lesson plans, research and assessments.
Remote learning allows students to engage with their coursework at a more personalised pace.
Instruction within the physical classroom can sometimes be too rapid, since there is always so much ground to cover in such a short duration.
But remote learning allows students to engage with their coursework (relatively) at their own pace. Remote learning can equalise the disparity between different learners.
Every student learns at their own pace, so the highly-individualised nature of distance learning makes the pace of learning easier to control.
Distance learning can benefit students who are more visually inclined. Given the visual nature of online education, students who prefer more visual mediums often find remote learning beneficial to their learning style.
Online lectures, assignments involving computer-based text, and assessments developed through online modes can enrich students through visual-heavy pedagogical models.
Disadvantages of remote learning:
Remote learning lacks social interaction: Since remote learning is, well, remote, opportunities to fully engage with your students collaboratively are diminished.
This lack of social interaction can be a downer for both students and teachers, and it can also stunt student growth in areas such social-emotional learning, leadership, social skills, public speaking, and more. To this end, remote learning denies the learner an opportunity to develop holistically.
Technology can sometimes be unreliable: We've all experienced those moments when technology simply does not work during moments when it must. The dropped Wi-Fi connectivity, the frozen computer, the jammed printer etc.
Remote learning is susceptible to many technological disruptions, and they can be extremely frustrating to navigate as a teacher when you're in charge of hundreds of students.
Distance learning can be distracting: Since remote learning takes place primarily on the computer, it can be easy for learners to get sidetracked or distracted. This can make remote learning difficult to keep up with, and it can also lead to a decline in the quality of student work. This perpetual distraction is certainly one of the biggest challenge of remote learning.
Remote learning does not allow for those moments in class which make teaching such a wonderful and rewarding profession. There are moments during a typical school year that remind a teacher why they joined the profession in the first place. The look on a student's face when they finally grasp a concept.
A joke that results in class wide laughter. The collective sigh of relief expressed when the teacher postpones a quiz or test. These are the moments that elevate teaching from a mere profession into something truly profound and rewarding. And unfortunately, these moments are few and far between in the world of online learning.
Remote learning makes it difficult for students to develop social and emotional skills and connections because of its distant nature. Another key challenge this model presents to instructors is rendering students as passive learners and there will be no differentiation in the class setting.
What is a typical structure for remote learning?
The structure of distance learning typically revolves around a strong online home base, a learning management system like Google Classroom where teachers can disseminate information, news, assignments, feedback, and more. Therefore, it is imperative that schools and teachers choose a simple, reliable digital home base.
Typically, teachers post weekly or daily assignments on the learning management system which students are to complete. To avoid getting caught up in remote learning challenges, disseminate a remote learning how-to guide to students and parents detailing the ins and outs of technology, learning apps, and software.
Most schools and teachers will require a certain amount of time that students are required to be online, and this may vary in schools. Many schools utilise Zoom lectures or Skype meetings to maintain a personal connection and to conduct (semi-)face-to-face instruction in addition to general coursework.
It's a flexible and somewhat loosely-structured approach to education, but it all centres around a strong, simple home base. After students complete the daily or weekly assignments posted online, teachers evaluate and assess the work, and then share the feedback with students on an individual basis using the online classroom.
Though the basic structure of remote learning is fairly straightforward - log on, attend a lesson, complete work, evaluate - its flexibility leaves room for innovation and adjustments. For instance, many teachers also carve out time to meet with students via video conferencing platforms like Zoom or Skype to render online education more hybrid and personal. There are so many different models and types of distance learning, so flexibility and innovation are fairly easy to come by.
How can it be implemented?
The first step toward remote learning is ensuring that the schools and students have access to online curriculum via correct and usable hardware.
Once schools are equipped with the proper hardware, the next step is to choose an online learning management system, or in simpler language, a virtual classroom platform. Google Classroom and Flipgrid are some of the more reliable resources for this, and students typically find their interfaces intuitive and simple.
Most school require students to remain online working on coursework for a certain allotted amount of time, so deciding this should also be addressed in addition to curriculum. The amount of time might vary in schools, making it difficult to arrive at a general consensus surrounding how long a remote education workday should be.
The University of Illinois in the US, boasts an Illinois' online plan, a much-discussed and lauded example for learners, which argues for no more than 90 minutes of work per day for younger students, and no more than 4.5 hours of work per day for high school students, which roughly equates to 45 minutes per subject.
While this plan isn't cast on stone, it can be used as a basic guideline for determining how long students should be required to spend online.
Finally, in order to implement remote and hybrid learning in our schools, we must develop a method and system of assessment and evaluation.
Most online learning systems contain features that allow teachers to collect and compile student data and disseminate feedback through individual lines of communication. Google Classroom, for instance, offers a turn-in feature that sends student work straight to the teacher and then the teacher's feedback to the student.
Related Topics