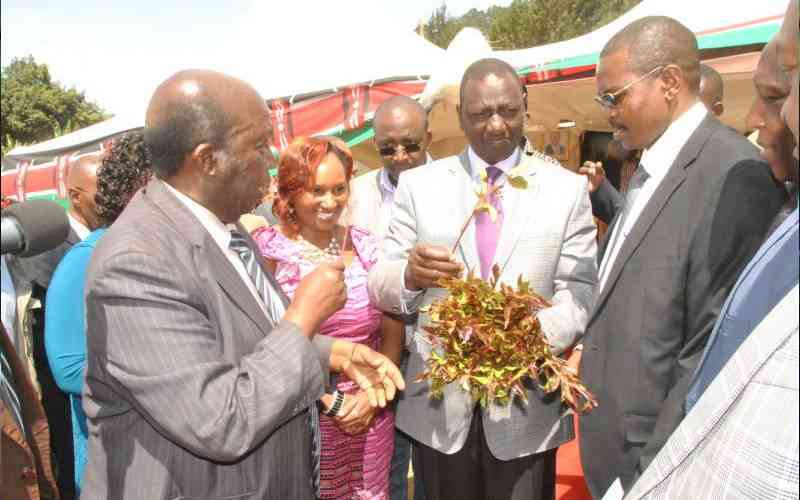 Miraa farmers and traders have lamented over what they have termed as high taxes imposed on the cash crop by most counties.
They called on governors to treat miraa just like any other cash crop saying the high levies are making it hard for them to do business.
They said only a few governors, including Meru's Kawira Mwangaza and Johnson Sakaja, have adopted a friendly stance towards the stimulant, lessening levies.
Through the 300,000-member Miraa Growers and Traders Cooperative Union (MTCU) and Nyambene Miraa Traders Association (Nyamita), the miraa dependent community appealed to the Council of Governors, through chairperson and Kirinyaga governor Anne Waiguru, to prevail upon her colleagues to lower levies they said are exorbitant.
Through MTCU chairman Moses Lichoro and Nyamita's Kimathi Munjuri, the growers and traders said their earnings are low as a result of over-taxation by many counties.
Lichoro said the Meru government charges Sh2,000 for a 10-tonne lorry of miraa and Sh1,000 for each of the pick-up vehicles but the destination counties were charging much higher.
"We want the taxes on miraa to be uniform. The amount we are paying in Meru should be the same amount other counties are charging, or even lower," said Mr Lichoro.
Lichoro argued that agricultural products from other counties are sold in Meru and nobody had complained, and asked governors to also treat miraa "fairly".
Mr Munjuri said: "Meru leads in terms of the fair treatment we give the crop and other counties should follow suit."
"Nobody bothers us. The Nairobi County has even put up trading sheds and lately allocated a plot for miraa trading activities," said Munjuri.
He claimed that Mandera County was discriminating against the crop, while Mombasa is charging Sh50,000 per 10-tonne lorry.
"Tana River had been charging us illegal transit fees. Embu is not friendly at all. It protects Muguka traders," Munjuri said.
Miraa trader Julius Ndolo lamented that miraa is a scheduled crop, recognised by law, and should therefore not be treated differently from other crops.
He also claimed that there is a cartel that allows only a select group of traders to fly miraa to Somalia and in return collect kickbacks from other traders.
"We want the government to remove the cartels that are controlling the channel to Somalia," Ndolo said.
Meanwhile, Ndolo and other traders are counting losses of over Sh50 million after 10 lorries ferrying miraa to Mandera were stuck in Harkoke, Garbatulla in Isiolo, following heavy rains.
Seven lorries returned to Meru with spoiled miraa while one lorry was swept away.
Related Topics