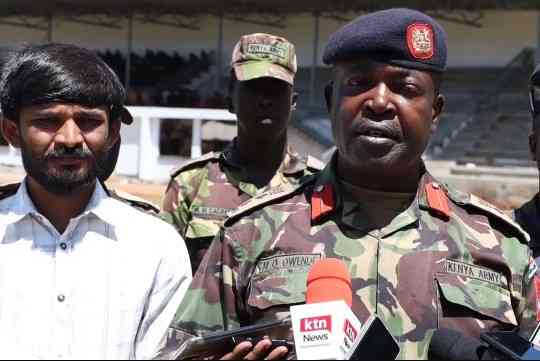 The Moi Stadium, Embu structural construction is 90 percent complete and ready to host Madaraka Day celebrations, officials say.
Deputy Commander Construction Engineers, Brigadier Colonel Morris Owende said the construction took place in twelve weeks of the estimated 14 weeks for full completion.
Speaking on Friday, May 12, Colonel Owende noted that the Kenya Defence Forces (KDF) and other disciplinary forces conducted the first of three rehearsals at the stadium.
"We expect the second rehearsals to be held on May 19 and a last rehearsal at the stadium to be held on May 24 before the Commander in Chief President William Ruto leads the nation in celebrating Madaraka Day at the stadium," Col. Owende said.
Col. Owende noted that the construction was faced with challenges including bad weather, owing to the fact that it is located at the lowest level of Embu town where all the flooding water ends.
He added the capacity of the stadium will be above 10,000 with more seats provided in the open spaces.
Through hosting Madaraka Day celebrations, the county has benefited from several projects from the National government, among them a sports city with an international stadium.
On his visit to the County for the National Day celebrations, the President is expected to lay a foundation stone for the sports city.
Related Topics