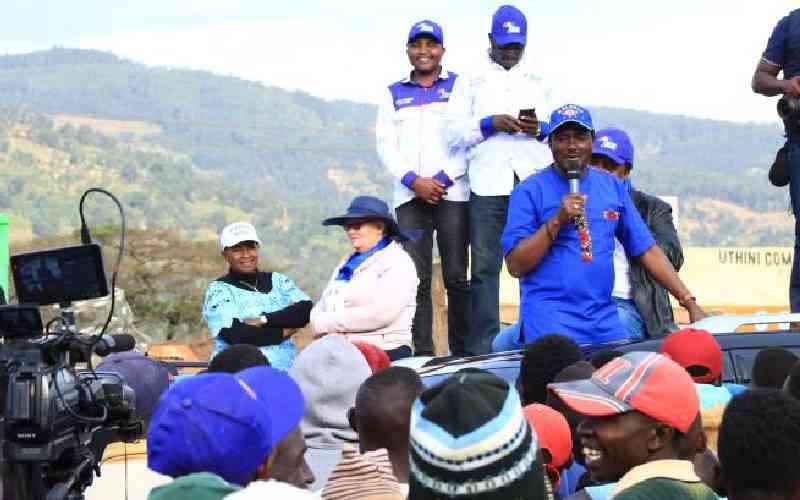 Wiper leader Kalonzo Musyoka has gone "national" with his nomination list, prioritising party members from minority groups in the Senate and National Assembly.
His number one nominee to the National Assembly is Abubakar Ahmed Talib, a 51-year-old businessman of Kenyan-Arab descent who will represent ethnic minorities if picked.
The second in line is a Maasai lady, Esther Saina Karbwali, a 37-year-old clerk who in 2017 featured as a Jubilee Party nominee for Kajiado County Assembly in 2017.
In the Senate, Musyoka's party has gone for his party Secretary General Shakila Abdalla. A Bajun, Shakila comes from a marginalized tribe but will represent workers if picked by the electoral body.
Wiper's current nominee to the Senate Sylvia Kasanga is second on the list, followed by lawyer Eunice Lumallas, a Luhya.
Yet another minority Mohamed Zakir Hussein, a Bohra businessman is the only Wiper nominee to represent persons with disability in Senate.
Musyoka's Nairobi Mr Fix It, Roy Kivusyu is number three in the National Assembly list. For Senate youth nominees, Musyoka has gone for a 27-year-old farmer Joshua Mutunga as number one, and journalist Elizabeth Mutuku as the second pick.
Mutuku is a news anchor cum political reporter with TV 47 and is playing a leading role in the presidential debate series. She is also an official of the parliamentary journalist's association.
In his own Kitui county backyard, Kalonzo has gone for another journalist Jacqueline Kalenga as his first nominee for women's top-up category. Kalenga, 37 works for a local vernacular station.
In Machakos, the party has prioritized two nominated MCA's, Winfred Mutua and Hellen Ndeti. Former Ukambani political supremo Mulu Mutisya's daughter Irene Mulu is number three.
In Makueni, the first slot is taken by a sitting MCA Elizabeth Kiio, and number two by Joyce Wambua.
For marginalized groups, Musyoka has picked Waziri Bakari, Ikrn Ali Dubat, John Kimanthi and Rose Kathoka in Kitui county assembly.
Kathoka is among the coterie of Musyoka's Wiper loyalists alongside Kivusyu who has been tapped for National Assembly.
In Machakos for marginalized groups, political operative Dee Kivuva takes number one slot to represent workers. Second on the list is environmentalist Pollyne Anyango Owoko followed by Ben Ngumbau and Farhiya Haji Abdi.
In Makueni, current MCA Urbanus Wambua, businesswoman Elizabeth Muthike and Lucas Wambua follow each other in that order.
In Nairobi county, Musyoka has gone for his close relative Jane Muasya as the first pick. Ms Muasya is currently a nominated MCA in Nairobi County Assembly.
In special interest category for Nairobi, Leipai Ole Tompoya and Jualiana Mukonyo take the first slots.
Related Topics