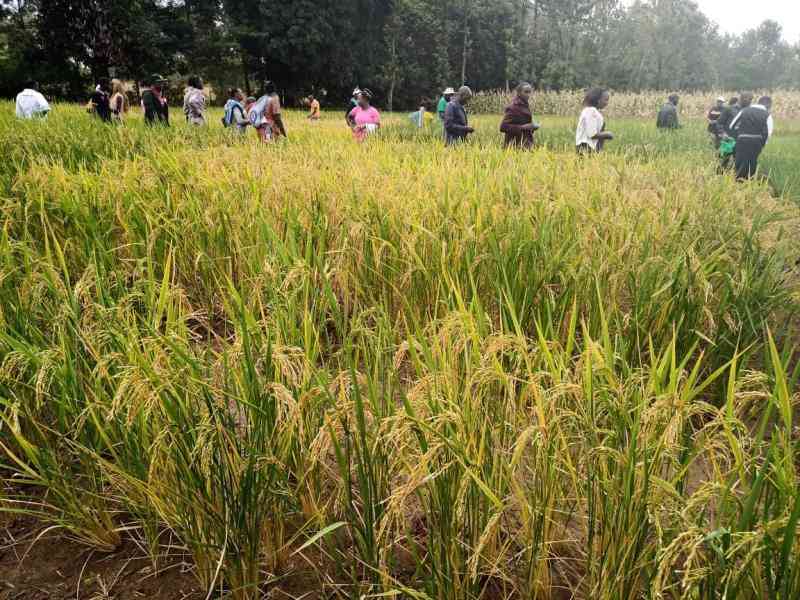 Meru County is traditionally known for its miraa, coffee and tea farming, and is the last place you are likely to come across a rice farm.
But that is now changing, with rice farms dotting various parts of the county.
Crop diversification is taking root as residents move from traditional crops and embrace rice farming, keen to replicate the success of Kirinyaga farmers who have for decades reaped well from their rice farms in Mwea.
The bid to introduce rice farming in Meru is an effort led by the ministry of Agriculture.
Dr Mary Mutembei, who heads the Crop Directorate Rice Promotion Programme, says with Kenya importing 80 per cent of its rice needs, it is important to increase local production.
Ms Mutembei said there is a large amount of money involved in importing rice, yet there are many areas with the potential to grow rice.
She said Meru has the conditions to enable farmers to grow the rice varieties developed by Kenya Agricultural and Livestock Research Organisation (Kalro) which will do away with the need to import large quantities of rice.
Other partners in the initiative to expand rice growing areas are county governments and Kilimo Trust.
"We want to work together so that when Kalro provides a variety, the county governments provide extension officers and we provide capacity building," she said.
As farmers take up growing rice on dry soil as opposed to the traditional flooded rice paddies, stakeholders have exuded confidence Kenya has the potential to increase production in a big way.
"The upland rice we have can be grown where we grow other (food) crops. The rice grown in Mwea is irrigated but the rice we have here in Meru is planted in areas where other crops can also be grown," she said.
The low-land rice is grown in irrigation schemes such as Mwea while upland rice can be grown in highlands, with less water.
Mutembei said it is important to also have a source of water for the upland rice, in the event of low levels of rainfall.
She said with the consumption of rice on the rise due to expanding urban populations there is a need to increase production.
"People living in towns need food that they can cook faster. The rice produced in Kenya can only feed 20 per cent of the population. That is why we are looking for areas where we can promote rice production," she said, adding that areas identified to have potential are Turkana, Marsabit, Garissa, Kwale, Taita Taveta, Baringo, Marakwet, West Pokot, Homa Bay, Siaya, Migori, Busia, Kakamega and Bungoma.
Professor Paul Kimotho from Egerton University said there were several varieties of upland rice developed by Kalro that had great potential in the highlands.
"There is Merica 1 which is very aromatic, Merica 10, Merica 11, and Merica 4. Meru farmers have selected Merica 10. It looks very good in terms of yields, it has very good grains and because of the cold conditions here it is also early maturing," Prof Kimotho said.
"It is very possible for the country to reduce importation of rice through the introduction and production of upland rice and the varieties are available at Kalro," he added.
Prof Kimotho said upland rice also had the potential to mitigate against climate change since it does not produce any carbon dioxide or gases that affect the environment as it uses less water.
Joshua Mutea and Samuel Rwito from Mitunguu in South Imenti said the rice matures within three months and fetches more money as opposed to maize and other crops.
"Rice is better because you cannot get less than Sh100 a kilo," said Rwito.
Related Topics