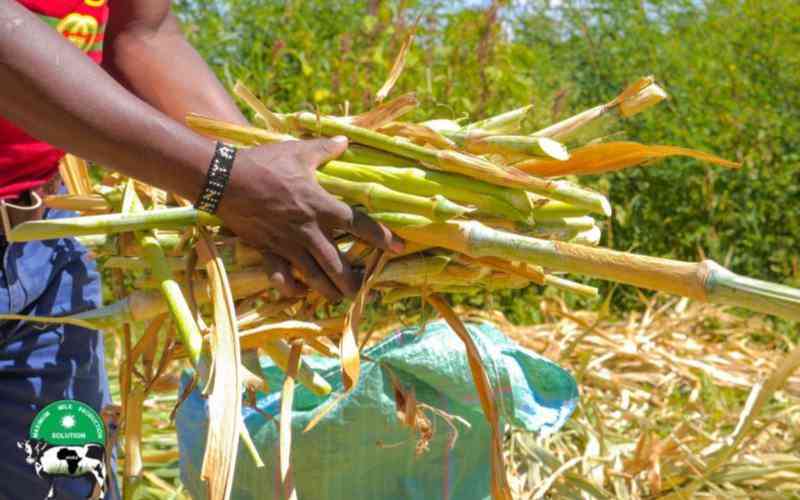 Joseph Kibuu has been a dairy farmer for years but in early 2019 he almost gave up. He was experiencing a high cost of production but the milk yields were still low.
"I have been a farmer for decades now, but it was a frustrating affair. In 2019, I almost hung my boots. I was spending a lot on feeds but the milk yields remained low. I shared this with my close friends, John Karia and Burton Githaiga, who are also veteran farmers," Mr Kibuu says.
"When I told my two friends about the dairy issue, I made a joke that "ng'ombe zangu zinanikamua badala nizikamue, (my cows were milking me dry instead of the other way round)" says Kibuu.
Karia and Githaiga did not take this as a joke but a significant challenge because they knew that Kibuu was not the only dairy farmer facing the frustrating feed issue. According to Karia, in Thika many farmers are forced to supplement low-quality fodder with commercial feeds which are expensive and doing so eats into their profit margins. In a bid to find a solution to Kibuu's issue, the two gentlemen went online in search of answers. From what they learned, they bought the best fodder varieties of seedlings with high protein and established a small farm to test their quality. After several trials, they noted of all the fodders, one from Thailand stood out — Super Napier Grass (Pakchong 1) dubbed 'King of Napier Grass'. According to Dr Andrew Mbithi, an animal expert Super Napier Grass is hybrid grass that was developed by a scientist from Thailand. It's a cross between the ordinary Napier and millet. To set the ball rolling, the three started propagating this Super Napier Grass, and within a short period, they made their first harvest which they donated to Kibuu to try out. He fed his animals and noted a significant difference.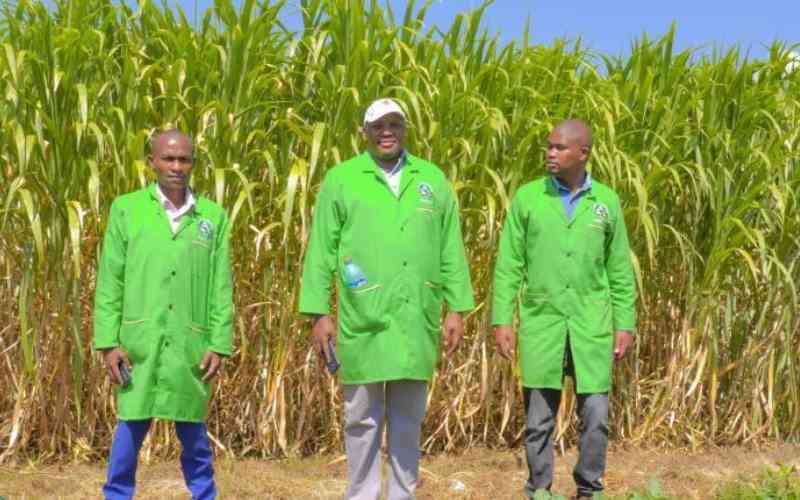 Business Opportunity
"I was able to cut on the cost of production and started recording profits. I'm planning to add more dairy cows since I have got a solution to the feed issue," Kibuu says. Beyond solving Kibuu's issue, the duo also saw a business opportunity. To tap into that, the three friends came together and formed a company known as Maximum Milk Production Solution Africa, primarily to research, propagate and supply farmers with high-quality fodder. Apart from Super Napier Grass, they also propagate Brachiaria, Calliandra, Improved Kikuyu, which are also superior fodder qualities.
"We have more than 60 acres of this hybrid nappier grass in Thika and Murang'a and we do countrywide supplies," says Karia.
With the cost of feed continuing to rise, Githaiga says the response to their offer has been positive, and now they have orders from as far as Mandera County.
"We normally sell Super Napier Grass in the form of cuttings to dairy farmers who later go and plant this on their farms and many have attested to the fact that it increased their dairy's milk production," says Karia.
According to Dr Mbithi, Super Napier Grass cross-breeding makes it have some desirable features that make it superior to ordinary nappier grass that most farmers feed their animals.
"Super Napier Grass is high yielding, fast-growing, highly nutritive, easy to handle during harvesting since it lacks the spikes common with the ordinary nappier grass. It is also drought resistant," Dr Mbithi explains.
Due to the fast-growing nature of this grass, you can harvest after three months after planting. After first cutting, the harvest can be made at 60 days intervals throughout the year.
"So far the demand for this hybrid nappier grass is high because it has a healthy protein content with crude of 16-18 per cent dictated by planting conditions and management levels. It also has water-soluble carbohydrates giving high energy for increased milk production," Karia says.
"It produces 180- 200 tonnes per acre annually, feeding 15 dairy cows reared per acre and perfectly suitable for silage making," he explains.
According to Kibuu, the high energy and protein content reduces commercial feed requirements thus increasing farmers' profitability. Kibuu, says this type of nappier grass is highly palatable since its leaves are smooth since don't irritate as compared to ordinary nappier grass.
"Kenya Agricultural and Livestock Research Organisation came to our farm and took samples and confirmed all these positive attributes that we have mentioned," says Kibuu.
The sky is now the limit.
"Since we came up with this project, thousands of farmers in Thika and across Kenya have benefited from it. We get most orders through referrals but are also doing a lot of marketing on Facebook," Kibuu says.
For countrywide deliveries, they use Wells Fargo and matatu courier services.
Related Topics