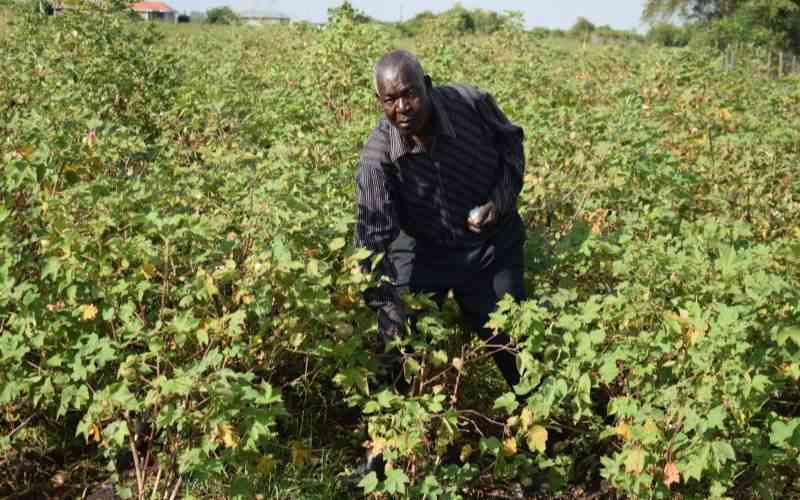 Once upon a time, cotton farming in Homa Bay was so vibrant, every other home had a cotton farm. Things were working. The farmers were being paid on time and life was good. Then the decline started.
Due to mismanagement of cooperatives and lack of strong government support, all ginneries in the county locked their gates with no hope of ever reopening and the industry collapsed in the 1990s.
Many farmers abandoned the trade for more profitable alternatives. But some farmers did not. One such farmer is Richard Oloo, 68.
Oloo is hopeful that things will change with President William Ruto's visit to the county recently where he declared that the Government will revive the sector.
The Smart Harvest team caught up with him in his cotton farm at Angalo village in Homa Bay. On this day, the elderly farmer was harvesting cotton which he planted four months prior.
"Though things are not so good yet, we are optimistic that things will change after the President promised to revive the cotton sector," he says.
Stuck with old varieties
Times have been tough and Oloo is worried he may not get the expected yield this season. He is one many farmers in Homa Bay who planted a conventional cotton seed known as KSA 81M.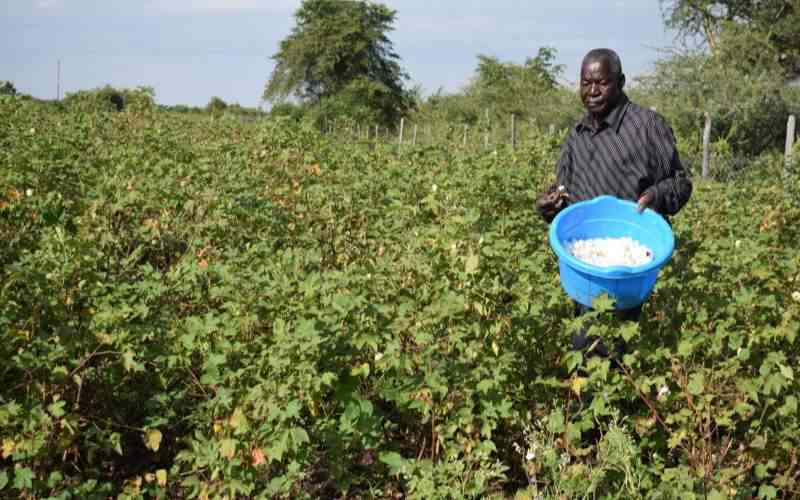 According to Kenya Agricultural and Livestock Research Organisation (KALRO) the KSA 81M was developed in 1981. KALRO says it is archaic and unimproved variety with low yields.
This is the variety that Oloo has been planting for the last two years on his two-acre farm.
On average, he has been harvesting less than 1,500 kilogrammes of cotton per acre.
And this year, Oloo is expecting serious decline in his harvest. He predicts to get between 300 kilogrammes and 500 kilogrammes.
"When I do well, I have been harvesting 1,500 kilogrammes. I planted the same cotton seed variety in the same farm but the projection of harvest is much less this time round because of the harsh weather," Aloo says.
Drought that has been occasioned by climate change is to blame for the low yields. The variety he grows is also susceptible to bollworm attacks.
"I thought the cotton was going to produce many bolls but it did not happen. It is very difficult to explain what has happened to my crop," Oloo says.
Oloo is concerned that the low cotton yield will earn him less money which cannot meet his financial needs.
Previously, cotton was fetching Sh48 per kilo but it has now increased to Sh52. This means if Oloo gets 500 kilogrammes, he will earn Sh26,000. But his will a big loss compared to Sh78,000 he would have acquired if he harvested more.
At Kitare village, Gembe East location in Mbita sub-County, another farmer Samuel Nyakech complains that pests have destroyed his cotton bolls.
Cotton bolls destroyed
To control the pests, Nyakech had to buy pesticides which further increased his cost of production. The farmer planted the conventional cotton seed on his two and half acre farm and is expecting huge losses due to destruction by the worms.
"I am expecting a huge loss in my current harvest. Many cotton plants lost bolls prematurely. I spent a lot of money buying chemicals to fight the pests," says Nyakech.
Like Oloo and Nyakech, many farmers in the county are expecting a poor harvest and subsequent losses.
Homa Bay Director of Agriculture Charles Nyayiera confirmed that majority of the more than 6,000 cotton farmers in the region planted the low yielding conventional varieties and are now expecting poor harvests.
Nyayiera says preliminary investigations reveal that the poor harvest has been caused by failure of the conventional cotton seed to yield well because of bad weather and attacks by bollworms.
Bt cotton seed
Farmers in the region are usually given the old cotton seeds for free by a ginnery firm in Rift Valley. The ginnery provides a market for their produce.
However, over the years, the robustness of these old varieties have been over-taken by time, hence their low yields, due to susceptibility to attacks by pests, and particularly the African bollworm (Helicoverpa armigera); the largest pest threat to cotton production. This is the reality that prompted researchers to develop the more promising hybrid cotton seeds.
Nyayiera says there are two types of hybrid cotton seeds namely the normal hybrid seed and BT cotton seed which is genetically modified. He says hybrid seeds are more profitable compared to conventional seed. He explains that a hybrid seed planted in one acre farm can produce 1,500 kilogrammes of cotton. Comparatively, the conventional seed can produce only 1,000kg if a farmer gets exceptionally good yield.
Cheap is expensive
Obtaining a conventional seed in Homa Bay is free. But the hybrid cotton seeds costs Sh3,500 per kilogramme. According to Nyayiera, an acre farm requires six kilograms of the conventional seed. The same piece of land requires 1.5 kilogrammes of hybrid seed.
"It may appear that the conventional cotton seed is cheaper because it is given for free but that is not true if you consider all underlying factors of production," Nyayiera explains.
The department of agriculture is undertaking sensitisation to convince cotton farmers to transit from conventional seeds to hybrid seeds because of the many benefits.
"The key solution for cushioning cotton farmers from the impending poor yield is embracing hybrid cotton seeds. Hybrid seeds do very well and farmers are able to get value from their sweat," Nyayiera says.
Nyayiera says they are also talking with Rivatex company to fund purchase of BT cotton seeds for farmers in the county.
The seeds will be distributed to farmers in the planting season ahead of long rains starting in March next year.
"We are in talks with the Rivatex and they have agreed to fund purchase of BT seeds for our farmers. They have also agreed to buy the cotton from the farmers once they harvest," Nyayiera says.
Nyayiera says the county is encouraging more young people to venture into cotton production to increase the number of farmers from the current 6,000 to 8,233.
Meanwhile like Oloo and Nyakech, thousands of farmers are hanging on to President Ruto's promise to revive cotton production.
Related Topics