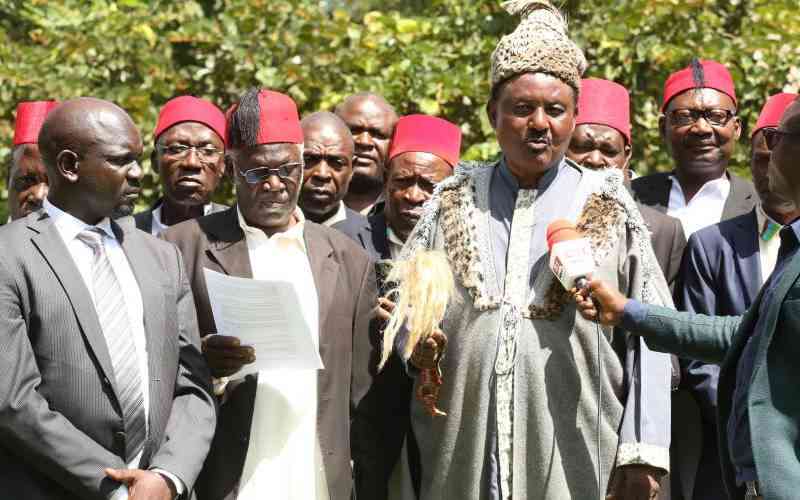 Kakamega County leaders are pressuring Mumias Sugar investor, Sarrai Group, over claims of favouring foreign workers over locals.
A week ago, loaders at the factory protested against the management, accusing them of hiring Ugandans instead of local residents and former employees.
Governor Fernandes Barasa warned the investor against this practice. "We are ready to give our support to the investor but warn him that our former employees who are well trained should be given priority. We cannot allow even cleaning jobs to be taken by Ugandans; it makes our people depressed due to lack of jobs," he said.
Mr Barasa said while the company may be facing challenges, it should prioritise clearing unpaid wages owed to former workers.
The same sentiment was expressed by Nabongo Peter Mumia II and his council of elders.
Employ locals
"We want to tell the investor that he should consider employing 70 per cent locals and not foreigners," said Nabongo, adding that many locals were well-trained former employees who lost jobs when the company was forced into receivership.
"We have our own sons and daughters who got trained abroad, and after the challenges that are facing the company they were rendered jobless. With the revival of the company, we want those people to be given first priority. We donated our ancestral lands for cane plantation," said Nabongo.
These statements followed complaints from former employees who felt sidelined by Sarrai's preference for Ugandan workers.
Former Workers of Mumias Sugar Factory chairman Patrick Mutimba claimed that 1,200 workers were overlooked in the re-employment process.
"We want the new management to implement what was contained in the agreement during the handover of the management from Mr Rao to Sarrai where we were supposed to be re-employed. But that has not been done and we are only seeing Ugandans having taken our jobs," said Mr Mutimba.
The former workers are demanding unpaid wages amounting to Sh2.3 billion, dating back to March 2016 when the company was placed under receivership by Kenya Commercial Bank.
Receiver manager
The bank appointed Ponangipalli Ramana Rao as the receiver manager. "Mr Ponangipalli Ramana Rao, who had promised to pay the arrears by December 2019 when he appeared before the Senate Labour Committee, handed over everything to Sarrai Group and the issue has not been addressed since," said Mutimba.
The ex-workers also requested that Sarrai Group release to them deductions such as the National Hospital Insurance Fund and the National Social Security Fund.
Earlier this year, Mumias Factory Operations Manager Stephen Kihumba reported that 500 former employees had been rehired after the company resumed milling.
He noted that reemploying former workers was a practical decision, as training new employees would have been time-consuming, especially for production roles.
Related Topics