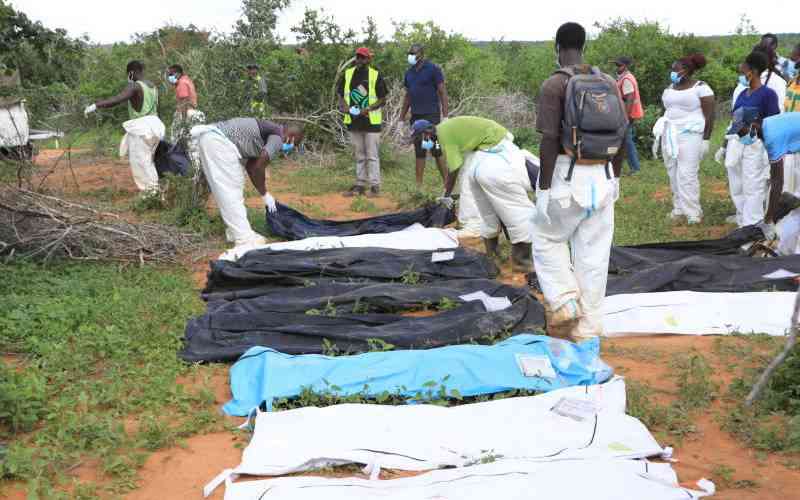 Interior PS Raymond Omollo has said the recovery of bodies from the Shakahola forest that started in April this year will end soon.
Omollo said the exhumation and collection of evidence related to the cult, which is associated with the deaths of hundreds, took an extended period due to the advanced state of decomposition of the bodies.
He said: "Investigations are still ongoing because of the sheer number of bodies and the significant decomposition that had occurred. The DNA analysis process is time-consuming."
A multi-agency team, led by officers from the Directorate of Criminal Investigations (DCI), has exhumed more than 450 bodies suspected to be followers of Pastor Paul Makenzi's church. Makenzi, who is currently in police custody, has denied any involvement in the existence of mass graves.
Omollo urged Kenyans to exercise patience, saying the perpetrators would be brought to justice through legal proceedings.
"We anticipate completing the exhumation and investigations within the next month or two, at which point charges will be filed against the accused individuals," he said.
The government has hatched a turn-around strategy to combat insecurity threats in Coastal and North Eastern regions.
Omollo said the Reducing Insecurity and Violent Extremism in Northern and Coastal regions of Kenya (REINVENT) programme will be achieved through the implementation of security sector reforms.
He said more resources are being invested in accelerating the programme, including the deployment of equipment and kitting of specialised units with sophisticated weapons and protective gear.
PS Omollo was speaking in Malindi after he addressed the technical committee on police reforms. The PS said it will take seamless collaboration between government agencies, civil society groups, and the public to counter violent extremism.
Meanwhile, the PS issued a directive to dissatisfied police officers, urging them to submit their grievances to the police internal affairs unit. He was responding to numerous junior officers who had voiced concerns about skewed promotion procedures and unfair salary increments.
"If there are concerns, there are well-established mechanisms to address them. Regarding matters of promotions and salaries, the National Police Service Commission is responsible for handling such issues. Internally, we have the Police Internal Affairs Unit to address these concerns," he said.
Additional reporting by Okumu Modachi
Related Topics