One might not think being a swimming instructor can be a viable, profitable job, but for one Ayub Osoro, teaching people how to swim is his mainstay.
The 49-year-old father of five grew up in Kilimani Estate, Nairobi. He has always been passionate about swimming since his childhood. He attributes his love for swimming to the public pool at Railways Club.
"Although I did some boxing and football, I found myself being inclined more towards swimming."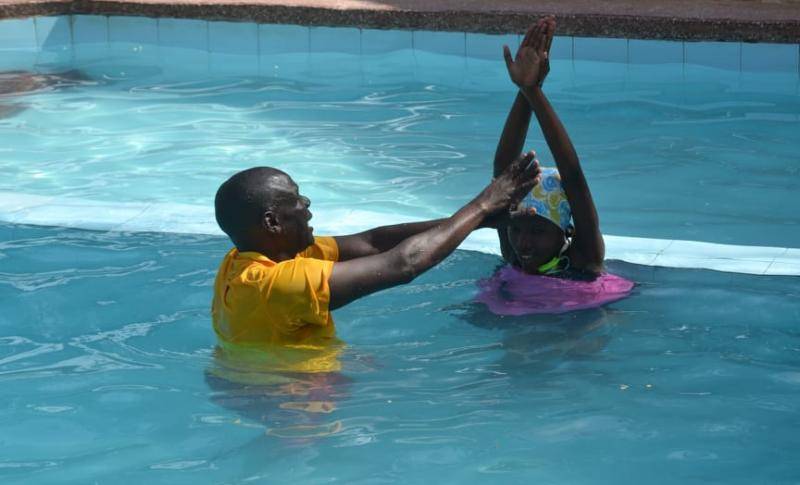 After completing his secondary education in 1992, the father of five enrolled in a six-month Life Guard Certificate course at YMCA to start his career as a professional swimming instructor.
Since then, Osoro has become a qualified lifeguard, certified CPO pool operator, swimming coach and St John's first-aider. He is also the chairman of the Kenya Life Saving Federation Nairobi branch. Osoro started coaching in 1996 after attending a training organised by world swimming agency Fina at the YMCA.
Fina is the international federation recognised by the International Olympic Committee for administering international competitions in water sports.
Osoro owns Aquaprime International, a company that specialises in the construction of swimming pools in Kenya. But most of his lessons are conducted in public swimming pools, depending on the client's convenience.
He charges Sh1,000 for a one-hour session for both children and adults or alternatively, Sh15,000 for 12 one-hour lessons.
The charges are exclusive of swimming pool entry charges which range from Sh200 to Sh300 a day. He charges differently for primary group lessons.
As a swimming coach, Osoro has to interact with different people from diverse backgrounds. His selling point is how to relate and socialise with clients.
"Honestly, as a professional swimming coach, I relate with everyone well, be it young, old, curvy, athlete, or small. We all have different abilities when it comes to learning, fast or slow learners, I will get into your shoes so we start learning together," Osoro told CityBiz.
As a professional coach, Osoro has to apply a standard swimming curriculum that also extends to safety and health protocols when swimming. Students are also taught hygiene standards such as not peeing in swimming pools or avoiding make-up.
Osoro says a standard swimming pool is the last place one should expect infection or contamination, despite their use by many different people.
"Most standard swimming pools use chlorine which is a powerful disinfectant," he said, adding that with the right chlorine and pH level, even heavy makeup or body lotion won't cause swimmers health problems.
Osoro admits that as a male swimming coach, some women unexpectedly get emotionally attached to him. But he says the key is to remain professional.
"I understand the moral obligation. If I see one becoming fond of me I dismiss them professionally."
To prevent accidents associated with swimming pools for first learners, including drowning, Osoro says instructors have to use safety equipment.
He says swimming lessons should be mandatory in school.
Related Topics