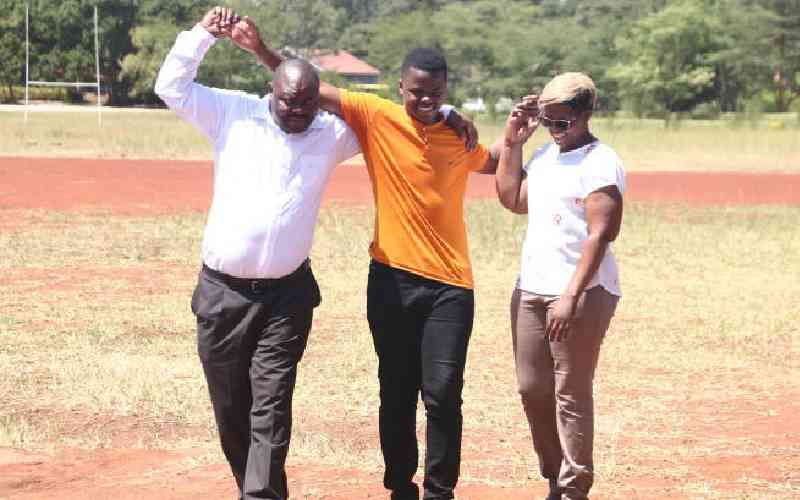 National and extra county schools in Mt Kenya region registered impressive results.
Kagumo Boys High School, Njiiri School, Nanyuki High, St Mary Igoji, Meru School, Moi High School Mbiruri, Mangu High, Mugoiri Girls, Isiolo Girls and Kabare Girls all posted good results with a majority of students scoring As and A minus.
In Nyeri, Kagumo reported 19 As, with 100 students scoring A minus and 112 scoring B plus.
The school reported a mean grade of 9.57 with all 391 students who sat the exams expected to transition to university.
Silas Mwirigi, the Kagumo principal said that Kiswahili, geography and computer studies were the best-improved subjects.
In Muranga, Mangu High reported 81 As, 192 A minus and 113 B plus.
Njiiri School students had a mean grade of 8.5 points with one scoring A while 37 scored A minus and 95 attained B plus. The majority of the class of 108 students scored Bs.
In Laikipia, Nanyuki High School reported four As while 44 students attained A minus with the majority of the class scoring B plus.
Out of the 237 students at Nanyuki High, 217 scored above C plus and will be transitioning to university. The school had a mean grade of 8.8 points.
Grace Moli of St Mary's Igoji in Meru was elated after getting mean grade of A.
Her mother, Joanne Gatuku and other relatives celebrated Moli's good performance. Despite a history of weak performance in English she reversed the trend and got an A in it, Kiswahili and mathematics. She got the same in business and geography.
She had a C plus in biology, A minus in physics and B plus in chemistry. "I am very excited at the moment. I did not expect this though I was confident I was going to get good grades," Moli said.
"It was all due to hard work, my parents and teachers, especially language teachers. I was a bit weak in languages but the supportive nature of the teachers and my parents and sister saw me through."
Millicent Wangari Ng'ang'a who attained an A minus says he wants to pursue an engineering course.
At Njirii Boys, Mwangi Derrick Gichuhi celebrated after he got A minus of 75 points. Gichuhi said he wants to pursue a degree in electrical engineering.
School principal Gibson Mwangi said 411 candidates attained C plus and above. "The students were devoted to their studies with support from parents and teachers," said Mwangi.
Susan Mundia, the principal of Mugoiri Girls High School said the results were good and they expected they would send a high number of students to the university.
Lorine Kendi of Alliance Girls celebrated her A of 83. "I am happy, so happy. It is God, I have been speaking to Him, and I am very close to Him," Kendi, said.
Reporting by Purity Mwangi and Boniface Gikandi and Phares Mutembei
Related Topics