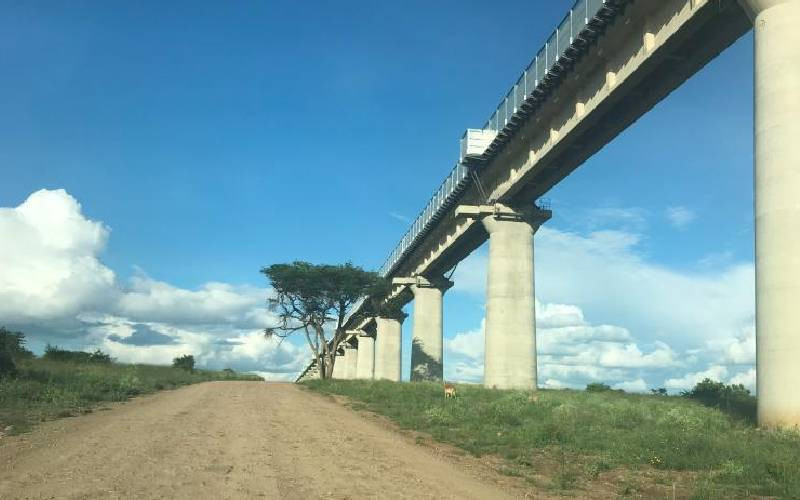 In the last year, China has left our headlines. It was popular during the 2022 political campaigns with a focus on debts.
The popular view, more so in the West was that despite building mega infrastructure projects, China was saddling Africa with debt.
This is a curious view considering that we have always had debt from the West. If you consider debt as a business, such views should not surprise us. Whatever the views, China has had its imprints in Kenya, which are hard to erase.
The Standard Gauge Railway (SGR) cost Sh656.1 billion to build from Mombasa to Nairobi and onwards to Naivasha. With its elevated sections, it has changed our landscape.
Someone even joked it has joined the Big Five and is one of the attractions in the Nairobi National Park!
SGR came more than a century after other Easterners, and Indians helped build the old railway. The coolies, as they were called, stayed on and recently became Kenya's 44th tribe.
Will Chinese like Indians stay on after SGR and become the 45th tribe?
The portfolio of Chinese-funded projects concludes the Thika Superhighway, Nairobi Expressway, Kipevu Oil Terminal, Lamu Port and Likoni Bridge. There are more projects.
These projects have made us the envy of our neighbours despite being funded by debt. Does it matter if the projects are funded through debt or tax? Nobel laureates Merton Miller and Franco Modigliani argued that the value of a firm is not affected by its capital structure.
It does not matter if the funding is through debt or equity (stocks or shares). We could argue that the value of our country (read GDP) does not depend on how it's funded, through debt or tax (our equity). Do you bother to know how highways, rail, sewerage systems, defence and other public goods are funded?
Some Chinese-funded projects like Lamu ports and SGR are part of China's Belt and Road Initiative (BRI). The project is now 10 years old. China through BRI dreamt of reviving and extending the old Silk Road. It has variants like digital and health roads. So ambitious was the project that the West (read the United States) took note.
The US Council on Foreign Relations Task Force report on BRI in 2021 "recommends a four-pronged strategy: address specific economic risks posed by BRI; improve US competitiveness; work with allies, partners, and multilateral organisations to better meet developing countries' needs; and act to protect US security interests in BRI countries."
The report noted that the failure of the US and her allies to address the needs of BRI countries left a vacuum that China easily filled. The US and her allies were big on "soft issues" like human rights and democracy. They left out the "hard issues" like roads and rails, which China easily took up.
The aftermath of Covid-19 may have slowed down the BRI and Chinese funding. China's economic growth has slowed too.
The latest government estimates for the 2023/4 financial year show that Chinese financial support to Kenya has fallen to just Sh1.74 billion, the lowest level since 2008.
This is a significant fall from the Sh29.5 billion that Kenya received from the Asian economic power in 2021/22 and Sh71.2 billion in 2017.
Other observers note that during the Kibaki-Uhuru era, Kenya had one eye facing the West and the other East (read China). Since Kenya Kwanza came to power, the eye to the East seems to be blinking often or half asleep. Could this slow down Chinese funding? How many trips has President Ruto made to the West compared with the East?
Big project
If this funding is reduced or cut, some projects will be in abeyance.
That includes the planned extension of the SGR from Naivasha to Malaba, through Kisumu and to Isiolo and the borders with Ethiopia and South Sudan. It is unlikely other funders can take over such a big project. Did I hear the minister of transport is in China?
In the agenda for funding, add proposed projects like a Chinese-built Special Economic Zone (SEZ).
The recent about-turn on funding road projects initiated by Uhuru Kenyatta shows Chinese-funded projects are likely to continue as part of bilateral engagement with China.
More is expected in a Beijing summit next month, where Kenya is expected to attend. In such engagement, debt repayment will definitely feature. Data supports that.
In April this year, the government defaulted on the payment of salaries to civil servants and county staff for the first time since independence as it prioritised the repayment of sovereign debt that had fallen due at the end of March.
According to the National Treasury's Expenditure data, Kenya's debt repayments towards China-funded infrastructure projects more than doubled to Sh73.48 billion during the 2021/22 financial year. This amount was a whopping 81.4 per cent of the monies paid out to bilateral lenders during the same period.
We expect Kenya to seek softer terms, like deferment, which China did not allow last year. This will be a delicate engagement, and China could play hardball. Why?
The new government appears to be reversing former President Uhuru Kenyatta's and Mwai Kibaki's "looking East," during which China invested a lot of money in Kenya, in the process underwriting the country's biggest-ever infrastructural growth and expansion. This is evidenced by the number of projects and loan deals which have been signed with Western powers, companies and the Bretton Woods institutions.
There has also been a flurry of bilateral trade diplomacy engagements between Kenya and Western countries e.g. the US, UK, France and Italy. Without forgetting IMF.
Will China interpret some of the West-leaning gestures by Kenya, especially on economic issues as spite? China could use the existing financial obligations to lure Kenya back to its orbit. Would China be accused of using debt diplomacy?
The engagement with China goes beyond projects and debts.
The balance of trade between Kenya and China currently is in favour of the latter. Will China open its doors to more Kenyan exports, which tend to be in an unprocessed or semi-processed state? Remember macadamia exports?
Remember Kenya Kwanza government has value addition as part of its bottom-up economic transformation (BETA) agenda. This is where Kenya should negotiate strategically.
The West with its manufacturing base reaped big from the Chinese market by moving manufacturing plants there; cheap labour and closeness to the market were key attractions.
Africa, it seems, is the only region that has not directly benefited from China's phenomenal economic growth since 1978 when China opened to the world. What can we sell to China should be the question preoccupying us now. Or boldly make it in China?
What of reserve currency? Like China, Kenya has joined the call to reduce reliance on the dollar. When will the Yuan join the US Dollar (USD) and Euro as a global currency?
This is one area China is yet to make a breakthrough. Adopting the Yuan as a global or better reserve currency would make a difference in trade and commerce. Will that be one of the BRICS (grouping of economies of Brazil, Russia, India, China, and South Africa ) key projects? Kenya is a vocal supporter of the African Free Trade Area (AFFTA) project and the use of African currencies in intra-Africa trade. Will Africa adopt one currency to facilitate trade much like in the European Union?
Single currency
Given that China would love to promote its own currency, would she support the African single currency? How will the US react to such a currency?
Will she stand and watch the dollar lose its dominance? We expect Kenya-China engagement to include bigger and better bilateral agreements to support and anchor value chains such as mechanised farming, manufacturing, affordable housing and pyrethrum growing and processing.
BETA and its key projects will feature prominently. The railway fraternity will expect more SGR rolling stock to bolster SGR operations along the line between Mombasa and Naivasha as well as seek grants for the building of a modern railway management ecosystem along the SGR corridor to provide comprehensive railway solutions.
And extend to other regions, Malaba, Uganda, Isiolo, Juba and Ethiopia. It seems Kenya can't run away from China. All these projects come amidst high fuel prices and new taxes driven by the IMF. Will the political implications of IMF's economic prescriptions make Kenya face East again?
Such projects and bilateral negotiations dovetail with the 10th anniversary of BRI, Kenya at 60 and a new government in Kenya. China would love to see the success of BRI spill into the second decade. Kenya would love to fulfil the economic promises made in the run-up to the 2022 polls. And the source of funding might not matter to us. What we can't dispute is that Kenya, like a beautiful girl is being contested by the East and the West.
We hope the key beneficiary of this contest is the ordinary citizen, Wanjiku. She will get better jobs, health, education, shelter, and be happy.
More importantly, there will be more inter-generational upward mobility. We hope to stop talking less of the good old days. We should talk more about limitless possibilities and make the next generation believe the best is yet to come.
Related Topics