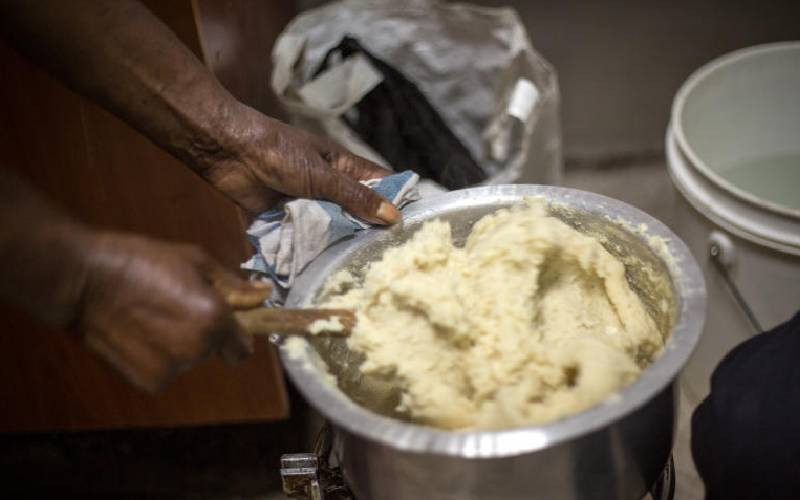 Farmers in the North Rift have say that the high fuel prices could negate gains achieved through fertiliser subsidy touted as a game changer by the Kenya Kwanza administration.
They fear that high cost of diesel, which rose by Sh21.32 to Sh201 a litre in the region, will escalate operation costs and that consumers will continue paying more for staple food – Ugali.
Farmers yesterday said with the rise in fuel price, they no longer feel the benefit of subsidised fertiliser since the costs of other components in the production chain are rising.
"Fuel is a determining factor in operational costs in the agriculture sector. Any changes in prices make an impact. The cost of diesel now ranges between Sh201 and Sh202 in parts of Uasin Gishu County, compared to Sh159 during the same period last year," said Kimutai Kolum.
Kolum, a maize and wheat farmer, asked the government to come out with a solution. "The cost of diesel is now beyond reach for farmers. We need fuel to transport produce, shell and also move it to markets," he said.
The farmers said to break even, the government should set the price of maize at not less than Sh5,500 per 90kg bag.
"We consume a lot of fuel in maize harvesting through transport from the farm, shelling and transporting to market. Current hike in price translates to an increase of over Sh200 to produce a 90 kg bag, thus adding more losses to farmers," said Thomas Bone from Tabsagoi.
"We have been anticipating good yields and better earnings from the current season . Performance has been good due to the access to subsidised fertilizer. Our expectations have, however, been reversed."
Boen said Agriculture CS Mithika Linturi had, last month, promised to announce maize producer prices for the current season. The farmer urged the minister to ensure the price is at least Sh5,500.
They said with the rate of price escalation on petroleum products, farmers may not be able to prepare for next season's planting.
"We are currently harvesting the early crop after which we prepare for the next planting season. We need fuel to harrow our farms, and this will be a challenge if prices escalate," said Ben Sirma of Waitaluk in Trans Nzoia.
Spare parts and agrochemicals
Shadrack Chebii from Soy said on top of diesel prices, farmers struggle to maintain their machinery due to the high cost of spares amid rising cost of agrochemicals.
The latest challenge could see consumers continue digging deeper into their pockets to put food on their tables.
The latest diesel prices have also impacted cottage industries that add value to grains.
Rachel Miami, the director of Ramm Millers in Eldoret, said fuel prices will impact the transportation of products to market and could lead to price increments.
"Farmers who are harvesting produce will demand better prices, which also affects our processes. Currently, we sell sifted maize at Sh170 per 2kg packet, and new fuel prices could see the price increase due to dynamics in the process," said Miami.
David Mulwo, a maize and dairy farmer from Berur village, Uasin Gishu, said the new diesel price is kicking farmers out of business.
"I spent a total of Sh70,000 in operations per acre of maize. This produces an average of 20 bags. If the government sets maize producer price at Sh3,500 per 90kg bag, then it is like paying us what we spent and waited for a year," said Mulwo.
Mulwo, who is preparing silage from his green maize farm, said he wanted to prepare the field for the planting of oats to utilise the anticipated El Niño rains for dairy feeds.
"I used to consume 20 litres of diesel each at Sh160 to prepare silage in an acre, totalling Sh3,200. Currently, at Sh201 per litre, I consume Sh4,020, an addition of over Sh800, to prepare dairy feeds while milk producer price has stagnated at Sh40 a litre," he said, adding that milk price should be set at Sh60 a litre.
Humphrey Lilande, operations manager at Nundoroto Farm Company, said the only option for farmers is to value add.
The company has machinery that is hired by farmers for land preparations, harrowing, chiselling, maize planting and silage making.
"New fuel prices have seen farmers reduce production acreage. Government should pay farmers to correspond to the hiked fuel prices," said Lilande, who added that oil, grease and spares prices have also escalated.
Nancy Langat, manager at Plateau Country Dairy, said costs of livestock feeds have discouraged dairy farmers.
Langat added that earnings had dropped due to costs incurred on transport.
Related Topics