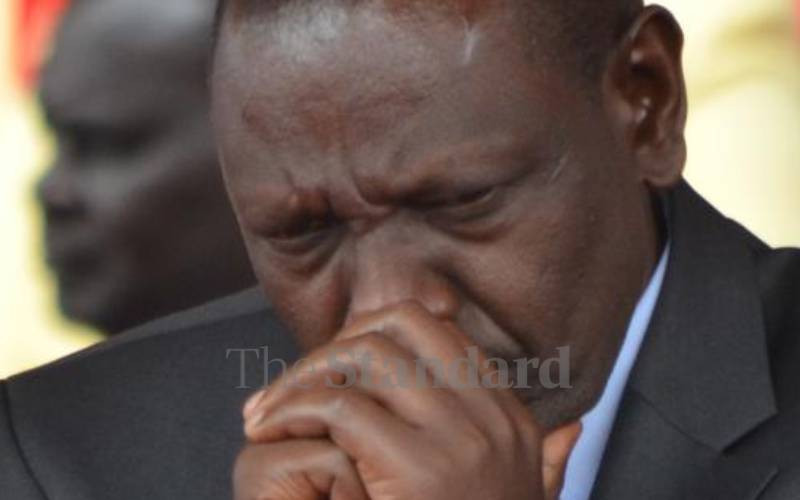 President William Ruto's reign will be put to test next week when Parliament debates and votes on the controversial Finance Bill, 2023.
The approval or rejection of the contentious Bill will have political ramifications for the president who, amid a major economic crisis and the surging resistance to his administration, is seeking to introduce new taxes which a majority of Kenyans have rejected as being too punitive.
These include doubling of VAT on petroleum to 16 per cent, and a new 1.5 per cent tax on salaried Kenyans that will go towards the Housing Fund meant to facilitate the construction of what the government say will be affordable houses.
Other contentious proposals include raising income tax from the current 30 per cent to 35 per cent for those earning Sh500,000 and above per month, and a three percent turnover tax on businesses making more than Sh1 million per year.
Granted, Ruto who has majority numbers in Parliament has to ensure the Bill sails through so he can raise revenue to make the over Sh3 trillion needed to implement Kenya Kwanza's manifesto.
The manifesto promised to lower the cost of living, provide affordable housing, deal with the ballooning foreign debt and re-stitching Kenya's economic fabric.
But Ruto's Finance Bill is like a poisoned chalice. Should he increase taxes, he risks losing a substantive portion of his support base ahead of the 2027 elections.
On the other hand, failure to increase taxes may plunge the country into further economic turmoil and a falling-out with the International Monetary Fund and the World Bank, the two institutions whose loans have necessitated the additional taxes.
Compounding his woes is an opportunistic opposition lying in wait to take advantage of discontent over the Finance Bill and by so doing, winning over the support of "hustlers" who have not been exempted from the vagaries of inflation and a biting drought.
Weekly protests
The Raila Odinga-led Azimio la Umoja-One Kenya coalition has vowed to reject the Bill in its entirety on Tuesday and if unable to stop it, will resort to the weekly anti-government protests that would equally affect the country's journey back to economic stability.
Ruto further faces opposition from within his party with some Mt Kenya legislators, led by Githunguri MP Gathoni Wa Muchomba, dismissing the new taxes as "oppressive" and an affront to the economic prosperity of the region.
"Even after the amendments made after the second reading, the Bill is oppressive to businesses and risks driving investors out of the country. The investors are likely to move to more favourable tax regimes in neighbouring counties," Wa Muchomba said.
Ruto understands the need to deliver on his first term to keep his support base intact in readiness for the 2027 political duel.
"Many people tell me I should think about my second term. My second term will be meaningless if my first achieves nothing. I am not here so that I can have a second term, I am here because I want to make a difference. Kenyans have given me an opportunity to make sure we remove slums, create jobs and improve our manufacturing. I am focused on that, the second term will sort itself out," said the President during Kenya's first urban forum last week.
Political pundits now argue that should Ruto choose to go the tax route, he should be ready to tame the run-away corruption in government and its agencies and implement reforms in the Judiciary to inspire confidence from the public that their billions will be well administered.
On the flip side, they warn that Ruto's intensified dalliance with the Bretton Wood Institutions could deal him a political blow ahead of the 2027 general polls.
"The taxation measures Ruto seeks to implement which are causing a lot of friction are not going to raise enough revenue to get us out of economic plunder and are not worth it. If you measure the money going to be collected through a doubling of the VAT, for instance, versus the anger that it is causing, then Ruto is better off listening to the people and abandoning the tax measures," said Pro Herman Manyora, a political commentator.
Re-election bid
He further warned: "Ruto's excessive leaning towards the IMF will only lead him to where it has led other governments, which is to conflict, and this will cost him his re-election bid."
Another political analyst, Tom Mboya, warned that Ruto's move to implement punitive taxes would only impact him politically in the short term and that he has time to win back the masses before the next elections.
"The truth of the matter is that we as Kenyans are damned if he does and damned if he doesn't. We should brace ourselves for tougher times either way. The bigger question should however be whether the Finance Bill has a solid plan to put us on a path to economic recovery," said Mboya.
A showdown now looms in parliament next week as the defining vote for or against the Finance Bill 2023 is cast. If approved, the Bill will be forwarded to the Head of State for assent.
Related Topics